Las Vegas design firm Chemical Spaces was commissioned to design several one-of-a-kind pool suites intended to accommodate VIP guests of the Hard Rock Las Vegas resort. Each suite boasted of a unique theme and was designed, keeping in mind the young, hip music-loving guests. Some of the suites that are sure to blow the guests away include the Miami Blue suite, the Gorilla suit, the Punk Rock suite, and the Tree Line suite. The Miami Blue suite was designed as a party suite with a modern, airy Miami feel. The luxurious suite features a giant C-shaped bed lined with blue, imported Italian tile, lit with LED lighting that gives the bed's image floating above the floor. Your own personal lounge, the suite features a solid-surface DJ table in "Milk Glass" foregrounds, a wall of turntables, and jam boxes framed in LED-lit alcoves.

The designers have done a great job with this suite in a limited time. The Gorilla suite concept was to create a dark, twisted take on a library/cigar bar. The designers have definitely achieved the desired result with this suite that features Wenge wall paneling cut into a custom shape, hardwood floors. The bronze mirrored ceiling, croc-skin custom furniture, and giant hand-painted murals of girls and gorilla add a dark and savage touch to this room.
The Punk Rock Suite is designed to reflect the London-style punk rock party scene. The room is decorated with bands of recessed mirrors and hand-painted lines in every direction. Hand-painted murals and spotlighting on the walls and ceiling pack the room with movement and action. Black hardwood floors and a custom, hand-made Union Jack rug complete the London underground feel.
The Tree Line suite was born from the concept of creating a hotel room with the illusion of a two-story tree line in the center. The hardwood floors and handpicked colors of tree branches help to achieve the look. A rich blue band spanning from the wall, ceiling, and wall divides the room down the center. LED rope lighting illuminates the art on the blue mural.
Unique suites, guests will surely not feel like leaving once the stay in these luxurious themed rooms.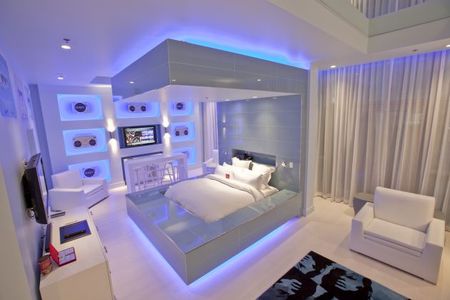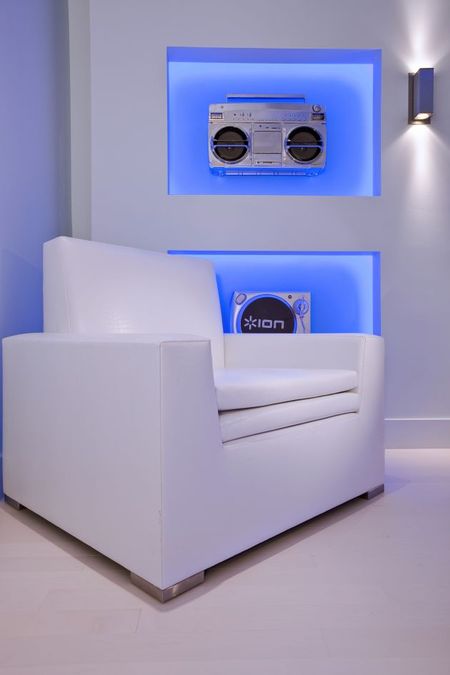 [Contemporist]