The Four Seasons Hotel and Resorts are set to reopen Johannesburg's Westcliff hotel after a dramatic R200 million renovations as its new operator. The property was closed on June 30, 2013 and will now commence its operations under a new name 'Four Seasons Hotel The Westcliff Johannesburg'.The revitalized landmark hotel will have new restaurant and bar concepts, a new spa, a fitness center and an outdoor pool. The hotel's new owners entrusted the original architect of The Westcliff, Johannesburg-based RSL Architects, for enhancements to reflect the original architectural concept.



The hotel originally designed as a townhouse complex, has 117 guest rooms, including 12 suites located in nine low-rise buildings. All guest rooms open to a garden terrace or balcony overlooking gardens, courtyards and the city's dense tree canopy.

The most noticeable change will be the hotel's new grey-brown colors. All 120 suites are getting a facelift and the old tennis court will make way for a spa and gym.

"This is a really exciting time in Johannesburg – you can feel the energy and excitement," says Sebastien Carre, Hotel's General Manager. "Even if you think you know the city, it's changing so fast that it's definitely worth another visit – and if you've never been here before, you are in for a very special treat."

With stunning 240-degree views across the city's famed green canopy and the Johannesburg Zoo right next door, the Hotel is nestled among eight acres (three hectares) of lushly landscaped gardens cascading down a hillside.

A carefully curated selection features paintings, prints, sculptures and mixed media by prominent artists including Helmut Starcke, Obie Oberholzer, Gawie Joubert, Saral Petrus, Diana Hyslop, Lehlogonolo Mashaba, Louis Olivier and the team of Arlene Amaler-Raviv & Dale Yudelman, among many others.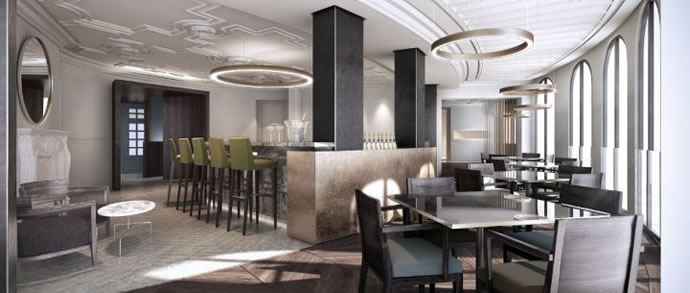 The property will feature five all-new restaurants. The hotel's showpiece restaurant will be View, conceived as a gallery of culinary art where Chef and his team will be at their most creative. A dramatic interior opens to an elegant terrace, where guests can indulge in the finest seafood and meats at lunch and dinner.

Flames will boast an expansive terrace and sunset views. As the name suggests, grilled specialties are on the menu, expertly paired with South African wines and local craft beers.

Celebrating the marriage of the most interesting wines with the most delightful culinary creations is Cellar Door. This intimate venue will host wine tastings and other special events, and is available for private bookings for up to 20 guests.

Westcliff Deli is an easy drop-in spot for local residents and Hotel guests. Accessed from the front drive, it will be a great place to pick up coffee and sweets, as well as gourmet sandwiches and salads to go.

Wines, fresh juices and light cuisine after the spa treatments at the lounge poolside at Après-Spa, can be enjoyed at tables or on comfortable loungers.

The Spa at Four Seasons will be an oasis of pampering and well-being amid the serenity of the Hotel's gardens. Inspired by the nature that surrounds them, nine treatment rooms – including a couple's suite – set the stage of expert massage, skin care and body treatments. Back at the Hotel, a fitness centre with all-new state-of-the-art equipment is open 24 hours, and an outdoor infinity lap pool complements the second swimming pool with its water feature and bubble bed.

Reservations are now open for confirmed arrivals beginning December 1, 2014.

Four Seasons Hotel The Westcliff Johannesburg is the brand's first hotel on the African Sub Continent.
Address –
Four Seasons Hotel The Westcliff
67 Jan Smuts Avenue
P.O. Box 2700, Saxonwold 2132
Johannesburg, South Africa
[Four-Seasons-Hotel-Johannesburg]