Don't be surprised if you find nature lovers flocking to Switzerland's Gstaad Palace hotel. The hotel has lured many nature-loving travelers after it purchased a small hut that is situated 5000ft high in the Swiss Alps and is a 30-minute drive from Gstaad. Originally built in 1786 by a farmer who would bring his herd of cows from the valley for summer pasture, the Walig Hut even today stands testimony to the days gone by. After being purchased by the luxury hotel, the hut has been fully restored, albeit not completely modernized. Spacious and cozy, the shed boasts of a kitchen/diner, a separate dining area, and a bedroom with a large double bed and classy furniture. Featuring solar-powered electric lighting, a sink, running water (only cold), a log fire, and a chunky duvet, this shed offers a one of a kind experience. Besides a traditional wood-burning stove, the hut also features a traditional farmhouse latrine. But don't let these traditional amenities fool you as the price of staying at this shed is as modern as it can get. A night's stay at the Walig Hut costs £1,018 ($1573) per night for up to two adults and two children, making it the world's most expensive shed. This pricey sum also includes a three-course meal with wine and champagne.

The Walig Hut is Andrea Scherz's brainchild, who is the third generation of his family to run the Gstaad Palace hotel. He believes that the hut's 'back to nature' experience will prove a potent attraction to people who normally live their lives in extreme comfort. Many, however, use the Walig Hut as an unusual venue for lunch or dinner. Lunch at the Walig Hut, including a luxury picnic with bread, cheese, cold cuts, salad, fruits, dessert, coffee, Swiss wine, and mineral water, costs from £95 ($146) per person (minimum for four people).
A great getaway for folks who love nature and are looking for a unique holiday, the Walig Hut with its scenic views of the Swiss Alps is definitely the best option.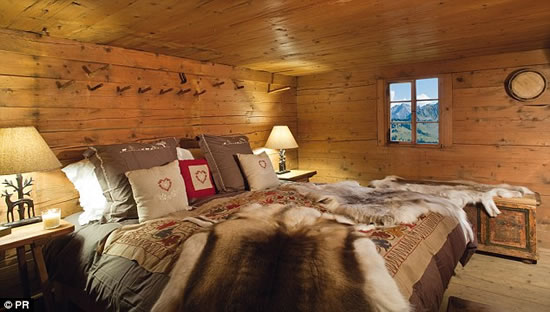 [Dailymail]