Have you ever wondered what is it like to sleep inside a cave? Hotel Aris Caves located in the heart of Oia city in Santorini, Greece, built inside ancient cave dwellings offers a taste of prehistoric living with modern amenities. While you are living inside a natural cave, you're certainly not living like a caveman when you check in this luxurious cave villa. Spread over four levels, the hotel offers breathtaking views of the Santorini Caldera, the volcano Nea Kameni, the island Thirasia and the deep blue Aegean Sea.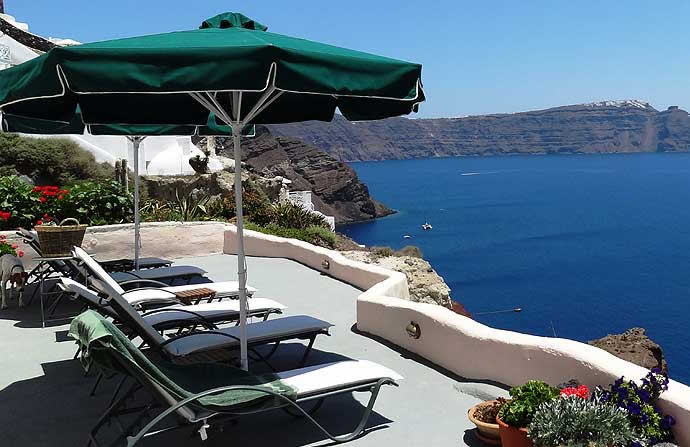 Aris Caves offers cave-styled accommodations: Alitana, Xenia, Fournos, Gonix, Patari, Folix with amenities such as kitchenette, wireless internet, air conditioning, kitchen appliance and crockery.
Alitana (Flowerbed)


The studio accommodation for 2 persons comes complete with a living/ bedroom with bricked double bed and wardrobe, kitchenette in the room with fridge, shower/ toilet and a furnished private terrace. Price for Alitana studio accommodation varies from season to season, €145 in low season to €175 per night in high season.
Xenia (Hospiality)


This apartment can accommodate up to 4 people and consists of living toom with two single bricked beds and a bedroom with bricked double bed, separated by a door arch and windows in the traditional island style. Price for Xenia apartment varies from €180 to €210 per night in low season and high season respectively.
Fournos (Old Oven)


Up to 4 people can lodge in this apartment that has wooden gallery with double bed, spacious living and dining room with lowered living area with two bricked single beds. Price varies between €180-€201 per night.
Gonia (Corner)


The studio apartment with 235 sq. ft. living/ bedroom with double bed is built directly into the hillside. It is complemented with a little courtyard, one level above a private, furnished terrace. Price varies between €145-€175 per night.
Patari (Gallery)


This is the most spacious and generous suite available on site that can accommodate up to 5 people. The accommodation includes a furnished patio, living/ dining room with a wooden gallery. The bedroom has access to a private furnished terrace. Price varies between €235-€275.
Folia (Nest)


The cozy studio for 2 people, perched like an eagle`s nest on the hillside, is the last and most private apartment. It includes access to a large private, furnished terrace. Price varies between €170-€195.
Aris Caves
Christa + Aris Braziotis
84702 OIA (Ia)
Santorini, Greece
[Aris-Caves]