Once known as Temple Court, a nine-storey building at 123 Nassau Street built in 1890 has been reborn as the Beekman Hotel, a project from Thompson Hotels and Gerner, Kronick & Valcarcel Architects. The renovation process was three years long and now at long last, the Beekman is finally opening its doors, and what marvellous doors they are!



The building's beautiful granite and red façade has already been landmarked (pictured is a rendering, but the real thing is every bit as impressive).


The hotel's atrium has already been instagrammed by the lucky few who have had a chance to be inside.


The beautiful cast iron railings are original, and feature stunning motifs.


The hotel will feature 287 rooms, including 45 suites. Also on offer are two 1,200 sq ft penthouses each with private roof terraces and spectacular views.


The reception area is all about dark woods and textured patterns. 'The ambience is akin to that of a drawing room of the well-travelled,' said Martin Brudnizki who designed these stunning interiors. 'This sense of feeling at home is continued in the bedrooms, where we included beautiful walnut furniture, complemented by fabrics such as leather, mohair velvet and silk.'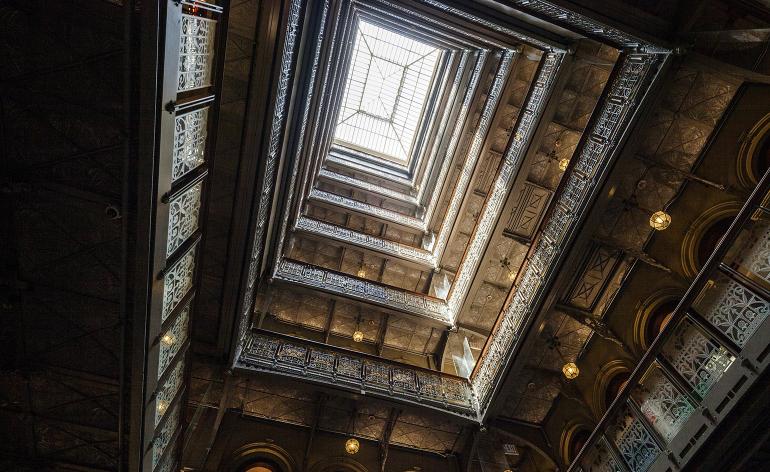 'The Beekman is a very grand and ornate building and we needed to ensure it felt intimate and comfortable,' said Brudnizki. 'We've achieved this in the atrium through breaking the space up into various seating areas using a mixture of vintage and bespoke furniture to give an eclectic look.'


In contrast, the rooms themselves seem bright and full of light.


Modern features and designs are complemented by a few classic pieces of furniture and décor elements.


Also part of the hotel are a lobby bar and two restaurants. Located in the atrium space, The Bar Room will serve signature cocktails while Tom Colicchio's Fowler & Wells restaurant will dish out modern versions of American classics from the 19th and 20th centuries. Augustine from Keith McNally will serve French food throughout the day.
[ Via : Wallpaper ]