The resort vacation experience has deteriorated over time, with resorts filled with children running everywhere and the quality of service dropping. A holiday used to be when you could cut off from work and the rest of the world, but with the advent of the technological age, it seems we can never truly get away from it all. Nick Troubetzkoy's Jade Mountain, St.Lucia resort changes all of this. It harks back to the resort experience of old. Located majestically above the 600-acre beachfront estate and Anse Chastanet's resort, Jade Mountain is quite literally a resort within a resort. This retreat has been created to merge harmoniously with Caribbean nature. As such, it is truly an escape from work with no television or telephones in the rooms; wifi is available at the reception and on request in the rooms. You can say goodbye to all those holidays ruined by other peoples screaming children because Jade Mountain does not allow any guests below 15.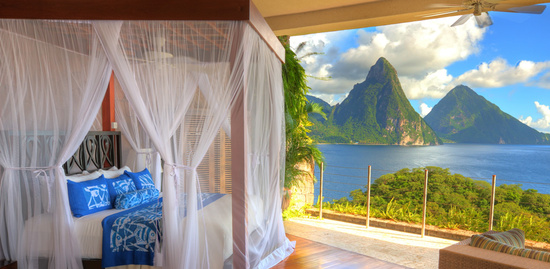 While all of these factors alone should sell you on this spectacularly located resort, it is the rooms that make it so special.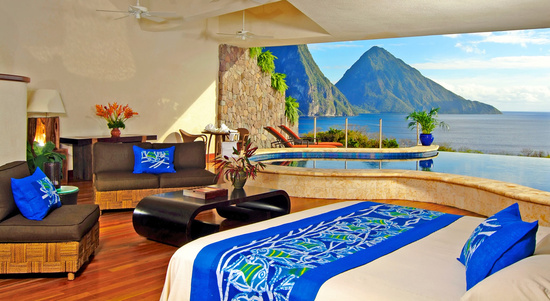 The rooms have been divided into 24 infinity pool suites and 5 sky jacuzzi suites. The infinity pool suites have been designed so that they only have three walls, where the fourth wall should be an infinity pool that stretches out over a stunning view of St. Lucia. Divided based on size, the Infinity suites are Star, Moon, Sun, and Galaxy. The Sky suites are located on the lower hillside of the jade mountain and have a two-level setting with a raised jacuzzi tub towering over the living space.


The interiors of these rooms have been designed using a multitude of local and exotic hardwoods such as Purpleheart, Greenheart, Locust, Kabukali, Snakewood, Bloodwood, Etikburabali, and Futukbali. Each room is equipped with a king-size bed, a whirlpool bathtub, eclectic furniture, and a wine cellar for the sun and galaxy suites.


All Jade Mountain guests are offered the service of Major Domos, who provide a stellar service experience and have been trained by the British Guild of butlers. In keeping with the escape theme and due to the lack of telephones, each guest is provided with a "firely" communication device that allows them access to the 24hour services.


The Jade Mountain restaurant celebrates James Beard Award winner Chef Allen Susser's "Jade Cuisine." The celestial terrace hovering above the Jade Mountain Club is is perfect for cocktails at sunset. Guests at the resort have exclusive access to these two and can also avail of the restaraunts and bars at Anse Chastanet


Of course, no relaxing vacation would be complete without a spa session; the Kai En Ciel Spa provides a special a la carte menu with various relaxing and rejuvenating treatments; 5 air-conditioned treatment rooms have been provided. However, guests may also avail themselves of the treatments in the privacy of their own sanctuary. Respect for each individual's uniqueness is central to Spa's philosophy.


The resort also provides for any other needs or wants a guest might have, such as early morning yoga on the celestial terrace, cooking classes with Chef Eli, access to the Jade Mountain library, live entertainment, access to the Anse Chastanet beach, use of the tennis courts, guided walks and hikes and fitness classes. They can also organize scuba diving, snorkeling, and water sports on request.


Resort Address
JADE MOUNTAIN at ANSE CHASTANET
P O Box 4000,
Soufriere, St. Lucia,
West Indies
Tel: 758-459-4000/ 7000/ 6100
www.jademountainstlucia.com