A stay at a five-star hotel to relax and break away from your daily cycle feels like a blessing. The amenities provided, no cleaning up, excellent food, and the bed make you wish you could take the entire comfort level back home with you. From the above, the mattress and bedroom accessories of most hotels are available for sale by order. The luxurious mattress, fine linens, cozy duvets, and plenty more pamper your bedroom and giving you a hotel's undisturbed sleep right at home. Put together is a list of bedding accessories that can be shopped for –



Marriott JW Bed Package
The JW Bed Package includes the JW bed, which exudes a confident look with its tone-on-tone, triple stripe accents adding a signature detail and a hint of charm added by a sweep-the-floor gold bed skirt. Enveloped under this exterior are a mattress topper, comforter, complimenting white bed linens, pillows, and most important of it all, the well-known exclusive Marriott bed. You can choose between a 7″ or 9″ deep foam mattress. For all those turners and turners, this bed is optimal as the foam allows weight distribution for one or more sleepers. The package is priced between the ranges of $3,169- $3,742 and is available for sale on shopmarriott.com.

Marriott Box Throw Pillow
Marriott's Box Throw Pillow has an espresso-colored background with a merlot colored soft, delicate patterned leaves entwining to create a proper balance to accent your seating area. The color scheme even complements your bed scarves, and the 10″x 21″ pillow works beautifully with modern designs as well. It is available on shopmarriot.com for $98.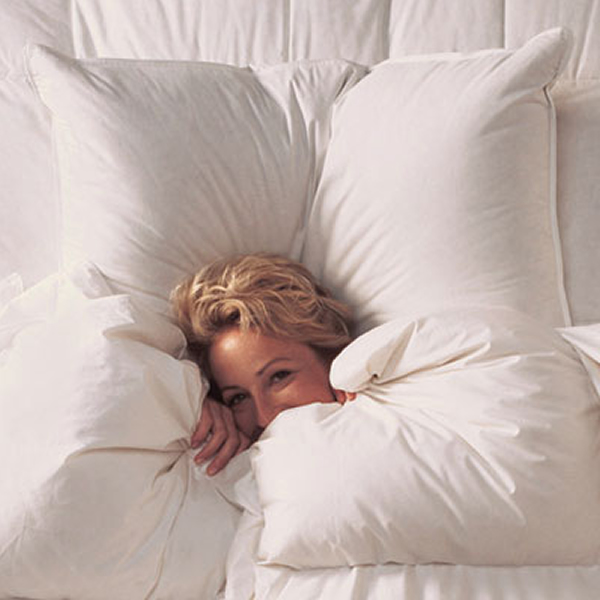 Ritz-Carlton Tria Pillow-Standard
The Ritz-Carlton's Tria Pillow-Standard, specially designed for their guests by Pacific Coast, are available in a pack of two and can be delivered to your door. Designed using springy Hyper clean feathers, this pillow is made in such a way that the fill will not shift away from your head during the night. The pillow is ideal for all sleep positions and is designed durably to withstand the rigors of hotel use. It also comes with a 30 days comfort guarantee, and if it is not completely allergy-free, you can get a refund within 30 days. This product can be found on the ritzcarltonshops.com for $180.

Ritz-Carlton Boutique Down Blanket
A Ritz-Carlton Boutique Down Blanket allows the guests a night of sweet dreams as the bedding is hypoallergenic and is filled with the fluffiest Hyper clean feathers. The Barrier Weave fabric used to weave the bedding tight provides a leak-proof solution. The bedding comes in two sizes – Queen size ($225) and Kingsize ($250) that are available at ritzcarltonshops.com.

Hyatt Luxury Linens
The Hyatt Luxury Linens available in the California king size made in Italy provides the customer with a 100% mercerized Egyptian sateen cotton with a thread count of 300 in solid white and white piping. The set includes a top sheet; fitted sheet and two king-size pillowcases and is available for $305 on the hyattathome.com site.

Hilton Down Comforter
The Hilton's Down Comforter is a classic traditionally crafted piece that is a mid-weight, allergy-free comforter . A 230 thread count and a 100% cotton white Barrier Weave fabric protect against dust mites. It can be machine washed and dried, making it a perfect addition to your home. The comforter is available in three sizes- Full: 86″ x 98″ (28 oz.), Queen 93″ x 98″ (29.5 oz.) and King: 105″ x 98″ (33 oz.) ranging between $230- $270 on hiltontohome.com.

Sheraton Bed Skirts
Sheraton's Bed Skirts add a custom-made finish to your bed. These machine-washed bed skirts are available in white and range between $95 – $110. It is available at Sheraton-hotelsathome.com.

Marriott Fading Mums Bed Scarf
An exclusive Marriott's touch of the Fading mum's Bed Scarf helps brighten your room and mood with its color scheme of raisin/copper. Courtesy of its size, this scarf can be doubled as an ornamental throw, and their easy care yarn-dyed polyester blend makes it machine-washable. Priced between $110 – $130 this royal touch to your bed can be found at shopmarriott.com
With this pick of accessories, your bed beckons to you, leaving you with your dreams.