What do you do when you own a carpark with an empty rooftop that's just begging to be utilized? If you're the Melbourne-born entrepreneur, James Fry, you'll come up with a new business idea that's innovative, trendy and ultra-chic. Fry decided to install six sleek and reflective Airstream caravans to create a one-of-a-kind "trailer hotel". Airstreams are enjoying a resurgence these days making the timing perfect for Fry's venture.

This hotel is not your average five star. It has no concierge, reception or even room service. Instead guests are invited to make bookings and access their rooms using their smartphone.


The interiors were designed by Edwards Moore Architects, FMSA Architecture and artist Ash Keating; they feature a pretty minimal design with pops of color here and there. The room contains an iPad which offers suggestions to how you can spend your time in Melbourne.

Each Airstream features its own little terrace and an ensuite.

The bathroom features towels from Aura and fittings by Abey.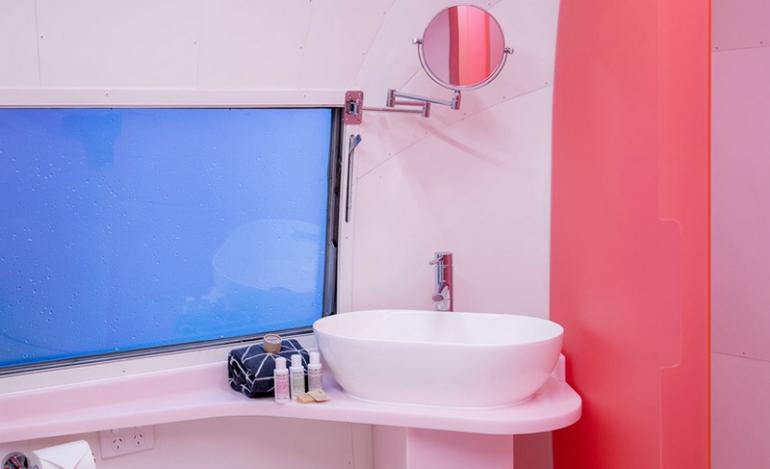 Each caravan is only 31 square feet, but offers a modern take on minimalist luxury.
Guests can upgrade their experience to Airstream with Benefits which includes a private spa and private patio that overlooks Flinders Lane.
A stay at the Notel costs $395 per night for Airstream Rooms for up to two people and $440 per night for the Airstream with Benefits. If you're planning a trip to Melbourne, you can book a stay through the Notel website. If you want a rooftop hotel experience right here in the States, check out the W New York's take on glamping.
[ Notelmelbourne ]