The Movie – The Great Gatsby, starring Leonardo DiCaprio, Tobey Maguire, and Carey Mulligan, is creating quite a stir in the world of luxury. The past few days have seen the movie attract interesting and exciting collaborations: Moet & Chandon as their champagne partner, Prada hosting The Great Gatsby costumes exhibition in New York City, Tiffany's Great Gatsby Jewelry Collection and Harrods' pop-up Great Gatsby jazz bar that will mark the release of the movie on May 10, 2013. Lately, joining the Great Gatsby brigade is The Plaza hotel, which coincidentally shares inherent history with F. Scott Fitzgerald, the author of the adaptation "The Great Gatsby." The hotel has dressed up one of its suites as The Fitzgerald Suite, paying an ode to the F. Scott Fitzgerald, who, with his wife Zelda, was a frequent guest at the hotel. It's the suit that Fitzgerald used that has been intended to pay tribute to his legacy, so also celebrate the film's release.



Located on the 18th floor of The Plaza and spread over an area of 900sq.ft, the interiors of the room have been designed and styled in consultation with Oscar-winning production designer Catherine Martin (wife of director, Baz Luhrmann). Hence, close detailing has been paid attention to.

The suite flaunts various Art Deco flourishes and pieces of period furniture, pictures of Fitzgerald and his wife, and photos of the cast of the film taken by Douglas Kirkland.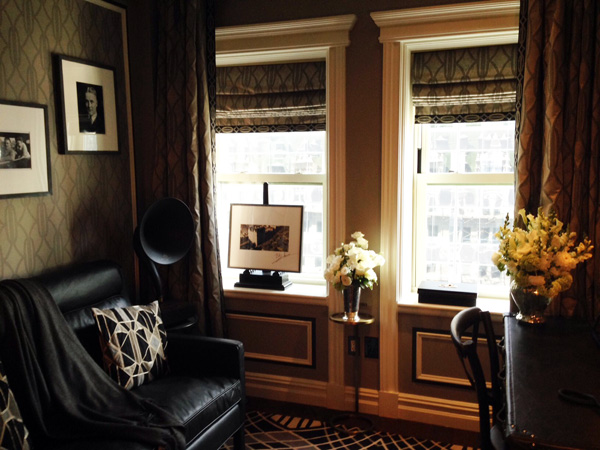 Other interesting additions include gramophone-shaped iPhone-compatible speakers and vitrines that would showcase trophies won by a prominent character – Tom Buchanan in the film.

Like the movie, even the suite would be inaugurated on May 10, the costs of the room for a night, per couple, being $2,800 approximately.
[The Plaza NY via The Telegraph]