Aspiring high, mankind has always moved towards the sky. Be it for entertainment, transportation or even dwelling! Since so many constructions around the world are moving higher and higher, bagging the crown of being the world's tallest has never been easy. However, Emporis, the world's leading company for building data, has compiled a list of 100 tallest buildings intended for hotel use. And I am going to list down world's top three tallest hotels that soar with pride to entertain their guests.
3) Burj Al Arab – Dubai, U.A.E
At 321 m (1,053 ft) height, this is undoubtedly Dubai's most famous landmark. Shaped like a Arabian sailing ship, it stands on an artificial island. Also the 60 floors accommodate eight restaurants, two-storey suites equipped with Jacuzzi in every bathroom and plasma screens, as well as reception desk on every floor. One of the restaurants is located 200 m above the Persian Gulf. Estimated at US$ 650 million, Burj Al Arab stands third on the list.

2) Ryugyong Hotel – North Korea
Located in Pyongyang, the capital of North Korea, at 330 m (1,083 ft), it is the tallest building in the country. Comprising of 105 floors, it also bags the honor of being the first complex outside New York and Chicago with more than 100 floors. Ryugyong Hotel is the second tallest hotel in the world.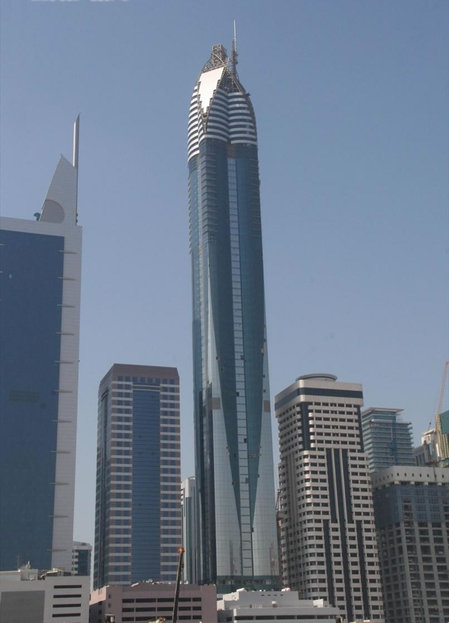 1) Rose Tower – Dubai, U.A.E
Rising up to 333 m (1,093 ft), the Rose Tower is honored as the world's tallest hotel used exclusively as a hotel. Standing tall with 72 floors, the building and its inner furnishings have been completed since 2007. However it is not open to public bookings yet, and is expected to be open in December 2009. It is also known that originally, the tower was to be 380 m (1,200 ft) high, but further design modification reduced it to 333 m (1,090 ft).
For the rest of the list, read here.
It is based on data standards as outlined by the Emporis Standards Committee (ESC). This listing is verified and updated continuously and includes high-rise buildings which have been topped out, including those still under construction or on hold and whose occupiable height is devoted at least 90% to hotel uses. The ranking is based entirely on the buildings' structural height. TV towers, masts, and other building types are not included. This is the most recent and factual list of the world's tallest hotels.