The term out-of-the-box has taken on a new meaning in the hospitality sector. While the classic comforts stay, hotels are adding exhilarating elements to spruce up their holiday experience. Spearheading these is the Sol Wave House in Mallorca, Spain. Located on the Magaluf beach, the Sol Wave House is a product of the world-renowned Meliá Hotels chain. And what sets it apart from any other hotel is that it's the world's first "Twitter Experience" hotel. To elaborate: the hotel welcomes you into its exclusive virtual community #SocialWave, thus, connecting all guests via Twitter.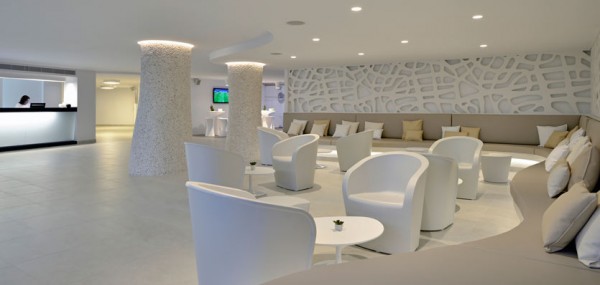 Allow me to explain how this works; two Twitter Concierges greet guests and take their Twitter requests to act as a link between the vacationers, generating conversation in the virtual community, only accessible through hotel Wi-fi. Thus, people get to know and chat with each other, making new friends in the process. Every corner of the hotel is designed to enhance this social-interacting experience.

So while most beach hotels remain busy creating pools of tranquility, Meliá's Wave House has no qualms in turning around and taking the opposite route. It simply shrugs its shoulders at the beaten track and gives individuals the chance to indulge with more interesting people. "The hotel takes a new step in meeting the expectations of an increasingly experiential and social customer profile, through new technologies," quips Gonzalo Echevarría, the General Manager.

Since its opening in the summer of 2012, the Sol Wave House has stationed itself as a very social hotel, with 184 suites and junior suites, enjoying sea views and a contemporary design to boast of. There's a spectacular 2500 square meters sun terrace overlooking the sea that comes equipped with sunbeds and Balinese beds as well as a VIP zone. The hotel also offers a unique surfing experience, with its two pools producing artificial waves to practice flowboarding (a hybrid of surfing & snowboarding).

The hotel has also created what is known as the #TwitterPartySuites.

These are spacious suites that can accommodate four people, who then get to avail themselves not just a bottle of bubbly but also VIP hammocks, customizable minibar, and a 20% discount on all bars and restaurants in Wave House, plus a free drink in the #TwitterPoolParty held at the hotel.

Guests can party hard, Twitter style for a little over $360 a night for two.

With all that and themed restaurants for exciting eating options, lavish lounges, and concert areas playing live music during the day, the Sol Wave House is every bit the modern outpost of hospitable luxury.
[Via – Melia]