The 19th century was rife with wars; Britain was more often than not at the center of these wars. In the mid 19th century, Lord Palmerston ordered the construction of three Solent forts near Portsmouth to protect Britannia's most important naval base against attacks from Napoleon the III's navy. Now in the 21st century, these forts are nothing more than a relic of history having no purpose; Mike Clare decided to change all this. Former chairman and CEO of Dreams Plc, Clare has removed all the "guns" and transformed these forts into what can only be described as exclusive island retreats. Clare stepped down from his post at Dreams Plc in 2008 only to go on to form Clarenco LLP in 2009. The company is best known for its large portfolio of iconic and unusual venues across the UK. Now their portfolio will include these three forts, Horse Sands, No Man's Land, and Spitbank.



Horse Sands Fort is a museum and living heritage centre.

No Man's Land Fort will be transformed into a hotel and Spa featuring 27 bedrooms.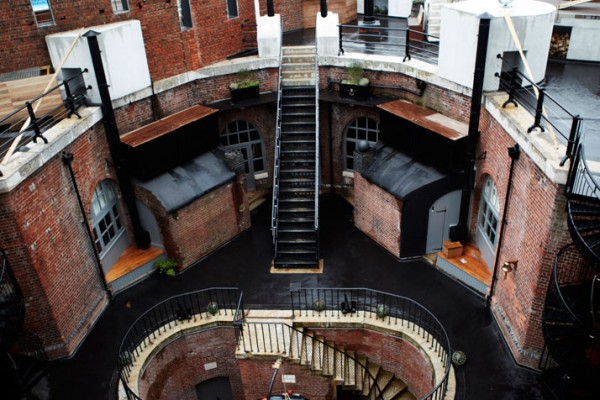 Spitbank fort has already been completed and has been converted into a luxury hotel that boasts 8 bedroom suites. The total renovation cost for the 7000 square foot Spitbank fort was approximately $4.7 million.

There is no doubt that the Spitbank fort will become the choice destination for travelers looking for a luxurious property in Hampshire. The adventure starts even before you reach this luxurious island, as the Fort's skipper picks up guests from the departure lounge at the Royal Clarence Marina in Gosport.

Breakfast is served on the copper roof of the 1890's style lighthouse with views overlooking the Solent, Portsmouth, and the famous Spinnake Tower. Who could ask for a better start to the day?

Next up, the fort offers relaxing face and body treatments at the Sa or a quick dive in the open air "Hot Pool."

You would think a fort might run out of activities, but there are recreation rooms for those looking for a light-hearted game of billiards or poker.

Of course, the loser of these games has to buy the winner a drink at the Victory Bar, which also serves aperitifs.
However, the crowning jewel of any day spend on the Spitbank fort has to be a meal at Chef Nikolaus Boyle's restaurant "The Officer's Mess," thankfully, his food is far more refined than what soldiers in the 19th century were forced to eat.

If this perfect day hasn't been relaxing enough for you, you can top it off with a range of digestifs at "The Fire Pit," which provides unobstructed views of the Isle of Wight.

Finally, you can be lulled to sleep as you enjoy your super king-sized bed in your bedroom suite, which used to be a gun emplacement!
[Via – Yatzer]