A trip to Moscow immediately conjures up images of the Red Square and Moscow's cultural, social, and political past. And highlighting this history is The Ritz-Carlton, Moscow with central location, across the Kremlin in the heart of the Red Square. The stunning hotel with its gothic iron staircases and black pillars add to the brooding feel, while the décor from the 19th century Imperialist Russian style is highlighted by polished, dark cherry and burl wood and gold accents. Five dining outlets, a Ritz-Carlton Spa, the Ritz-Carlton Club Level and state-of-the-art conference facilities including over 1,100 sq m of event space are some of the other features at the hotel.



With views of the iconic Kremlin and Red Square, The Ritz-Carlton Suite at The Ritz-Carlton, Moscow is easily the city's most sough-after accommodation offering. Spread across 2,590 sq ft on the top floor of the hotel, this suite features floor to ceiling windows across from the golden domes of the Kremlin, the Red Square, St. Basil's Cathedral and Christ the Savior Cathedral.


The spacious bedroom and living areas of the suite have been designed in the imperial, Russian style, while discretely enhanced by all the modern conveniences including flat-screen TV, top-of-the-line stereo systems, Bowers & Wilkins Zeppelin & Z2 music systems, high-speed WiFi and LAN internet access, while the suite comes fitted with touch panels for controlling lighting and curtain preferences. An oversized bathroom, finished in marble from Portugal and the Altai mountains, features a marble soaking tub, a sauna, plush robes and thick bath sheets and Jacuzzi, making it a sanctuary by itself. A complete Bath Butler Menu is also available to guests upon request


The suite also features a spacious living room with a grand piano and dining area, two fireplaces, a library and office room and a boardroom with tight security – suitable for government officials or celebrities alike.
Cost: $9,308 (RUB 530,000) + 18% VAT per night
Size: 2,550 sq ft
Occupancy: 3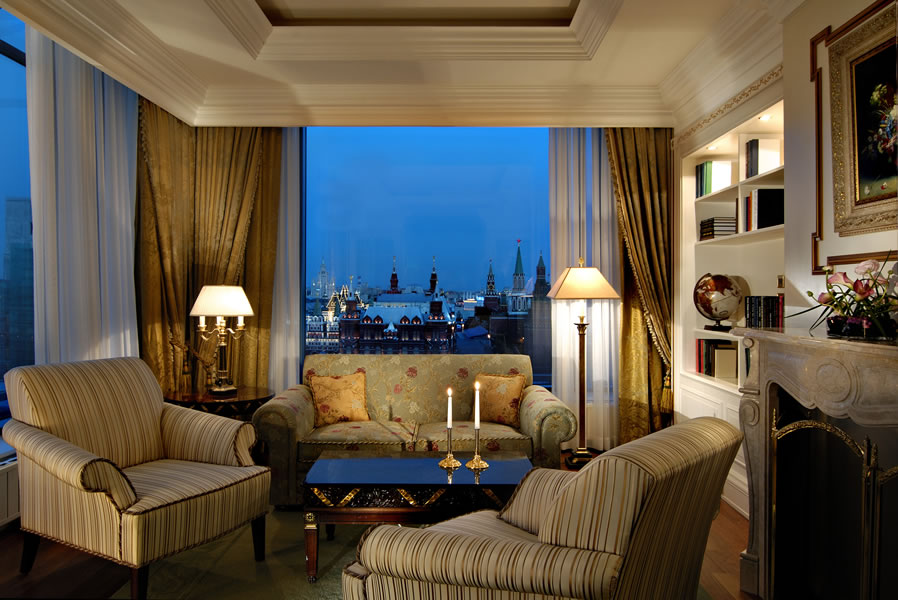 Why should you splurge on it?
With a view of the building where the history of Russia was formed, where the succession to the throne was decided, where the Boyar Duma held its sessions and where the Church held its councils – staying at the Ritz-Carlton Suite will definitely evoke the Russian tsars in you! The Red Square and the Kremlin are both listed as UNESCO, World Heritage Sites.
The opulence of the city and the opulence of the Ritz-Carlton Suite make it a suitable match and guarantees an opulent stay.
Address:
The Ritz-Carlton, Moscow
Tverskaya Street 3,
Moscow 125009
Russia