Hotel Éclat Beijing is nestled inside tetrahedron-like glass and steel tower capsule within Parkview Green shopping and commercial complex in the Fangcaodi neighborhood. The spectacular glass structure provides excellent city views and natural daylight. The special climate-control system used throughout the building creates a comfortable ambient temperature in all seasons, including during Beijing's harsh winters and hot summers. It also features the only weatherproof private indoor terraces in Beijing.


Hotel Éclat Beijing's design ethic extends to stylish and quirky touches throughout the hotel and in the rooms. As soon as guests step inside, they find themselves surrounded by iconic design fused with the largest private collection of contemporary art in China including masterworks by artists such as Salvador Dali, Andy Warhol, Zeng Fanzhi and Chen Wenling.
The 100-room luxury boutique hotel has 26 luxurious rooms and suites, of which 20 suites boast their own private outdoor pool. One of the hotel's largest suites is the Miami Suite that transports guests straight to tropical Miami with its unique suite design. Inspired by Miami's sun-drenched art deco architecture, the suite has a terrace and a private lagoon, well protected from the elements by an ETFE roof to ensure natural light and comfortable air quality and temperature.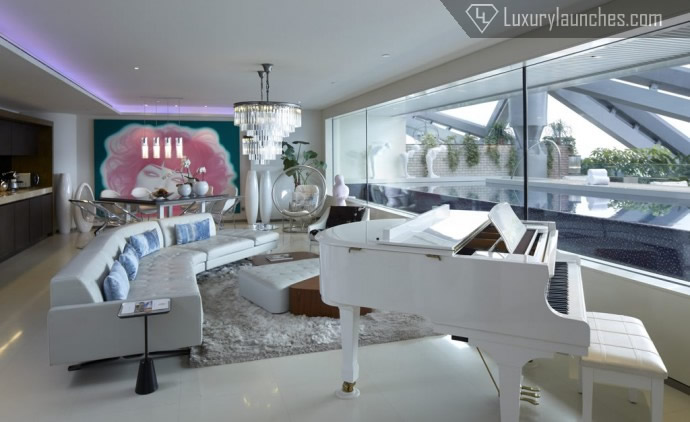 The generous sized living room features separate dining area with a seating capacity for eight. One of the first things you would notice as you walk into the suite is the white grand piano and Gao Xiaowu's "Our Generation" kissing figures. The work desk with its ergonomically designed desk chair and quality stationery will be your business base from which to stay connected with state-of-the-art technology. And when it's time to relax, just sink into the Panasonic massage chair to watch a good Blu-ray movie on one of the two 55" 3D television or listen to quality sounds on the Bang & Olufsen system. The suite also is a delight for art enthusiasts as it features artwork by China's leading contemporary artists including Feng Zhengjie, Gao Xiaowu and Shen Na.
Guests are treated to a private view of a breathtaking Francis Bacon piece in the spacious bedroom. The bedroom comes complete with over-sized King sized beds with 6 pillows, goose-down duvet and the finest linen ensure a perfect night of rest. Bathrooms feature a huge Toto Jacuzzi bath with separate walk-in rainforest shower and exclusive toiletries from London's Miller Harris. All guests of Hotel Éclat Beijing enjoy the signature Éclat Essentials during their stay.
The Suite includes a full kitchen plus an outside terrace complete with bar area for serving drinks. Indoor or 'outdoor' dining are options with al-fresco Terrace seating for up to 16 people on Ron Arad designed Moroso white sculpted 'ripple chairs' and Georgian-style tables. The Terrace features two lounge sofa areas of white leather and sumptuous crushed faded gray and blue velvet. Besides the color hues reminiscent of Miami, Timothy Oulton's Venetian-inspired 1930s-style glass and brass chandeliers lamps provide soft, ambient lighting.
Cost: 41000 CNY ($6,600)
Size: 328 sqm
Occupancy: 2
Why you should splurge on it?
Miami Suite is like a playground of art, artifice and design. Right from the moment you step in the suite, you are visually treated to the sights of grand white piano and Gao Xiaowu's "Our Generation" kissing figures beside the long white leather couch and acrylic egg chairs. While an entire wall is given over to one of Feng Zhengjie's haunting women murals, you can catch glimpse of three Gao Xiaowu "Post Standard Generation" white statues placed side by side presiding silently over the blue water of your private lagoon. With your very own private swimming pool, Jacuzzi and private butler, you would never want to check out from the suite.
Address:
Hotel Éclat Beijing
No. 9 Dongdaqiao road
Parkview Green FangCaoDi
Chaoyang district
Beijing 100020 P.R.China
[Eclat-Hotels-Beijing]