8) Sofitel So, Singapore – May 2014 (Soft opening)



Sitting in the heart of Singapore's Central Business District, Sofitel So is an amalgamation of great location and heritage building. Graced by 'The Lion's Seal' emblem and surprise elements designed by the legendary Karl Lagerfeld, it is clearly where Singapore chic blends with French elegance. Interior designer, Isabelle Miaja, has further enhanced its French decadence with Singapore's modern style elements. A peek into their 134 meticulous rooms only confirms the same.


French cupola inspired light boxes hang three meters above and illuminate each room's MyBed. While the boutique hotel's So Heritage Wing boasts 9 suites and neo-classical columns. With all that, 6 exclusive balconies, a glamorous golden rooftop pool and tantalizing cuisine from celebrity chefs, Sofitel So Singapore will magnificently invite guests to discover cultural heritage and local experiences.


Its sophisticated art-de-vivre shall be celebrated May onwards.
7) W, Beijing- June 2014


Getting back to China, W Hotel's contribution to Beijing's bustling downtown diplomatic and commercial district comes surrounded by enchanting sites, both modern and ancient. But even as the mystical Forbidden City, vibrant Silk Market and famed Tiananmen Square, lie ahead, its 340 lavish guest rooms will offer stunning city views and W signature beds.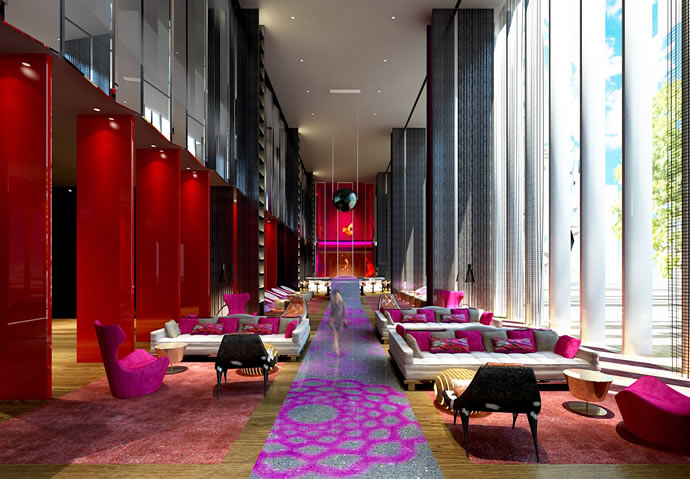 This self-confessed potent remix of high style, exhilarating history and pulsating nightlife is updated with modern treasures yet luxe enough for ancient royals.


With three signature restaurants including one world-class Chinese venue it'll also houses a palatial Living Room for cocktails and Bliss Spa amenities for imperial indulgence.
6) Four Seasons, Moscow- Mid 2014


And since we're on indulgence, in a landmark location steps from the Red Square, the Kremlin and the State Duma, Four Seasons Hotel Moscow is set to transform the luxury hotel experience in Russia's capital. Opening mid 2014, it is a modern replica of the legendary Hotel Moskva that originally opened in 1935, thus, connected to history, yet stylish and contemporary. It'll house a chic destination spa and180 luxury Moscow hotel rooms, including 41 hotel suites.


And speaking of the former, The Spa at Four Seasons Hotel Moscow will measure 3,000 square meters (32,292 square feet) and include 14 treatment rooms, a hair salon, nail bar, lap pool and 24-hour Fitness Centre. And when you're not there or at their signature Italian restaurant, champagne bar, poolside café or tea lounge, it is likely you'd be exploring the nearby Bolshoi Theatre and Maly Theatre or the GUM shopping complex.


The hotel is close to business and government, as well as fashion, art, culture and shopping.