Looking for a top-notch address in San Francisco? A three-bedroom penthouse located inside of the Four Seasons Hotel in San Francisco is now available for rent at a princely sum of $29,950 a month! Yes, that's the asking price for this 3,509 square feet luxurious residence that offers some breathtaking panoramic views over the city including the Golden Gate Bridge and Twin Peaks – from its 40th floor location and offers all the Four Seasons amenities offered to hotel guests, such as valet service, use of the fitness club and indoor lap pool. Renters will also have access to a 24-hour room and concierge service and a doorman who will greet you by name with a friendly smile.


Dressed to look more like a hotel suite than any apartment, the luxurious home offers three bedrooms, four and a half bathrooms that have floor-to-ceiling mirrors and marble used in the entryways and baths. The rooms are custom carpeted and have a multi-layer custom window covering that give it a period charm. There is also a breakfast room and a formal dining area for entertaining guests, a kitchen with granite counter tops and Brazilian hardwood floors throughout the living room and dining room.


With pretty much every single San Francisco icon in sight – including the Alcatraz, Coit Tower, the Transamerica Pyramid, City Hall, the Golden Gate Bridge, the Bay Bridge, the San Rafael and on a clear day, the San Mateo Bridge – it's no surprise that the penthouse is rarely ever available to be rented, according to its listing! Looking at the pictures of the penthouse, we believe it!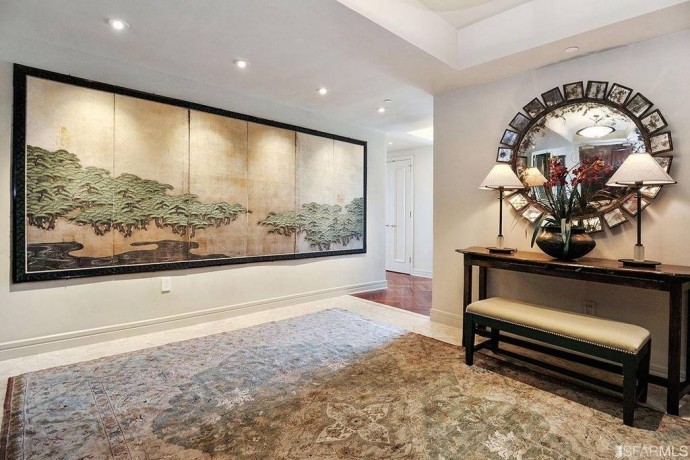 [ via : Businessinsider ]