Doha is enhancing its developing skyline with luxury. A tower built during the 2006 Asian Games has been converted into a lavish futuristic hotel, The Torch. Designed by the Hadi Simaan and AREP, this 300-meter colossal Torch tower provides 360° panoramic views across the whole of Doha. With a beautiful mesh exterior and multi-colored kinetic light displays, this tallest tower in Qatar represents a "new era of extravagance." The magnificent hotel is 30 minutes from Doha's city center, within the sprawling Doha Sports City complex.



An iconic landmark, this 51-floor hotel comprises 167 rooms and suites, including deluxe rooms, diplomatic suites, junior suites, executive suites, and diplomatic suites. A high-tech hotel, The Torch's rooms have state-of-the-art technology, and all rooms are equipped with iPads with in-room service menus and interactive LED televisions. The room's lighting can also be changed through these gadgets.

The spectacular Executive Suite has a private reception area and elevator. These rooms also include bathtubs besides the windows, for a relaxing bath, with a spectacular view.
Diplomatic Suite:

The Junior Suite:

Deluxe Room:

The lobby is decorated with Arabic script lights in the lounges of Kufic and Almas.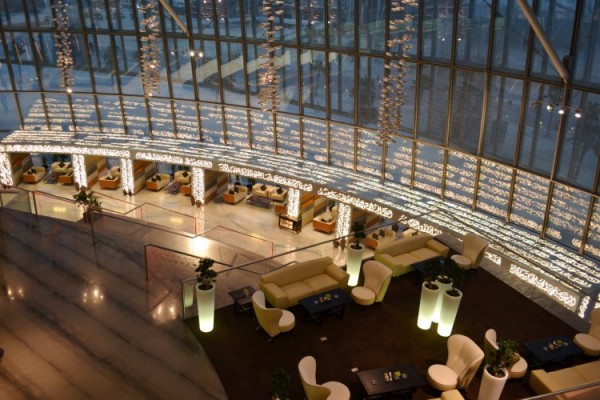 The Torch encompasses a cantilevered swimming pool, which rises more than 260 feet off the ground. Situated on the 19th Floor, the pool comes alight at night, with a sprawling view of Doha city.
The hotel has dedicated floors for ladies and gents for spas, changing rooms, and showers. With beautiful gold painted tiles in the steam room, the hotel also offers a fitness club, business center, and a beauty salon.
The hotel also houses Doha's only revolving restaurant THREE SIXTY, located on the 47th Floor, and serves international cuisines.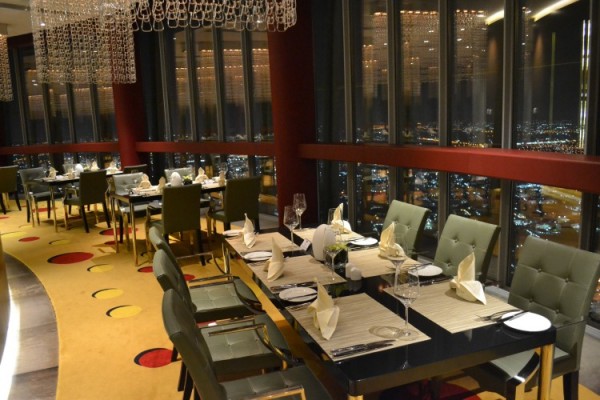 The Torch offers the all-day dining Flying Carpet Restaurant, where carpets suspend from its ceiling for a more majestical experience.
The Torch Doha
Al Waab Street, Aspire Zone,
P.O. Box 23833
Doha, QATAR
Ph: + 974 4446 5600/ 5800
www.thetorchdoha.com