9 – The Presidential Suite – St Regis, Shenzhen
Price – $32,000 per night
Toiletries – Remède
Providing impressive views of the city through the floor-to-ceiling windows, this expansive bathroom is situated on the 90th floor of the hotel. The suite's elegant ambiance which is inspired by traditional Chinese décor touts marble floors topped with plush area rugs in shades of gold and purple. As for the other goodies on offer, majestic freestanding Jacuzzis, a separate jet-massage showers, dual-basin vanities, a television, and an automatic toilet add to the opulence.

8 – The Tata Suite – The Taj Mahal Palace, Mumbai.
Price – $15000 per night
Toiletries – Forest Essentials
When beauty is present, it should be reflective and ubiquitous. That's the idea of this antique and majestic bathroom that features mirrors in the ceiling. Fit for a true king and queen, this bathroom has its own multi-faceted shower room, two ornate vanity counters, and an antique bathtub. As for the views, you get sweeping sights of the Arabian Sea and the Gateway of India.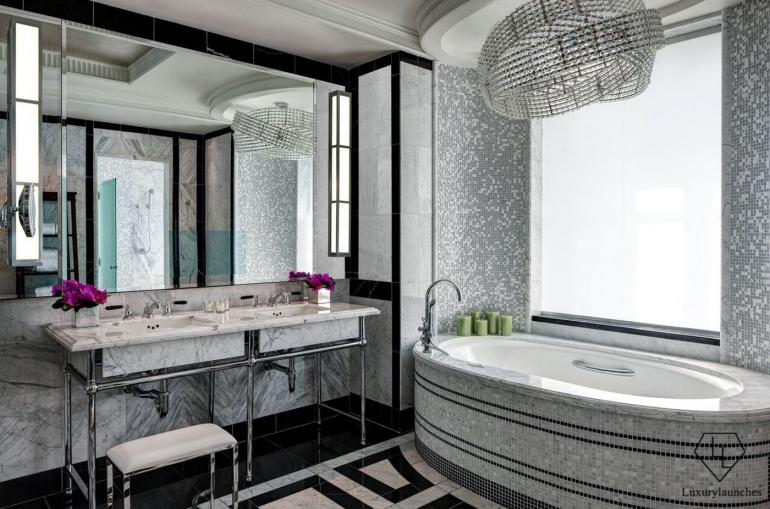 7 – The Presidential Suite – St Regis New York
Price – $35,000 per night
Toiletries – Remède
The master bathroom looks like it is straight out of a Bond movie – plush, unbelievably elegant, and sumptuously opulent. Featuring a freestanding classical spa tub with chromotherapy, crowned by a sparkling crystal sculptural fixture, the bathroom is more of a spa than a bathroom. As for the room detailing, the floor and walls are Carrara white with black accents and borders, and the shower is finished in white marble mosaic with delicate black and silver borders. Glossy all the way in and out!