Bored with your everyday routine? Tired of working those long hours under the ever flaring nostrils of your employer? Well, it's time you butter up yourself for a lovely vacation. The summer season is just around, and it's time to step away from that tiresome everyday schedule and give yourself some long-deserved rest. And make sure you make it different this year. Don't just book yourself in some boring old hotel halfway around your country. A handful of places are springing up around that will soothe those ever stressed nerves of yours. To help make things easier for your undecided mind, we've come up with a list of some of the most fabulous new and upcoming hotels on earth to spend your future vacations at. These are hotels from all around the globe that glows with luxury, comfort, and magnificent lavishness. Dreaming of a fairy-tale-like vacation? Feel like a fussy Prince lately? Step into one of these! These hotels will make you feel right at home if your home happens to be a castle, that is.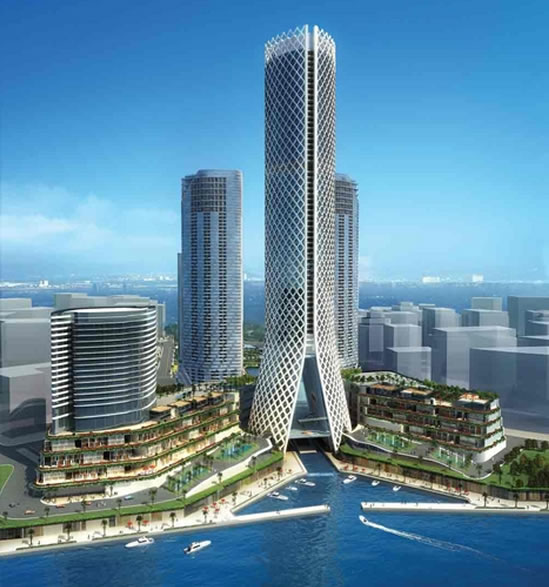 Tameer Towers
Reem Island, Abu Dhabi
Abu Dhabi will soon have its own jewel in its crown, a 7-star hotel which will be a part of the Tameer Towers project, with overwhelming and amazing views of the Arabian Sea. The Tameer Towers will be located on Reem Island, 500 meters away from Down Town Abu Dhabi. This seven-star business luxury hotel will sport around 150 executive rooms, conference and event facilities, and loads of restaurant services and food and beverage outlets. The 30,000 ft² retail area will include fine retail stores on the residential side along the park and terrific restaurants around the Marina. The Tameer Towers will be a perfect getaway for Abu Dhabi.


The Full Moon Hotel
Baku, Azerbaijan
The Full Moon Hotel in Baku is designed to leave visitors jaw-dropped with its beautiful structure. Located at Absheron peninsula on the west coast of the Caspian Sea, this hotel has a glass front that reminds one of a Death Star. The 35 story luxury hotel will have 104,182 square meters of space and 382 rooms. The 521-foot-tall hotel's large rooms are sure to push up the comfort level by a few notches. The structure of the Full Moon Hotel is essentially a disc with rounded edges and a hole in one of the top corners that appears radically different from the view depending on the angle it is seen from. This hotel is sure to make Azerbaijan, a little country between Russian and Iran a much visited place.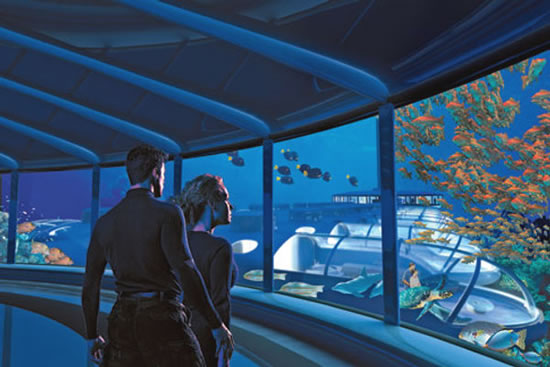 The Poseidon Mystery Island
A private lagoon at Fiji
Dreamt of living in Atlantis? Well, this hotel resort somewhat fulfills that dream. This hotel has lots to offer, from fine dining to stunning views of the surrounding lush coral habitat. This yet to be opened resort will have 550 square feet of guest rooms boasting a 270-degree view of the coral reefs. You can also catch a glimpse of tropical fish as they swim by the floor-to-ceiling windows. The resort will house a 3000 square feet rotating restaurant and bar, a reception lounge, a library, a conference room, a wedding chapel, and a spa. The Poseidon Mystery Island is worth a visit submerged in 40 feet of water in a 5,000-acre coral lagoon near the coast of a narrow, 225-acre isle located in northeastern Fiji. Look out for the little mermaid from your guest room!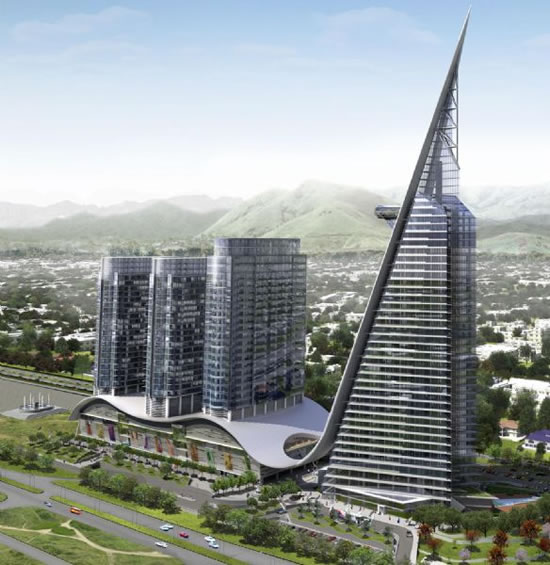 The Centaurus Hotel
Islamabad, Pakistan
Yet another upcoming 7-star hotel, this one finds its place in the city of Islamabad, Pakistan. With a project completion date set to sometime this year, the Centaurus Hotel will flaunt a load of luxurious amenities for guests. The hotel will boast around 350 suites, limousine services, spa and therapy facilities, a panoramic restaurant perched on the 37th level, individual butler services, and a grand ballroom. The hotel is part of the Centaurus project that will also house two 21-story residential towers, a 25-story corporate office tower, and a 5-story shopping mall, besides this 37-story luxury hotel. The super luxurious Centaurus Hotel will portray Pakistan's magnificence.


The Apeiron Island Hotel
Dubai
Dubai has yet another 7-star hotel in its line up to flaunt besides the Burj Al Arab. Designed by UK's Sybarite Architects, this beautiful hotel will be 300m from Dubai's coast. And no, you cannot drive up to this hotel. Access to the hotel is restricted to yachts and helicopters only. The Apeiron Island Hotel packs 438 suites, private cinemas, luxury boutiques, conference rooms, and an underwater restaurant with views into the surrounding lagoon, an underwater gym, a spa, and an art gallery. The hotel has a jungle theme, and the top two floors of the hotel will even feature a temperature-controlled butterfly jungle with tropical species. Don't expect tigers or bears as such, though.


The Flower of the East
Kish Island, Iran
Situated on the Island of Kish, the Flower of the East will place Iran on the map of luxury hotels. The hotel is expected to near completion sometime this year. Just like the name suggests, this awesomely structured hotel will look exactly like a flower. Using a combination of Persian and modern high-tech architecture, the hotel will be a seven star too. This pretty flower will boast around 200 luxuriously set up rooms. With magnificent views of the surrounding sea, this hotel is sure to take your breath away. The hotel is part of a complex that includes two more five star hotels, 4700 luxury villas, a marina and a 27 hole golf course and a whole lot more. This budding flower is sure to be a major tourist attraction in Iran, when it blooms.


The Pangu 7 Star
Beijing, China
Formally known as the Morgan Plaza, the Pangu 7 Star Hotel is part of the Pangu Plaza located in Beijing in China. The hotel is contained in one of the buildings, built in the shape of a dragon and stretching across seven football fields. This super-luxury hotel boasts around 234 guest rooms, including 140 suites, each room with a view of the Beijing Olympic stadiums like the Bird's Nest and the Water Cube. Each room has an integrated western style fireplace. The hotel's restaurants serve Chinese, Japanese, French, and other Western cuisines. The 290-year old Kaden Minokichi restaurant also has an outlet on the 21st floor. Vacationing in China? This is a must live-in hotel.


Town House Galleria
Milan, Italy
Italy's seven-star crown of glory, the Town House Galleria, located in Milan's heart in the fascinating historic location of Galleria Vittorio Emanuele II, exudes luxury. Each room is provided with a personal butler to cater to your needs. The Town House Galleria also has a Bentleys for your disposal. This exclusive hotel's staff assures the highest level of service. The hotel also features an a la carte lounge restaurant with a bar and a 24-hour dining room. The gourmet menu varies daily and seasonally. The hotel provides in-room beauty treatment. You can also request a personal health trainer. Besides this, its architecture is designed to leave you awestruck, with a hand-painted vaulted ceiling, large shuttered windows, and a structure like that of a historical building.
These super luxurious hotels, some of which are already in operation while some are still breaking ground, are sure to pamper you to the fullest and spoil you while you indulge in their grandeur.
[Source 1, 2, 3, 4]