First in Shanghai, early this year and now in Hong Kong; it looks like British fashion designer Vivienne Westwood has a new found love for the Asian continent and tea parties! We say this because the iconic designer has just opened her second café in the Asian continent and has us questioning strategy.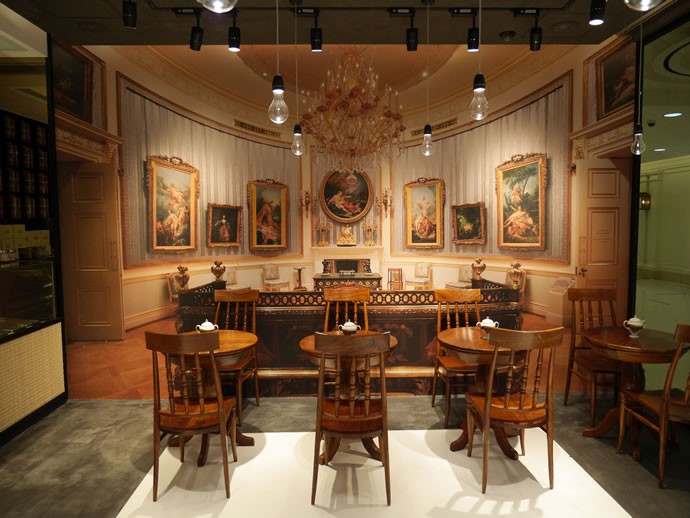 The Hong Kong Vivienne Westwood café, sits right by the brand's boutique in the Harbour City mall. The design of the café, similar to the one in Shanghai, brings to life concepts from the designer herself, whose ideas involve mixing brand signatures and her favorite elements, and putting it all together in an 18th century French tea room!
The café interior design elements include the Photo Shooting Panel, that is recreated just like it is backstage at a VW fashion show. The photo shooting panel at the shows serve as a record for all the styles and final looks before they head out on the runway. To recreate it in the café, a modern type of room décor material – Corian, is used to create a white panel along the wall the floor. The effect is further enhanced with lights on either side, and a gold brand-café logo. Around it, South Africa rosewood furniture adds an element of elegance and exquisiteness.


Another element added to the décor is the Trompe l'oeil in the tea room, which has also found its way into many of the designer's designs in the past; Trompe l'oei being a typical French illusionist painting technique. The wallpaper brings in the 18th century French palatial ambience and uses pictures taken in The Wallace Collection, Vivienne's favorite museum in London. According to pictures, the tea room looks like it can even pass of as a replica of a corner of the museum!


Besides the above, the 'Worlds End' 13-hour giant clock hangs outside the shop, which has been a standard inclusion at her London shop and an important element in her creativity and designer spirit. All the tea sets and utensils at the café are either engraved with the Westwood orb logo or embellished with the signature tartan. Some utensils even carry the Tromp l'oeil, similar to that in the background.
The café seem like a personification of Vivienne's vivid imagination. We wonder what the culinary experience would be like.