These days, exotic toiletries and personalised butlers are practically passé. From "Fragrance Butlers" to celebrity wake up calls, there's an entirely fresh and refined menu of innovative and extravagant perks available around the world. While a few hotels charge a small premium for these overblown services, others simply offer it an extended benefit of staying at an extraordinary hotel.

With luxury hotels going that extra mile to bestow upon their guests an entirely distinctive experience – here are 10 outrageous hotel amenities being offered these days!
10. Pet Acupuncture on demand- Hotel Deluxe, Portland USA
In true Hollywood style, Portland's Hotel Deluxe has a treat in store for their four legged guests. When guests check-in with a furry member of the family, they are promised top-of-the-line services with a professional pet veterinarian – specialising in acupuncture – amongst other pet friendly services. At just $45 charged as a one-time fee, a pet pampered room can be at your disposal.
9. Manta Ray Phone – The Four Seasons Resort Landaa Giraavaru, Maldives
How many times have you gone manta-ray-sighting and been disappointed? Well, the opulent Four Seasons Resort Landaa Giraavaru in breath-taking Maldives puts your disappointment at rest. With a Manta Ray Phone, hotel guests receive the latest Manta Rays sightings and an exhilarating Manta-on-call speedboat safari is arranged to whisk you away to location

8. Goldfish-for-the-day – Kimpton Hotels & Restaurants
Not only is the exclusive Kimpton Hotels & Restaurants pet-friendly, it also offers a goldfish-for-the-day for in-house guests. Adopting a pet full-time does have its caveats but this seems to be an ideal way to fulfil a pet-lover's fantasy.
7. Sunshine Butler by the pool – The Club Hotel & Spa – Jersey
Sunshine Butler at your service ma'am! Jersey's elegant Club Hotel & Spa, situated walking distance from some of the island's sun-kissed beaches, offer hotel guests complimentary services ranging from sunglass polishing to an assortment of sunscreens. Throw in cooling face and foot misters and an iced watermelon, and you've got yourself the perfect summer hamper.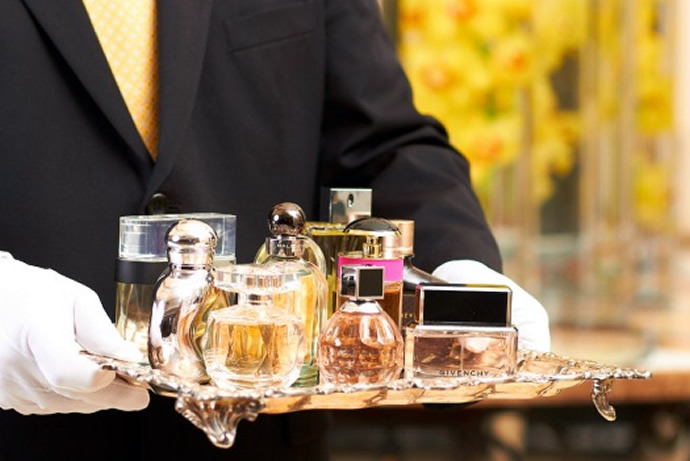 6. Fragrance Butlers – Rosewood Hotels & Resorts
Eau De Butler, someone? Rosewood Hotels & Resorts have gone out of their way to ensure hotel guests are not confined to their monotonous set of perfumes. "Fragrance Butlers" – as they call them – are now available at your beck and call to spray you with a splash of 10 luxury fragrances and colognes. The fragrance menu represents the personality and substance of the city they are in.
5. Celebrity Wake-up Calls – Gaylord Opryland Resort & Convention Centre, Nashville
Morning, this is Vince Gill, its 8:00 am! Nashville Gaylord Opryland Resort & Convention Centre offers celebrity wake up calls to its hotel guests. Guests can choose from the Who's who of the country music genre to call 'em. Suddenly, mornings don't seem that bad!
4. Ring-Delivered Owls – Ashford Castle Hotel, Ireland
12th Century castles and jewellery delivered by birds are not only for royalty – at Ireland's timeless Ashford Castle Hotel, a resident owl swoops in to deliver your engagement ring while you celebrate your memorable day in a medieval era backdrop. What's more – Dingle, as he is known, is also known to deliver notes and messages.
3. Access to a fleet of Porsches – Rancho Valencia, San Diego
At San Diego's Mediterranean-themed Rancho Valencia, guests have access to the hotel's private fleet of Porsches. All you need is a U.S. license and insurance to take your pick from a 911 S Convertible, Cayenne GTS or a Panamera S Hybrid.
2. Fender guitars on-call – Hard Rock Hotel, Chicago
Here's a treat for all you rock-and-roll fanatics! Experience rock-and-roll at its best at the Hard Rock Hotel Chicago, where hotel guests have the luxury of choosing from an enticing menu of Fender guitars. That's not all – the hotel also throws in a Fender Mustang floor amp and Nixon headphones. I'm sure you're wondering how much of a hole will make this make in your wallet – well I've got one word for you – Complimentary. It just doesn't get any better, right?

1. Wedding Design Studio – Ritz Carlton, Tianjin
The fabulous Ritz Carlton in Tianjin is the perfect venue for a 21st century fairy-tale wedding. The newly opened hotel has recently revealed its very own Wedding Design Studio. From Rolls Royce chauffeuring the newly-weds into the ballroom, to horse-carriages and your wedding night celebrated in the exclusive Carlton Suite, Ritz Carlton Tianjin arguably is a one-stop specialist in wedding planning. Who needs pumpkins and fairies when you have such a royal service at your call?