I am at a loss of words to describe Chanel's new jewelry collection – Sous le Signe du Lion. The new collection is an awe-inspiring effort by Chanel that magnificently captures the strength and beauty of the king of the jungle. The collection is an ode to Gabrielle "Coco" Chanel's zodiac sign, which incidentally holds a special place in her heart. The collection consists of 58 pieces of adornments that have been crafted in precision and exude utmost brilliance. The new Sous le Signe du Lion collection features necklaces, rings, brooches, bracelets, and watches that project a visible grandiosity. Take a look at these beauties closely.



This ring from Chanel's new collection features a majestic lion's head as the central design, which has been entirely set in white gold with diamonds.

Brace yourself because this outsized diamond bracelet with a lion head motif would surely flatter your senses.

There can't be anything more intriguing and attractive as Chanel's 'Lion Rugissant' ring, which features a lion ready to pounce. This elegant ring has been interpreted in white gold, onyx, and diamonds.

Chanel's 'Lion Céleste' brooch in white gold and diamonds represents the lion of Venice found in Mademoiselle Chanel's apartment, with its paw posed on a globe of the world.

This necklace is the star highlight of the brand's new collection. Chanel's 'Lion Royal' necklace in platinum, white gold and diamonds, is a transformable piece that can be a sautoir or a shorter necklace, or its lion's head motif can be detached and worn as a brooch.

"Enchanting" is the word that can best describe this exquisite piece of jewelry. Presenting to you Chanel's mosaic-style necklace set entirely with diamonds, also featuring an almost hidden lion motif.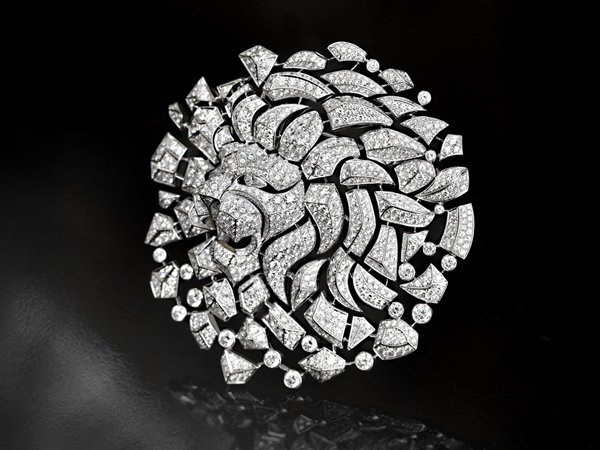 Matching the mosaic-style necklace is this delicate brooch, which too has been crafted of white gold and set in diamonds.
The collection includes the first jewel to be produced in Chanel's very own high jewelry ateliers, which opened last year.
[Via – The-Jewellery-Editor]