These days no one makes a bad car. That's a fact. All cars drive reasonably well, do exactly what you expect them to and what not. I mean car-makers have more than a GDP of a small country to spend on R&D so of course it will not be crap. Thus with so many cars, especially in the luxury space, you need to stand out and carve your own identity.



In an automobile market which is infested with capable competition, Lexus has done just that. Lexus burst into prominence in the 90's and later flourished with its range of cars giving the Germans sleepless nights. But off-late, Lexus has truly turned up the volume with its distinctive design and hybrid line-up. The latest such offering from the Japanese car-maker has been the NX luxury SUV. It is currently the entry level model from Lexus and slots below the much more expensive RX.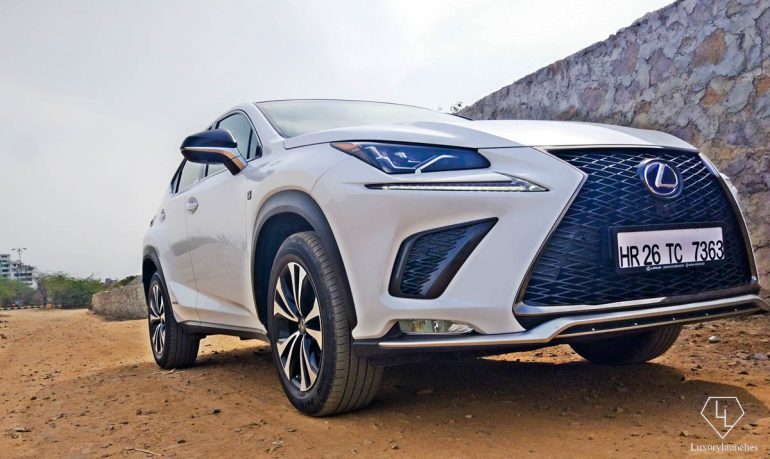 The NX represents the new wave of luxury crossovers and aims at the Mercedes GLC, Audi Q5, Volvo XC60 amongst others. However immediately when you clap your eyes on it, it is clear that the NX not only stands out from the crowd, a crowd forms around it! It really is a stunning looking car and to hell with being subtle!


The NX seems to be designed by a sword- looking at the sheer amount of slashes and sharp lines draped all over. Just look at that massive spindle grille, the sleek headlamps and the sheer amount of cuts and creases. Then look at the colours! The sheer quality of the paint, the vibrant colours on offer shows Lexus knows how to party, unlike its uptight rivals! The F-Sport trim gets even more aggressive wheels, bumpers and alloys! You can't take your eyes off this!


Inside, it is much the same with stunning quality and faultless craftsmanship. Lexus teaches a thing or two to its rivals here. Much like the exteriors, there is a lot going on here and it is all edgy and sharp. As is with modern cars, the NX interior is dominated by a 10.3 inch screen along with some nifty TFT dials and a touchpad to access various functions of the car.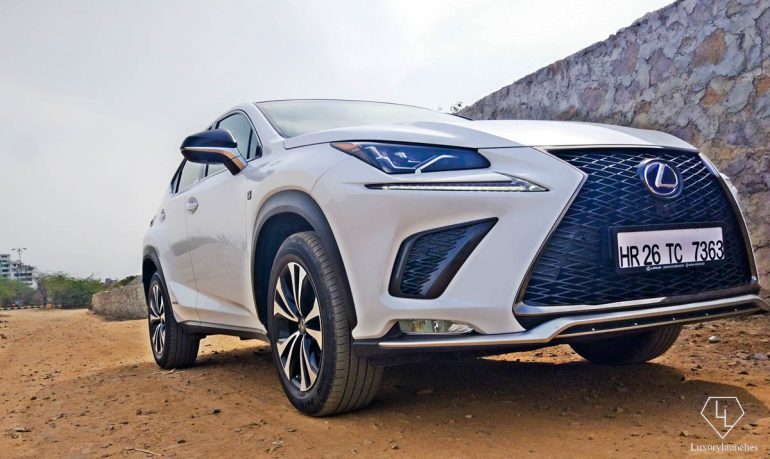 You can either select Luxury trim or the F Sport trim with the Luxury trim having more features. Standard equipment is high with everything you can think off including 14 speaker Mark Levinson audio system, HUD display, panoramic sunroof, wireless charging, 360 degree camera, powered front seats (also ventilated on Luxury trim), powered boot release, 8 airbags and more. The seats themselves are quite comfortable and rear legroom is quite good.


If I had to nitpick, I would say the boot is a bit small, rear headroom is in a bit of a short supply and touchpad takes a bit getting used to. Still, overall, this is a top-notch cabin, all things considered.


Even in the engines department, Lexus has done it differently and that is its big draw. With environment concerns on top of our minds and diesel now getting a bad reputation, the hybrid NX300h scores here. You get a 2.5l petrol engine plus two electric motors and a generator. Total combined output on tap is 197 bhp and 210Nm. The NX300h has an electric all-wheel-drive system plus a CVT gearbox with a choice of four drive modes. Once you are up and running, just like a hybrid, you are greeted with pin drop silence as you amble along in electric mode.


Then the petrol motor takes up the duties but you hardly get a sense of the baton passed over- so smooth it is. Overall refinement is excellent as you hardly hear anything happening outside. However on the subject of noise, the F Sport has a button where you have noise piped into the cabin for a spirited driving experience- we tried it and it really works! In the city, the gearbox is smooth and light steering makes it easy to navigate plus the NX is not a huge car that is intimidating to drive.
So what happens when you put your foot down? Well, it is by far the most fun hybrid I have driven. The CVT 'box is quite quick and responsive in its shift quality and the engine does respond with enthusiasm. However when driven really hard, it does get a bit strained with the engine getting a bit vocal. In terms of cornering, the NX has a light but direct steering while it manages to keep body roll at bay. More than an out-and-out sports SUV, the NX is tuned for being a comfortable and refined SUV. Of course being a hybrid, it delivers a rather impressive 18.32 kmpl!
Now onto the matter of its rivals- and there are a lot of them- the NX is not the last word in terms of driving enjoyment nor space but it is delightfully different and stands out. The rakish design makes it a head turner and the sheer quality along with the hybrid tech plus the peace of mind that Lexus assures, makes it a tempting proposition. Lexus has priced it well too with the NX in the spec tested here being Rs 55.5 lakh. So yes, we do recommend a buy! Just be prepared for a lot of stares, that's all!