The Himalayas have always been a honey trap for adventure lovers, some conquer it and some perish to the harsh land and the unpredictable weather. Only a few with experience and preparedness can tackle it well. Speaking of adventure and the Himalayas we cant help but talk about the Royal Enfield. Nothing the beats the joy of riding it on the most unforgiving and scenic terrain. Come 2nd Feb, and thrill seekers will witness a fully prepped motorcycle from Royal Enfield designed to quench their thirst for adventure, yes, we are talking about the Royal Enfield Himalayan and here is why it has got us excited.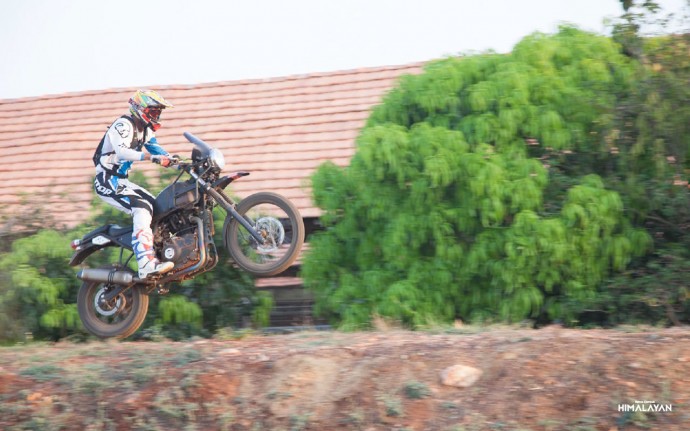 Here are some videos during the testing of the Himalayan that didn't excite us at all, but still……

5. Your better half will not like it:
No one would really appreciate the capabilities this bike comes with. Forget weekend shopping with her and those shopping bags on the handle bar, if half the time if you are out romancing and exploring the unknown paths and trails our country has in offer, which person would appreciate a divided affection by his partner.

4. It's not fully Make in India:
Oh Yes! Since our PM wants us to focus on things Make In India and promote it from the grass route level, now why would you buy a motorcycle which has been built by the Britishers who call themselves Harris Performance Centre, how does it matter when they say that have decades of experience in MotoGP, Isle of Man, World Superbikes Championship. What does matter is what our PM said!

3. Is it a street legal dual purpose bike:
Yes you read it right. All those planning and discussions to convert your existing bike to a proper tourer goes down the drain. What this bike will offer you can really disappoint your mechanic and the accessory dealer. What about those non reliable after market fittings now.

2. It's not a swagger:
By the first look of it, definitely this bike does have the swag and the style statement few others have in offer, how will you impress the fairer sex with your bike in college/office when motorcycling is all about swag.

1. It's not gonna be economical at all:
Like why would spend on a motorcycle again if you already own one just because Royal Enfield is launching it on 2nd Feb, even if the CEO is writing blogs about it and several videos and photos also shows CS Santosh also testing it on his motocross track. How can be a Rally Racer comments be trust worthy enough for a day to day motorcycle. After all the malls and the wine shops deserves our money more than this motorcycle.

About : Argho Mukherji
A Nagpur lad but now a Mumbaikar loves anything which has a engine & sets of wheels but being a 80's kid he loves his Yamahas & Kawasakis the most.
A media pro by profession & an avid Gulzar Fan by religion, meeting Valentino Rossi & riding a Yamaha R1 with him is his biggest dream.