The stunning city skyline, star-studded skies and the pink of the setting sun are some of the jaw-dropping sights awaiting you at six of the best bars in Mumbai with a view. From plush interiors to swanky cocktails to a plethora of gourmet snacks, each of the bars curated by us promises an unparalleled experience. If the allure of a priceless view coupled with an endless supply of your preferred tipple is proving to be much too tempting for you, we suggest you read on to know exactly where to head to for your next drink.



6. Escobar – Bandra
With the longest bar in India (77ft) and a to-die-for view of the chic Bandra suburb, Escobar but naturally, makes it onto our best bars list. Warm teak-wood interiors coupled with comfy cream sofas lend the 6000 sq ft lounge an elegant yet homely vibe while the minimalistic outdoor deck is charming to say the least – perfect for a breezy drink at sunset, we think. Though the heavily Mediterranean-inspired food menu boasts of certified lip-smackers – the Char-grilled Salmon in lemon butter sauce in particular, is divine, it's their bar menu which is the real draw. Must sips at Escobar are their delicious Sangria, Long Island Iced Tea and of course, their spicy signature drink, the Margarita De La Cartagena (Rs. 600) – a tequila based concoction flavoured with green apple liqueur, crushed bell peppers and jalapeños.


Address: 199, 4th Floor, VN Sphere, Linking Road, Near Bank of Baroda, Bandra West, Mumbai, 02242760000.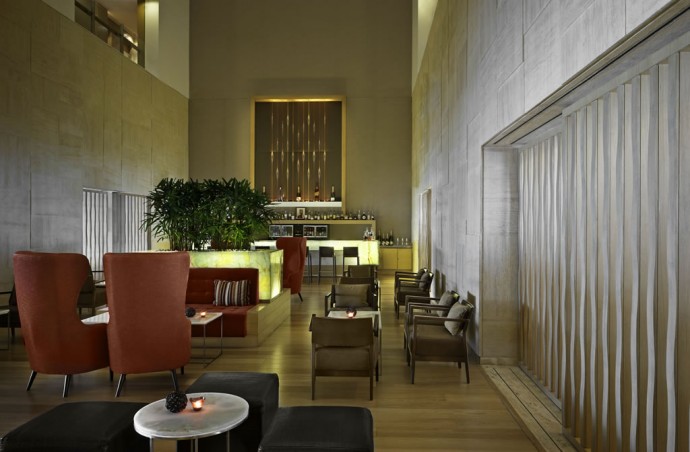 5. Eighteen The Lounge – Goregaon
Perched on level eighteen of the Westin Garden City, Eighteen The Lounge is the ideal place for an after work cocktail. Stylish and contemporary, Eighteen's teak wood floors, comfy red couches and panoramic city view make for a relaxing setting. While the creatively-named Peacock Martini and Maratha Margarita are expertly-crafted and innovative, it is Eighteen's signature drink; the vodka-based, fruit flavoured Fruitini (Rs.750 exclusive of taxes) that has us swooning. The soothing ambiance along with the delicious drinks ensures that the sleek resto-bar makes it on to our favourites list.


Address: The Westin Mumbai Garden City, International Business Park, Oberoi Garden City, Goregaon East, Mumbai, 022 67361821.

4. Arola – Juhu
An enormous elegant space with a charming al fresco section offering an almost surreal view of the sea, Arola at the JW Marriott is undoubtedly one of our most favourite venues in the city for a sunset drink. The baby of Michelin star Catalan cuisine extraordinaire, Chef Sergi Arola, the happening resto-bar also prides itself on being home to one of Mumbai's only dedicated gin bars with over 30 varieties of gin available! However, if gin is not your poison of choice then the other cocktails on the menu will also amply impress – an absolute must try though is the restaurant's signature Sangria de Sergi (Rs. 2525 exclusive of taxes). The heady red wine sangria made out of corrida de toros Gabriel Boudier saffron, Martini Bianco and herbal elixir Chartreuse Yellow is just the way we like it – strong and the right amount of sweet. It goes without saying that the Spanish fare on offer is also par excellence – the delicious Filet Mignon with wasabi infusion and the hearty and traditional Patatas bravas, especially.


Address: Lobby Level, J.W. Marriott Hotel, Juhu Tara Road, Juhu, Mumbai, 0226693 3344.

3. AER Bar and Lounge – Worli
Chic, Zen and oh so atmospheric, The Four Seasons' 34th floor open-air bar and lounge, AER is just the place we want to be for after-dinner drinks. Park yourself (preferably with your date) on one of the lounge's uber comfortable low-level white sofas and gaze at the spectacular star-studded sky while listening to DJ Fatbat spin some high-octane tracks ranging from funk and house to jazz and nostalgia-inducing classics. Adding to the romance of it all are AER's divine cocktails. While the Mirage, a concoction of vodka gin and white rum and the Aer-Rated, a champagne-based cocktail are must try's, it's the bar's signature 100 mile cocktail – the Konkan Express (Rs. 1330 ) a spicy mix of Absolut Peppar with curry leaves, kokum syrup and lychee juice that keeps us coming back for more.


Address: 114 Dr. E. Moses Road, Worli, Mumbai, (22) 2202-8700.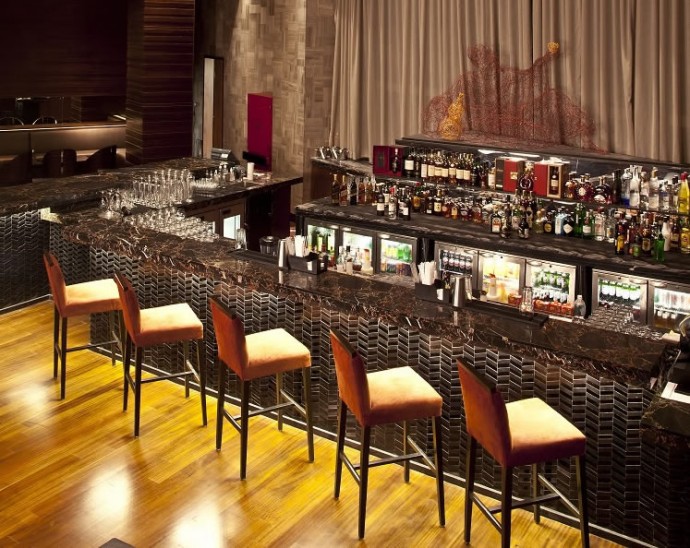 2. Li Bai – Lower Parel
Towering at about 500 feet is the Palladium Hotel's plush lounge bar, Li Bai. Nestled amongst the clouds, it comes as no surprise that the bar's floor-to-ceiling windows offer positively mesmeric views of the city below – the Mahalakshmi Racecourse on one side and the Arabian Sea on the other. Sprawled out on the 37th floor, house music with a beats of hip is the genre of choice at the romantically-lit lounge which, much to the glee of Mumbai's gentleman, also boasts of a separate cigar and Cognac room. The bar menu, keeping in line with the subtle sophistication of the bar offers its patrons edgy, handcrafted Asian-inspired cocktails such as Du Fu (a sake spiked with orange liqueur) and Smoking China (a unique combination of gin and green tea with apple smoke) however, the two piece de resistances are Li Bai's signature cocktails – The Poet (Rs. 850) which is an explosive mix of vodka, fresh green apple and Li Bai star anise, and The Fog (Rs. 1500), a smooth concoction of whiskey, honey and hickory smoke.


Address: 37th Floor, Palladium Hotel, Next to Phoenix Mills, Lower Parel, Mumbai, 022 6162 8000.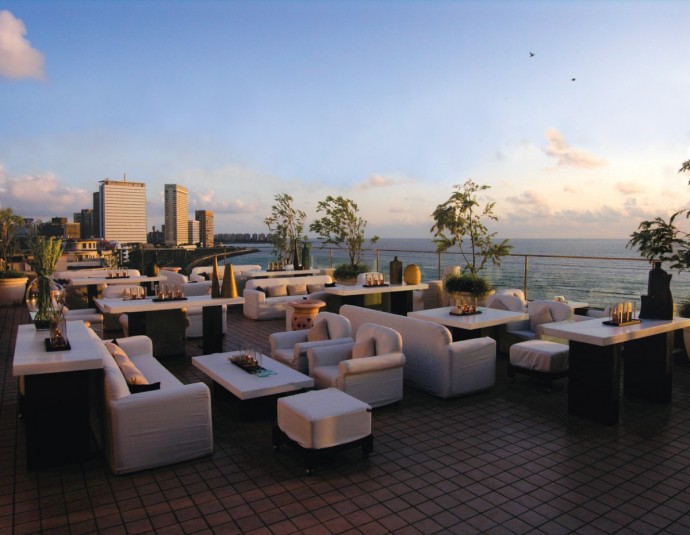 1. Dome – Marine Drive
Take in the glittering, starry sky from InterContinental's gorgeous rooftop bar, Dome. Offering an unparalleled view of the Queen's Necklace and bathed in romantic candlelight, the seductive open air lounge is a lover's delight. Sip on heavenly cocktails from their charming little indoor Dome-shaped bar, which also houses a mindboggling selection of fine wines and cigars, while you enjoy the phenomenal sight. The soul-soothing lounge music being churned out by the DJ in the backdrop further enhances the laidback vibe of the lounge. Dome's two signature drinks – the Watermelon Caiprioshka (Rs.1200) a refreshing summery drink of Belvedere vodka and fresh watermelon juice, and the Golden Sour (Rs. 1200) which is a scrumptious mix of Johnnie Walker Gold with fresh pineapple juice and Angostura bitters are both smashing. As is the food on offer – the Corn Mozzarella Tempura and the Spanish Meat Balls make for excellent accompaniments to the drinks.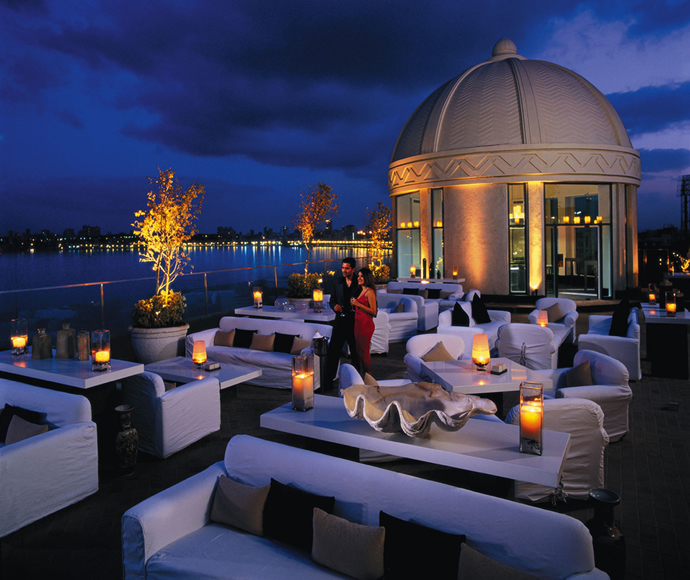 Address: Level 11, InterContinental Hotel, 135 Marine Drive, Mumbai, (22)3987-9999.