The culinary landscape of Mumbai's popular BKC area is really one to talk about. The bustling vicinity of the city is dotted with bistros, restaurants and bars offering almost every cuisine. The most recent kid on the block is Butterfly High. Curated and conceptualised by Nikita Poojari, Butterfly Space has managed to get all things right with its eccentric interiors, an inexhaustible portfolio of cocktails and an intriguing blend of Modern Indian cuisine.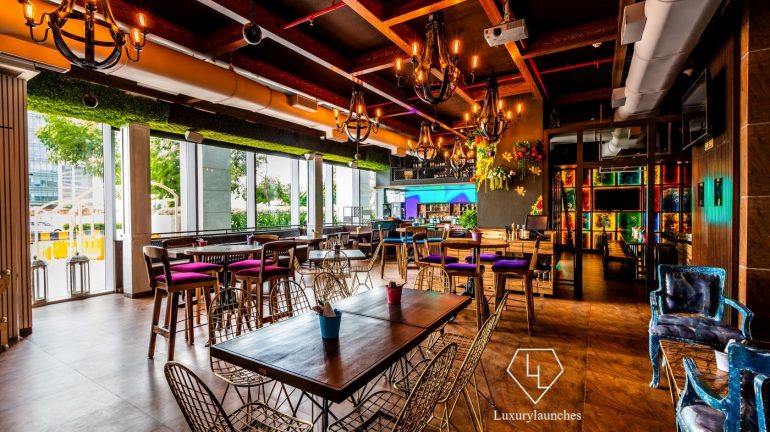 Coming from a successful family of restaurateurs, Nikita's vision behind Butterfly High is to design a cosmopolitan hangout spot where people from different walks of society could find a common place to eat, drink and enjoy an amazing atmosphere.
The panel behind the restaurant entails avid entrepreneurs like Sanjay Shetty, Pawan Shahri, Dhaval Udeshi, and Nikhil Rochlani. The fantastic five have joined hands to cater to BKC frequenters seeking a pocket-friendly dining experience.


Three sections make up the entire space; The Lounge Seating, The Main Dining Area, and The High Dining Tables spread in the centre. They've even created a community style seating area for private dinners and conferences. Inspired by art and nature, the space generates a great balance between both elements.


The expertise of chef Rakesh Talwar is behind the unconventional menu. The menu showcases the following: Tomato Curry Leaf with Rassam and Fried Idli, Pulled Jackfruit Nachos with Monterey Jack Cheese, Jalapeños, Refried Beans, Tomato Salsa and Sour Cream, Coriander Pesto Bajra Pasta (gluten free), Lamb Hummus with Ghee rubbed Khakhra and Khichiya Papad and Bombay Duck Recheado Bao with Coconut Mango Chutney.


For those organic few, Butterfly High has an extensive bar collection with natural and healthy, organic cocktails, which includes cocktails made out of fresh juices, and in-house shrubs and syrups that have been laid out on display.


The restaurant has opened doors to public since 1st July, 2018.
Where: Butterfly High
Unit no. 4, Ground Floor,
Jet Airways Godrej BKC, G Block, next to MCA,
Bandra Kurla Complex, Ban, Mumbai, Maharashtra 400051
Phone: 080808 06940