Arola's on a roll. The signature Spanish restaurant, a creation of two Michelin Star Chef Sergi Arola at Mumbai's JW Marriott in Juhu, just turned three. To celebrate this, the renegade rockstar Harley-riding restaurateur flew in to charm the cognoscenti and unveil an all-new cocktail menu with his trademark flourish.



Over a spectacular meal designed by Manuel Olveira, his main man in Mumbai, accented by ribald rock'n'roll stories and intense intellectual debate on international issues, a select few got a chance to sample some of the innovative drinks – the Arola Twisters – that turned out to be as twisted, nuanced and wicked as their namesake. And just like Sergi (call me Sir-ji, he jested), each of the cocktails had a distinctive story to tell. We loved the one about the Original Cosmopolitan, which brought to life a different era before the late 1930s, where the authentic recipe for a Cosmo used gin instead of vodka. If you catch Restaurant Manager Gaurav Bhatte in an expansive mood, perhaps you can prise out some of these prize tales too.
So, apart from the stories, what can you expect when you visit Arola? You'll be greeted by a half-hemisphere bar, stylishly lit, which has behind it an array of bottles, a vast variety of which are gin, incidentally Mumbai's largest collection of gin. With Arola at the helm of this ship and the hotel's award-winning bartenders in full swing, it is a mesmerising performance by any standards. And when you see them introducing jasmine tea into gin or blowing wafts of rosemary smoke into vodka to give it a sharp edge, you know you're in for something special.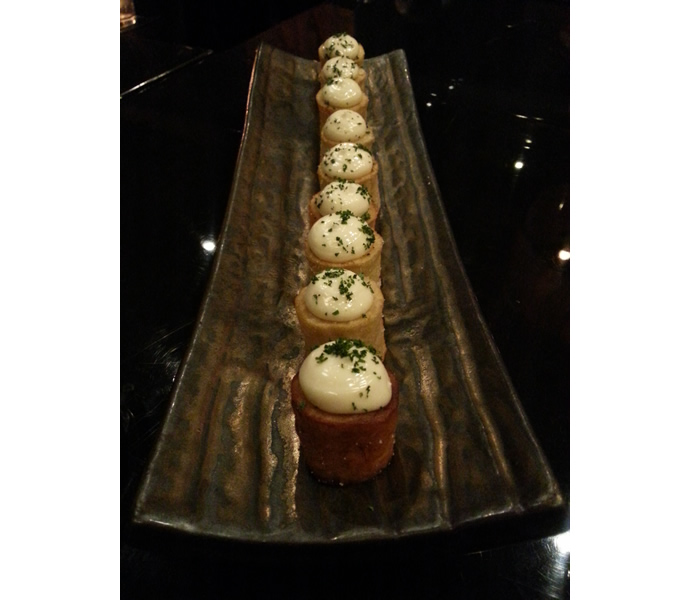 Like the Arolagrini… 'a Negroni like never before', as the menu puts it, rich with saffron gin and infused with smoke. Or the unusual Belleza Del Amor, decidedly a drink for those in love, which blends the fresh citrus notes of Tanqueray No.10 with rose petal syrup and traditional Indian gulkand. Panache, also made with Tanqueray No.10, actually reminds us of a traditional Hendrick's gin and tonic, as it has fresh cucumber juice. But shaken with curry leaves, it brings a very Indian twist to the table.
There are some delightfully fruity ones to choose from too. Like the Riu Naranja, which fuses Tanqueray No. 10, fresh orange juice and muddled thyme, or the Arola Dry Martini, which has Aphrodite bitters and grapefruit zest. Of all of these, we'd definitely go back for the Elderflower and Lychee Collins, which features ripe lychees muddled with Tanqueray No. 10 and French liqueur and fizzed with sparkling water.


The strong flavoured and aptly named Aviation, which has Tanqueray No. 10, Maraschino cherry liqueur and freshly squeezed lime juice, could certainly make you join the Mile High Club. Or then there's Satan's Whisker, a typical London dry gin shaken with duo of vermouth, orange juice and Grand Marnier, which can be quite acerbic on the tongue and just a whisker away from pure evil!
If gin isn't quite your thing, there's plenty else on offer too. We're betting the Amrut Zinger will be a popular choice, using Amrut, the very exclusive Indian single malt, deep and intense, with tangy orange marmalade and juliennes of ginger to give your tastebuds a treat. There's also Sangria de Sergi, created from Chef Sergi's own recipe, which melds equal parts enthusiasm with various liqueurs, fresh fruit juices and Torres wine.


But at Arola, thanks to the innovative menu, you do tend to keep coming back to the drink du jour, much like the old guy in Billy Joel's Piano Man, who was making love to his tonic and gin. In fact, our favourite spin on the good ol' G&T, was the S3 or the Stir, Sip & Scoop. Instead of the lemon slice, the dessert drink has an island of Lemon Sorbet and a sprinkle of pistachio flakes. Refreshing and delicious and a far cry from the just-about-palatable anti-malaria antidote… the quinine-laced drink concocted and made popular by the British Army in India!
Quite different too, is the Spanish Martini, a novel take on the classic Martini with a twist of bitters and orange flambé. This one had even die-hard drinks aficionados gasping with its sheer spunk and strength of personality. Just like the effect Sir-ji himself has on his guests, isn't it?
Arola, JW Marriott, Juhu, Mumbai. A meal for two, with drinks would cost Rs 4,000.
Address: Lobby Level,
JW Marriott, Juhu Tara Road,
Juhu, JW Marriott Mumbai Juhu,
Mumbai, Maharashtra 400049
Phone:022 6693 3000