We welcome you to our nonpareil dining experience At Le Cirque Signature (Mumbai), the who's-who of restaurants worldwide. Nothing boldly says, "I'm actually a star, a league apart!" like the recently opened Le Cirque Signature restaurant at The Leela, Mumbai does. And whatever we talk of is probably only a small fraction of the finesse and perfection of the gastronomic trail we set our palates on.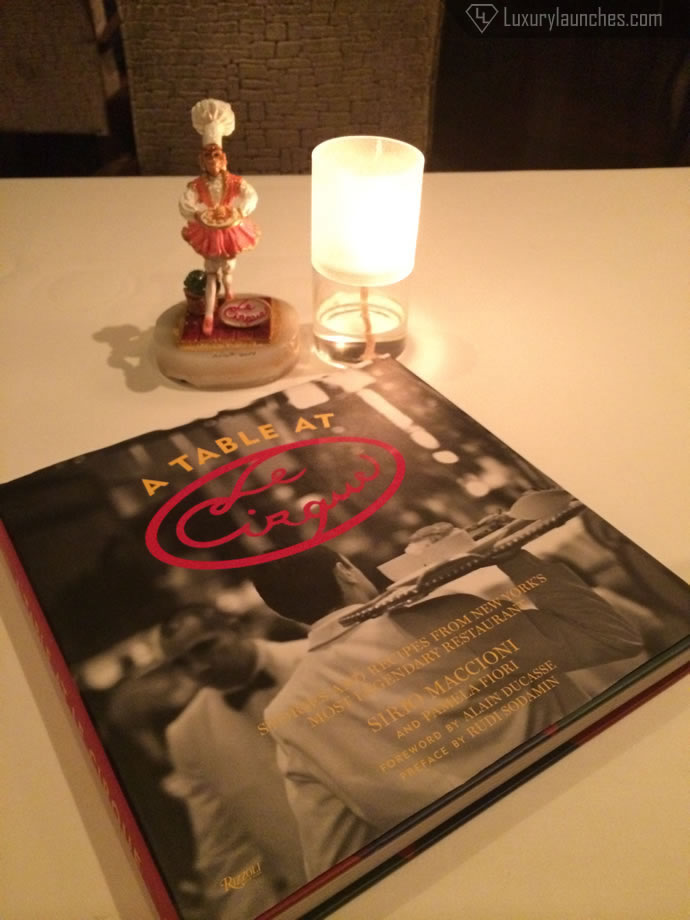 Le Cirque, that literally stands for 'the Circus' in French, first began in 1974 when Sirio Maccioni, a native Italian entrepreneur, confidently challenged the then prevalent norm of an upmarket French restaurant and put forth a unique new dining experience themed simply as 'controlled confusion'.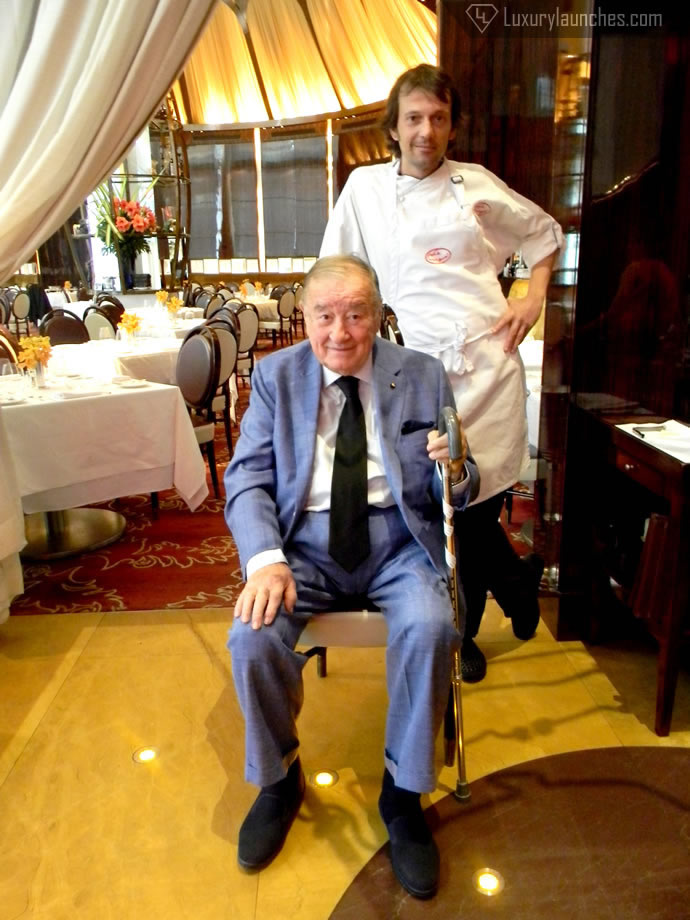 Over the years, this classic restaurant has become synonymous with high-glamour dining in New York. Le Cirque Signature at The Leela, Mumbai is the first 'signature' restaurant and second Asian outpost of this legendary fine dine restaurant, with Chef Matteo Boglione at the helm of affairs. We were plain impressed to learn that Le Cirque is also known as the birthplace of the Pasta Primavera and one of the world's famous desserts, the Crème Brulee.

Mind you, this is no ordinary circus. It's a Michelin-starred circus, if we may liken! You really must see it to believe it! Le Cirque Signature offers the signature and most popular Franco-Italian specialties from the brand's fabled restaurants around the world along with new creations for Mumbai epicures by the celebrated Chef Matteo Boglione from the flagship Le Cirque, New York. His guests over the years have included Leonardo Di Caprio, Sarah Jessica Parker, Woody Allen, David Bowie, and Gwyneth Paltrow.
The unrivalled menu is complimented by a repertoire of French and Italian wines for aficionados. You may find an equal proportion of the two types on the menu, and also a few select wines from across the world.

As we enter the long driveway leading up to the lobby and the elevator doors open to the top floor where this 65-seater pompously rules, the speculation is rife. We really are doing hula-hoops like the circus joker in our minds. We walk into a chic wooden-floored relaxed and warm ambience with dim yellow lighting matching up to the mood created by the velvet gold upholstery against white linen tables. Frankly, it does not as much carry a strong air of fine-dine hovering as we initially conjured in our minds.
While we were seated at our table, the staff sent across a copy of the famous book, "A Table At Le Cirque" which is a compilation of interesting stories and recipes from Le Cirque. Like a little book of secrets spilled over our table. This book truly made up for the lack of dialogue at the table (as I was dining all by myself) and guided me further on the selection of courses to follow.
Aperitivo
As I was intermittently peeking through the menu and the book, a server bought forth a glass of refreshing Moet et Chandon rosé wine and a small multi-grain bread platter to go with it. What he did point out was the differentiation of the three types of olive oils, namely fruity, nutty and spicy to use as the dip for the bread. The robust grained crunchy bread soaked in the pristine fruity olive oil, with just a drop of aged balsamic vinegar to emphasise the oil, was just about perfect as I was already feeling faint pangs of hunger by this time.
As we were indulging in a bite-sized amuse-bouche of a pan-seared polenta with an onion soubise sauce, we couldn't help but overhear a couple at the table across ours sending their compliments to the chef. "Very bravo!" they said. After a brief minute or two, we see Chef Matteo (tall, smart-looking and surprisingly lean framed for a chef) walk up to the guests and personally greet them. The bravo element of the amuse-bouche for us though was the smooth and light flavour of the onion puree delicately complimenting the polenta.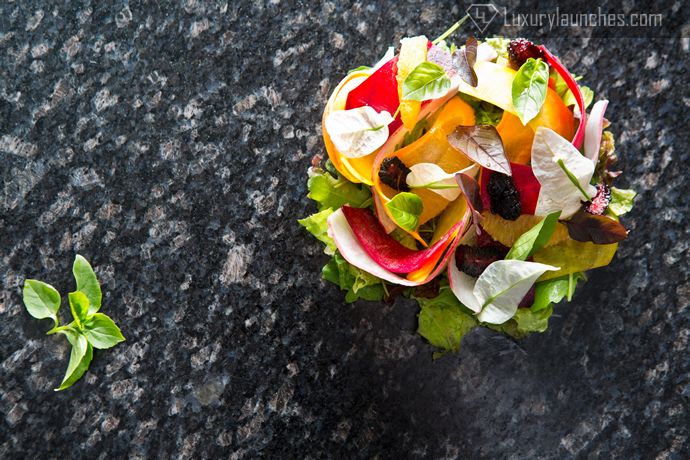 Anti-pasti
For the first course of appetisers, we thought of tasting the signature dishes namely Le Cirque Salad and Pecorino Cheese Crème Brulee. Now Le Cirque Salad is an original nutritious classic salad, whereas Pecorino Cheese Crème Brulee is a version tweaked and recreated by Chef Matteo. The delicious salad comprising of rucola, lollo rosso (red leaf lettuce), red and yellow beetroot, orange, figs, pomegranate, fresh berries, mint, fennel, toasted sunflower seeds and a lemon dressing is a real treat for healthy eaters. It's tangy, inviting, juicy and light on the tummy. They say you must eat a minimum of five different colours in your food everyday, and this salad was a perfect colour fix invigorating all senses! However, it got a little salty towards the bottom of the serving. Oops!
"Le Cirque Salad is a signature dish. Signature dishes come from New York mainly. Here we do more of New York and Delhi dishes."

The second antipasto, an all-time favourite (I'm told) was a surprisingly delish twist to the dessert crème brulee. Anything caramelised is an instant hit with me! We gave the flat bread it was served with a miss, because we were too captivated by the crispy not-too-sweet sugar top and the melt-in-your-mouth cheesy creamy base under it. The red onion marmalade packs a lot of punch into the savoury brulee. Every dig at it made the crease lines on my forehead disappear; talk about food therapy!
"That's the recipe I bring with me since 2005. It was a dish I invented when I was in Florence."

Primo
For the next course, we just had to pick Sirio's Spaghetti Primavera. Reason being? It is originally curated at Le Cirque by none other than the stalwart genius Sirio Maccioni himself. We had to pay our respect to this creation which was lapped up in a jiffy! Not too bland, not too spicy, it was just right. Nothing too fancy, just authentic. Full of flavour and very creamy that, in turn, made it quite filling. It was like biting into an age old tradition of greatness. I didn't rest my fork even for a second until I had completely drowned myself in all five ways of committing gluttony.

Ravioli Burrata comes highly recommended as well. Its spinach ravioli with a filling of burrata cheese imported from Italy, served with garlic cheese crisps and truffle sauce and garnished with pea-shoots. It was well-made, yes, but proved to be a dampener in comparison to the Spaghetti Primavera.
Secondo
Almost full despite the smaller tasting portions, but raring to go – to the main course now! A glass of wine is the solution to every problem, they say. Think we needed a glass of wine to place a finger on what we must order for, from the many tempting options on the menu. We decided to call for Dover Sole, a signature Le Cirque preparation again, while we sipped on Inzolia Catarratto (Baglio Del Sole) which is a type of white wine from Sicily.

The classic French preparation Dover Sole, cooked meuniere style, on a bed of lemon, parsley and butter sauce continues in the central theme of culinary finesse. The soft texture of the fish was contrasted by the crunch packed in by the contorno of grilled vegetables served alongside. Maybe my salt sensitivity was heightened, as I found this a tad too salty.

Dolce
Crème Brulee, without a doubt, for dessert too! Its secret seduction lies in its presentation, we can never forget how we scraped through to the bottom, only to lay sight on the recipe as we cleared our crème brulee bite after bite. Somewhat like a fortune cookie. Such joy, I tell you! Forget love, I'd rather fall in crème brulee!
"In New York, people would leave in the middle of their meals elsewhere, just to have dessert at Le Cirque. A restaurant stays on your mind when the dessert is amazing."

Post our meal, we met with the Chef de cuisine, Matteo Boglione for a quick chat. He spoke of how they tweaked the recipes to suit the Indian palate and the minor setbacks faced in duplicating the flavour and taste perfectly because of the differences in basic ingredients such as milk, water etcetera. We learnt that a majority of ingredients used are imported, while a few ingredients are now sourced locally. For example, asparagus, lemons, mushrooms, avocados, artichokes and anchovies are all imported.
"When I can, I buy local….Like I source ingredients locally from a farm situated 400 kms away from the city, whereas the rest of the ingredients come from all over the world, namely places like Holland, Indonesia, America, Italy, France, Australia and more."
The menu pricing is on the higher end, now we know why. When most of the ingredients prove expensive because they are of the best possible quality and freshly imported, the menu also becomes expensive.
"Le Cirque has always believed in the concept of classic, super classic plating. Sirio Maccioni would always speak of how the food should be simple and good, presented in a nice classic manner."
We also colloquially talked about how dipping bread in olive oil originated in America actually, and Italian restaurants adopted this international trend to keep the diners happy, so-to-speak.
"In my part of the country, we made a dish called fettunta which is grilled bread with garlic shavings on it, to taste the new oil that came in."
When we asked Chef as to why he chose to come to India, he replies saying he wanted to come to India since the age of 16, and that being with Le Cirque at Mumbai was an ideal welcome proposition for him.
"It's very different here, in India. A good different, yes. Everyday I go out, I see interesting things. In Mumbai, you can find everything. The Indian culture is fascinating too. I see my tenure here as an experience of a lifetime."
We further asked chef if there was a holiday, a day of rest for him at all. What with the busy dinnertime every new night?! To which, he promptly replies that he takes a day off every once a week, and that he can afford to do that as the team working with him is highly committed, better prepared and very professional in their work disposition.
Recommendations from the chef, if any in particular?
"The Pecorino Cheese Crème Brulee is a must-have. Tuna Tartare, for sure. Foie Gras, although its banned now. Crème Brulee for dessert."
Verdict
The attention to detail and hospitality just shone through each and every form of communication. Be it the prompt change of cutlery specific to our choice of preparations, the choice of Villeroy & Boch crockery with circus juggler figurines, the finest Schott Zwiesel stemware, the polite and prompt tending to the table by an impeccable staff, the polka-dotted white linen napkins, timed timely refill of wines to maintain its temperature, the delectable suggestions from the menu, information on perfect wine-pairing by the sommelier, the handpicked Italian tunes of Gian Campione, Renato Carosone, Edoardo Bennato playing in the background and the like. On a sidewall, we see a frolicky Le Cirque roll its eyes and show us a few circus tricks up its sleeve in the form of framed antics! The service was stellar, and the music made the wait in anticipation of the next new course even more pleasurable.
"Mumbai has a lot of vegetarians. A little above 60% of the menu comprises of vegetarian dishes. We tried to manipulate the menu to make it more balanced, which would suit the Indian palate."
You'd find a good spread of vegan options too! Infact, they also offer a bunch of 'Jain' preparations!
It's not a brief visit you pay; it's you being the guest of honour at an experience that unfolds marvellously. There's fashion food, and then there's classic. Signature Classic is what this circus is, with Chef Matteo making sure there is an element of 'nouvelle' added to suit the Indian palate. Nothing needed any more or any less! Just perfect. Every bite was a little morsel of deliciousness. The whole experience was like a meticulous act being played out. Culinary rivals? Did you want to ask? Well, none what-so-ever!
Okay, the one thing we didn't like so much was the gruesome traffic on the way to get to this spot, as we had to literally fight our way through bottlenecks and ended up getting delayed. But when has distance really ever deterred us from indulgence? Also, once you get there, all the flinching follies of a few extra kilometres will vanish. The entire dining experience may be guilty-as-charged of causing a welcome temporary bend in space and time continuum. We think this is only the beginning of the Franco-Italian circus of gastronomical show-times. The queue of patrons is lining up. As we see it, that day is not far when a table here would demand a month's advance booking. There's a new menu being introduced as well with twelve new dishes (few new desserts), one of which would be the Lobster Bisque, which is a Le Cirque classic again, with fresh truffles coming in from across the world, and we kid you not, but when we heard that, there was nothing else more tempting and appetite-revving than that.
Cost of the meal
We were served tasting portions, but if one was to order for all of the above, the cost would approximately be 9500 INR. (Exclusive of Government Taxes as applicable)
Address:
Le Cirque Signature – The Leela
The Leela,
Andheri-Kurla Road,
Sahar, Andheri East, Mumbai
Tel no: +91 (22) 6691 1344