The economy may have been plummeting, but the restaurant business in Mumbai definitely didn't let that be a deterrent. Hundreds of new establishments opened in 2019, some more noteworthy than others! We picked the best ones that will sweep you through 2020 on a tsunami of taste and tastefulness. Here they are, in no particular order of preference…

Soufflé S'il Vous Plaît
Where: Churchgate
What I love: A restaurant that has authentic French flair and finesse but none of the stuffiness. Opened by the same duo who are behind the eminently successful Slink & Bardot – Canadian manager Nick Harrison and French chef Alexis Gielbaum – Soufflé has charming décor, a casual yet classy vibe and a well-stocked bar. It has all the makings of the sophisticated new hangout for those who first met at the same location in its original Mocha avatar in the 90s!
What to have: The soufflés, especially the Black Truffle Camembert and the Dark Chocolate – are just as light and delightful as we've had in Parisian bistros. But there's also a hearty French Onion Soup and classic French mains like Ratatouille (remember Anton Ego's moment of epiphany?!), Boeuf Bourguignon and Lobster Thermidore to entice you back again and again.

Sorrentina by Foodhall
Where: Linking Road, Santacruz West
What I love: Beautiful interiors and the sunshine streaming in during the day makes all your delish food photos especially Insta-worthy. For a restaurant perched atop a Foodhall, it certainly cleans up nicely. Its access to the freshest ingredients and one of the best Italian menus in the city, designed by Chef Cristian Borchi, gives it real oomph. Talented Executive Chef Abhaas Mehrotra helms the kitchen and translates rustic Tuscan into tantalising tasting plates.
What to have: Crostones like the zucchini on toasted bread with goat cheese and balsamic glaze; anything with their velvety smooth burrata in it; devilishly good prawns in a spicy sauce – Gamberetti ala Diavola; hand-stretched Neapolitan pizzas; and all the fresh handmade pastas that have no rival in this city. They also do diet-specific and kids' options.

Dirty Buns
Where: Breach Candy and Kamala City, Lower Parel
What I love: After wowing the city at Bastian and One Street, Chef Boo Kim (who goes by the name Boo Bhai in his Bandra hood and amongst friends) has gone independent and opened two Dirty Buns – in Kamala City and Breach Candy – this year. The Korean-American chef with Chicago roots likes to get down and dirty. With the food that is. He wants his customers to dig in and relish his food with abandon, so he encourages you to go all-in and eat his comfort creations with your hands, allowing the sauce to drip onto your plate and hands and to literally lick it off your fingers. With crazy neon signs, warmth and whimsy laced with fun music, both places let you relax and focus on the stupendously tasty food. 
What to have: Get the eye-poppingly good Butter-poached lobster Cobb salad with charred corn, bacon and avocado in a red wine-parmesan dressing, the mushroom bao with vegan aioli and truffle, or the sinful steak, caramelised onions and mozzarella roll.

Ishaara
Where: Palladium, Lower Parel
What I love: Tropical foliage adorns some of the walls and the huge windows let in the light beautifully during the day. To top that, this joint venture by Prashant Issar and Anuj Shah of Stratix Hospitality (they did Mirchi & Mime in Powai before this one) and Riyaaz Amlani of Impresario Handmade Restaurants, sets the bar for inclusivity in the hospitality sector. The hearing and/or speech impaired make up a large part of the team and the cleverly designed menu helps overcome any possible barriers in communication. You not only leave feeling sated by good modern Indian food in a very pleasant ambience, but also with a rudimentary understanding of communicating through sign language.
What to have: A handy chaat counter is a nice stop between shops. And when you're there for a laidback meal with cocktails, go for their crunchy Lobster Patti Samosas, perfectly spiced Makroot Cauliflower, unctuous Dal Makhani, and divine Yuzu Lime Mousse. The Sweet Potato Brûlée is sheer brilliance.

Seefah
Where: Hill Road, Bandra West
What I love: Mesmerising water colours and eclectic knick-knacks are set against deep blue walls that echo the hue of Seefah Ketchaiyo and Karan Bane's last eatery called – what else – The Blue. This husband-wife duo who fell in love during their stint at the Four Seasons Mumbai, do Thai and Japanese cuisine to perfection, using the best of ingredients, traditional recipes and professional techniques. Regulars are relieved at not having to wait to eat the wonderful food as long as they had to before and Seefah has become quite the rage of the neighbourhood.
What to have: The teriyaki-glazed Eel Sashimi, the Roasted Tenderloin Shoyu Ramen that has had patrons describe it as 'a hug in a bowl', and the decadent Honey Toast, made with toasted brioche, honey with ice-cream.

La Loca Maria
Where: Pali Hill, Bandra
What I love: Warm décor that reflects the friendliness of Chef Manuel Olveira Seller (last seen in the city as Chef de Cuisine of the now-defunct Arola at the JW Marriott Juhu in 2016) and reimagined Spanish classics that bear the mark of both – his childhood in Toledo as well as the many Michelin-starred restaurants he has worked in. An added plus is the theatre kitchen where you can watch the meal being created, with every single dish made completely from scratch. His wife and partner, Mickee Tuljapurkar, manages people and logistics, so Olveira can stay focussed on creating some delicious food.  
What to have: From his quite compact menu, try tapas like the punchy Gambas Al Ajillo (mopped up with fresh, sourdough bread) and the ab-fab Sticky Pork Belly and Charred Octopus. Vegetarians will enjoy the spicy Patatas Bravas and the Mushroom Truffle Croquettes as well as the Chevre and Poached Pear Salad. Braised buff with pineapple chutney is an inspired dish, while dessert has to be the Crème Catalana with its refreshing orange sorbet.
Qualia
Where: World Crest, Lower Parel
What I love: Rahul Akerkar – the man behind the iconic Indigo, India's first standalone fine-dining destination – has conceptualized this very avant-garde, a cuisine-agnostic restaurant that uses locally-sourced ingredients in unexpected juxtapositions that make for a memorable meal. In keeping with global trends, there's a lot of emphasis on pickling and fermenting and the use of locally sourced ingredients. 
What to have: Charred Pumpkin with Ricotta, Bhavnagri chilli, preserved lemon and white bean puree; unique Yellowfin Tuna Loin redolent with a curry leaf and sesame rub, along with avocado package and pickled beets; the smoky Charred Artichoke pizza, with burnt scallion, Ricotta and Pecorino; and, for dessert, the unlikely yet very likeable Cucumber and Lime, served with crème fraîche, sorbet, fennel meringue, pickles, and mint oil! There's a 20-foot long bar, lit just right, and serving up some unusual and rather potent libations using Ayurvedic herbs, bitters, shrubs, and garnishes, apart from an impressive wine list. 

TresInd
Where: Inspire, BKC
What I love: After success and accolades in Dubai and Kuwait, Passion Group founder and MD Bhupender Nath brought this award-winning brand to India this year. Truly delicious modern Indian food and chef's tasting menus, served by a well-trained team in a classy ambiance. The price point for the typical two-hour experience is at the 'just-right' mark, making this the perfect place to entertain overseas clients as well as plan date nights.
What to have: The tasting menu changes often so you can keep going back to be surprised and delighted by it. You can never get enough of some favourites, like the khandvi ice-cream, the lamb khari in a pool of slow-cooked nihari and the khichdi, so it's good that they stay on the menu. 

Meishi
Where: The Park, Juhu
What I love: The very glam black-gold-grey décor of Meishi is the perfect setting for a lavish pan-Asian meal. Situated in The Park Mumbai, this fine-dining space is fast becoming the go-to place for Juhu's swish set. The private dining area, set apart from the rest of the restaurant with a curtain of gold chain, oozes opulence.
What to have: From the wide selection of vegetarian (including gluten-free, diabetic and even keto options!), try the Lotus root with pumpkin, sweet potato, and thyme honey chili. The turmeric miso soup is like nothing you have tasted before. And if you look beyond the array of sushi and dim sum, the Crispy Pork with pineapple chili jam and the Scottish Salmon Tataki with yuzu, mandarin dressing, and seaweed salad are winners. Taste their artisanal cocktails that feature unusual ingredients like black sesame syrup, miso rum or coconut foam. And end with one of their honey-wasabi or caramelised ginger ice-creams.  

Episode One
Where: Hiranandani Gardens, Powai
What I love: Anjan and Avik Chatterjee of Specialty Restaurants brought this brand with love from Kolkata to Mumbai. Even while redefining club culture into a less snooty and more fun one, they have retained the old-world charm of décor and the elegance of a high tea served to perfection. Expect colonial nostalgia with contemporary cocktails on tap!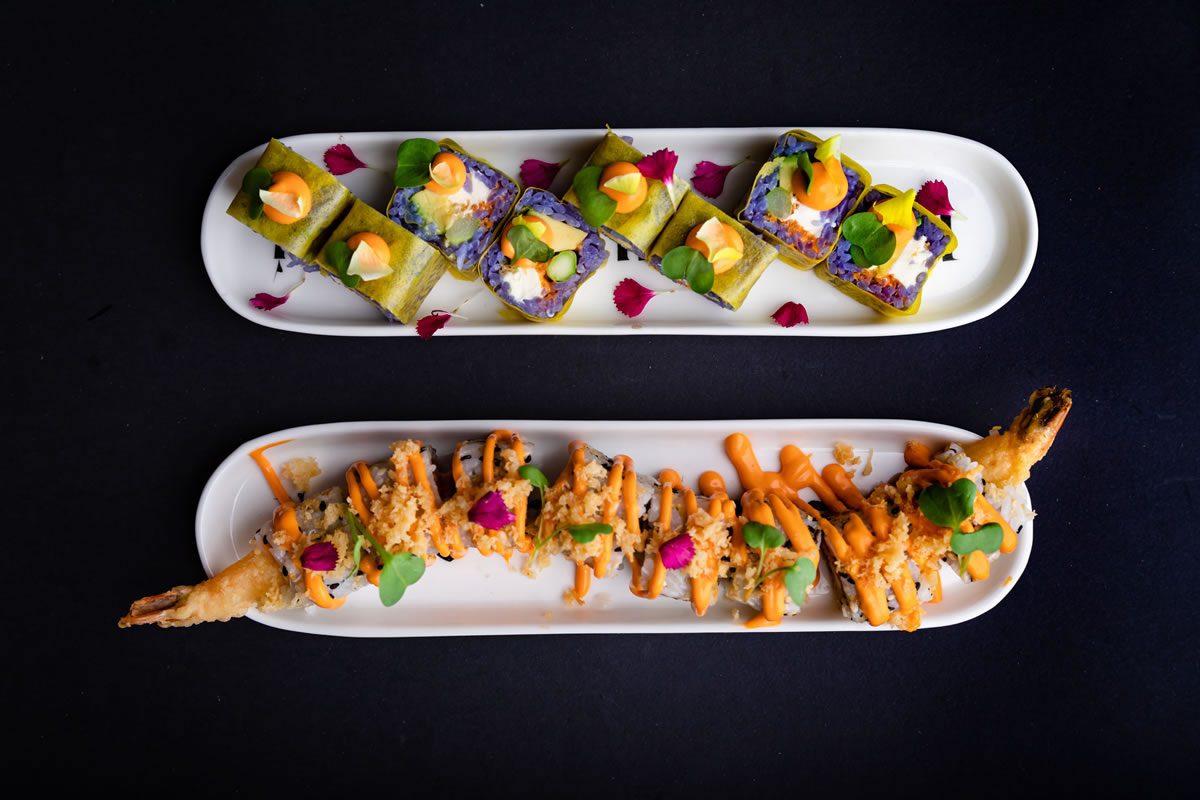 What to have: As you sip your Blue Tea and Gondhoraj at gin o'clock, pick from crowd-pleasers from dumplings to Cheetos-crusted sliders. The menu is all about comfort food from across the world, so there's just about everything… from small plates like Avocado Galauti Kebab to mains such as Smoked Salmon Pizza, Cantonese Prawn Noodles & Braised Tofu with garlic fried rice and a very Indian Lamb Ghee Roast!

Rocketing pockets
This year, some localities have had scads of new launches. South Mumbai is suddenly hot again, with Nara Thai, Foo Town, and Kitchen Garden by Suzette all opening doors here as a sequel to their suburban originals. Speaking of sequels, many Kala Ghoda faves are moving north – the Sequel now has a sibling in Bandra, La Folienow has something called The Factory Café in Mahalaxmi and the 145 Café & Bar has been wooing Lower Parel and Andheri this year. Colaba's Kuai Kitchen is now in Khar, while, the Middle-eastern Bayroute from Cuffe Parade and Powai has since expanded into Juhu, BKC, and Palladium. Powai is the other pocketful of surprises, spilling over with the promise of Kofuku, The Sassy Spoon, House of Mandarin, Social, etc.