The phrase 'We eat first with our eyes has taken a new meaning with Mumbai's latest haunt, 'Joshi House,' nestled commodiously in Mumbai's astir and iconic Pali Hill. Mumbai's newest restaurant is stuffed to the gills in an edifice that has replaced the famous Pali Village Cafe. It now looks like a contemporary haveli and is an alluring antithesis that manages to give you the feel of savoring dish after dish in a regal Rajasthani setup; until you turn around and the sweeping white interiors give you a glimpse of Santorini. There are five distinct seating areas, making it tough to decide a spot where you'd like to enjoy your time and get the most Instagram-worthy images.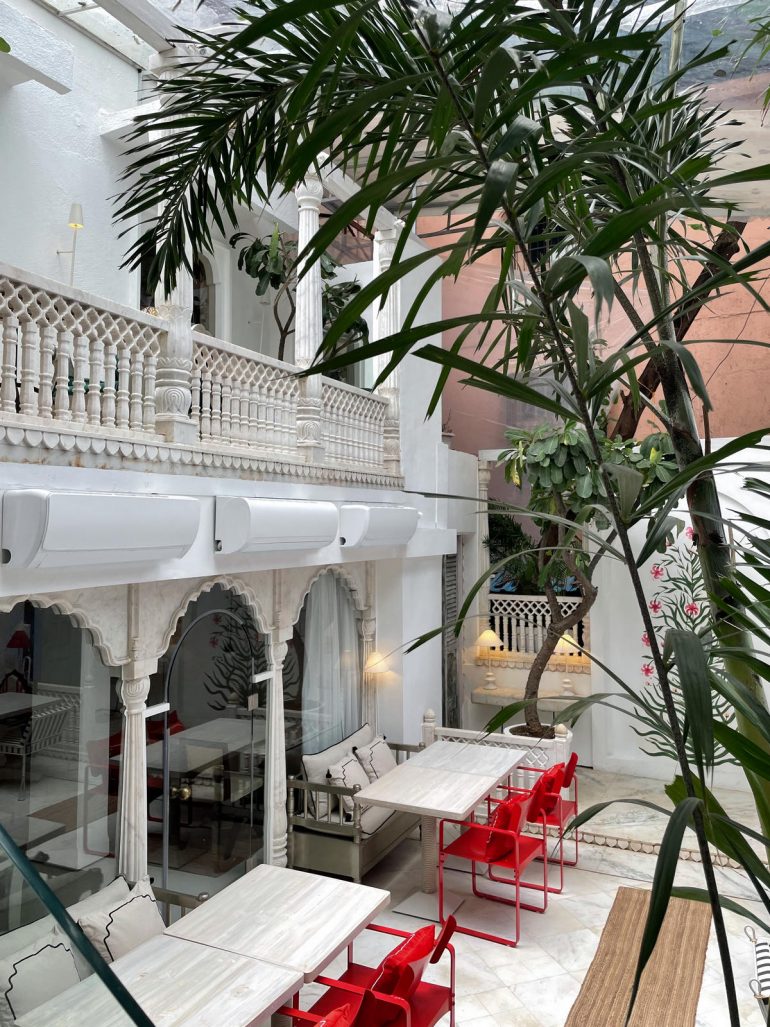 The owner, Suren Joshi, has aptly named the eatery after his family name as the place feels homely yet like a mini-holiday away from the grind of life that Bandra streets are a reminder of. "I want all my guests to feel like they have come to my home," says owner and restaurateur Suren Joshi. He added, "This has been important to me for all my properties." I took a seat on the upper floor, where the artistic, artsy walls first caught my attention and then the playful swiveling seats. Star architect Ashiesh Shah deserves a pat on the back for creating a space in the city that looks nothing like it.

He correctly states, "It feels like a very well-traveled, nomadic tastemaker's home somewhere in Jaipur. I wanted to create something that looked like it has always existed—it should feel like the haveli has always been here, and I've just painted it all." As you can judge by now, the interiors had us floored (pun intended) but was the food just as impressive and delicious enough to make us stay in this pretty place? Absolutely! The menu carries forward a similar bohemian taste combining a variety of cuisines from around the world.

My meal began with a refreshingly tantalizing young coconut ceviche from the 'raw bar' that brought forth the goodness of a chilled coconut dressing combined with jalapenos and green apple salsa on a hot afternoon. It managed to overpower my cilantro martini, which was pleasing but had nothing on this raw yet ravishing start to my meal. The sweet potato shammi chaat proved that healthy could be tasty, and the avocado salsa added that touch of pretense that Pali Hill uniquely is. The chefs at Joshi House seamlessly manage to take street food like chaat and kachori and turn it into fine examples of fine-dining dishes. The Kheema kachori is a treat for the tastebuds and ends the dilemma of street food is better than gourmet by getting you the best of both. The Moroccan chicken skewers perfectly balance the tanginess of their predecessors with a creamy spiced garlic toum.

A large grilled fish herb aioli followed these eclectic and diverse small plates with buttered asparagus and a savior of a jalapeno herb aioli. If it's flavor youre after, this dish is entirely avoidable. I instantly regretted my food choice though the luscious aioli did offer complete support in finishing the well-cooked, thick fillet of fish. The palak saag & truffle served with corn tortillas and chili oil also sounded better than it tasted. Yes, the main course was a dampener after a barrage of flavors the small plates brought on our table.

Dessert saved the day, and how! If you are on a diet and don't want to indulge in food, leave everything aside, have a few desserts from the menu, and call it a cheat-day! The pistachio ghevar is a revelation, especially for those who cringe at Indian sweets and pick a pastry instead. This will ignite a newfound love for traditional Indian desserts that you may have avoided owing to a saffron rabri cremeaux that will make the gods smile. The vegan creme caramel offers something to the health-conscious that they don't easily find-taste! The coffee and coconut custard was an excellent way of ending a hearty lunch, leaving an intoxicating aftertaste of clear caramel. Joshi House will provide you with fond memories of a pleasant outing where you equally enjoyed your ambiance and food topped with endearing hospitality meted out by General Manager Ketan Upadhyay, who looks after everyone with equal attention and a smile. A must-visit!
Where: Plot Number 602, Dr Ambedkar Road, Pali Naka, Bandra West, Mumbai. For reservations, call: 9220081888