For me, very few meal experiences are as heavenly as good Asian food paired with well-crafted drinks. I recently devoured a Modern-Asian fare at one of the new entrants Foo Mumbai and still can't stop raving about my experience.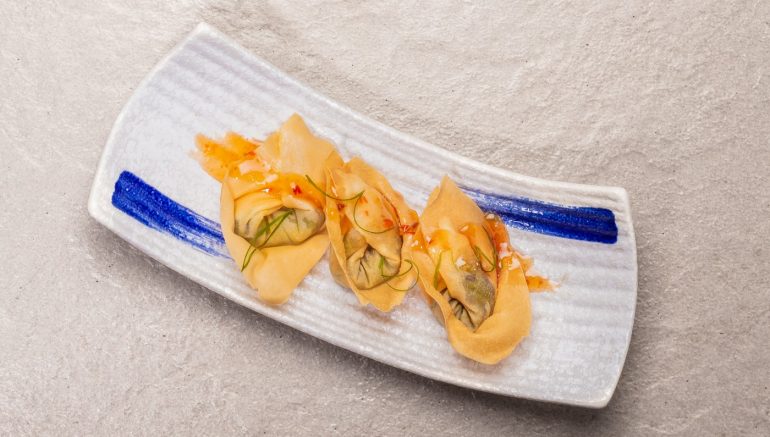 Foo is the brain child of Ace restaurateurs The Tham Brothers along with Kishore DF. On entrance, I was greeted by the high ceiling and vast expanses of concrete floor. The space with its faux cherry blossom trees is divided into various sitting areas separated by stairs and illumined door arches with a brightly lit bar on one side.
I loved the subtle use of burgundy on the walls, coupled with rustic backlit arches for the main walls. The bar with its beautiful burgundy laminam tile countertop is such a beauty. Going to the food, I was told that that it includes 120 Chinese, Japanese and mixed Asian trendy small plates. The word 'Foo' actually means fortune.
While the concept of tapas is always associated with Spanish culture, I was rather delighted to see it on the menu. Going to the food, I highly recommend the Nikkei avocado uramaki. The buttery cubes of avocado come across garnished with avocado carpaccio and powdered parmesan is a treat to the taste-buds.
The Nikkei-style mushroom gyoza and the wasabi edamame dumplings are also a draw. The edamame dim sum is garnished with a pearl of wasabi which ensures it tastes top-notch. While main options like the Hot Garlic Chicken and Fresh Corn Red Curry are stunning, the Foo Butter Japanese Fried Blue Rice plated and flavoured rather beautifully is sure to tickle your palate as it manages to make even subtle flavours stand strong.
I ended my meal with the luscious black sesame cheesecake that comprised a gilded confection of chocolate, cream and nuts. One bite and I knew this was one of the best cheesecakes I've had in a while. Big credits to Chef Eric and the staff who commendably serve adventurous and lip-smacking flavours with practiced patience. And trust me, the outcome of this attention to minute details is plates that pop with colour and burst with flavour.
Where: Foo
Phoenix Mill Compound, High Street Phoenix,
Senapati Bapat Marg, Lower Parel, Mumbai
Phone: +91 8657407778
Note: The critic was invited by the restaurant but all the opinions expressed herewith are her own