Singapore Airlines has announced that it will be flying the world's largest passenger aircraft, the A380 from Mumbai and Delhi to Singapore from May 31, 2014. The Singapore Airlines A380 is configured in 3 classes and has a total of 471 seats: 12 Singapore Airlines Suites (on the main deck), 60 Business Class (on the upper deck) and 399 Economy Class seats (on both decks).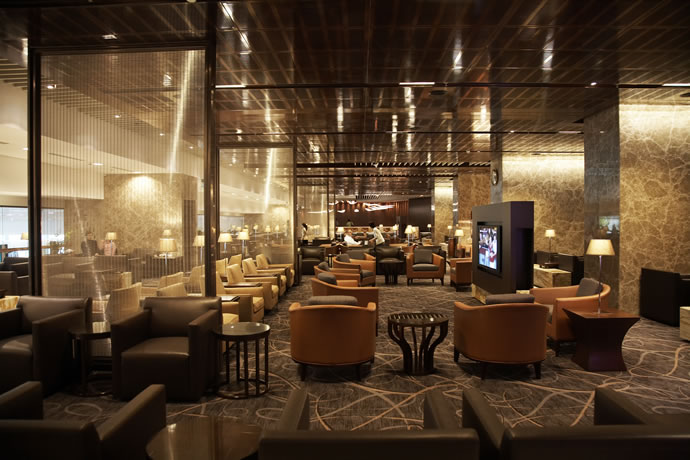 SilverKris Lounge at Singapore Changi International Airport
"We have been keen to operate the Airbus A380 to India and are glad that the Air Services Agreement between Singapore and India now allows us to do so," said Singapore Airlines Senior Vice President Marketing Planning, Ms Lee Wen Fen.
"India is a particularly important market for Singapore Airlines and we are very pleased that more of our customers will soon be able to experience the spaciousness and comfort of the world's largest aircraft."
The ticket fare from Mumbai to Singapore on an average would cost INR 19,150 (Economy Class), INR 73,250 (Business Class) and INR 120,000 (First Class/ Suites). The First Class/ Suites are Singapore Airlines most exquisite and premium offering. Luxurylaunches explores how the private bedroom suites provide ultimate travel luxury.
Inside SIA Luxury Suites


Singapore Airlines might not have a rare in-flight 'shower spas' with heated floors like the Dubai-based luxurious carrier Emirates but it was the first airline to take to the skies the massive double deck A380 and introduce a higher tier to the First Class called 'SIA Suites'.

Each individual cabin features sliding doors and window blinds, offering you the freedom to decide on the level of privacy you prefer. While the leather and wood finishes, created in soothing natural hues, enhance the sense of serenity.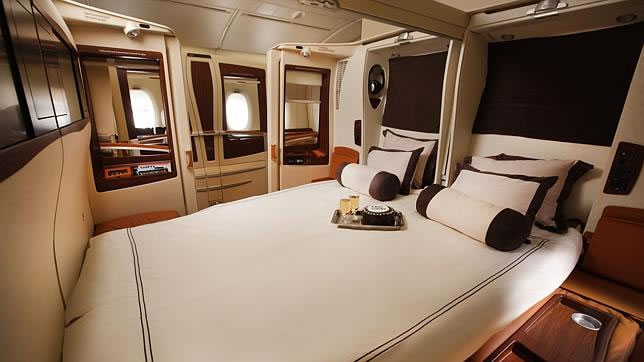 The suites come complete with a full flat bed with mattress, Givenchy bed linens and reclining chair and table. Passengers also receive pyjamas and Kiehl's toiletry kits. For solo travelers, single suite cabins are also available.

Singapore Airlines offers the pinnacle of luxury dining when you fly in Suites or First Class. Guests can 'book a cook' where you can select gourmet main course from a premium selection of dishes at least 24 hours before departure. Out of Singapore, enjoy a wide range of over 60 diverse dishes, including dishes created exclusively for Singapore Airlines by the world's most sought-after culinary masters from International Culinary Panel.

From the earthy white asparagus and satin-like tenderness of beef, to intense, indelible spices of biryani, the airlines continues to introduce new flavors that surprise and delight your palate as you embark on a gastronomical journey like no other. To complement your meal, Singapore Airlines offers a selection of the finest wines including Dom Perignon and Krüg Champagnes.

The Singapore Airlines Suite has an inner sanctum that offers privacy for discussing business, or sharing a relaxing moment. It is a class that is yours alone.

Singapore Airlines offer an exhaustive range of entertainment options including audio and video-on-demand on a 23-inch wide LCD screen.

Singapore Airlines First Class Check-in at Singapore Changi International Airport