French liquor firm Pernod Ricard earlier last month sent vodka lovers in a tizzy with its decision to launch a limited edition bottle of its vodka brand 'Absolut' in the country. Having already launched several special limited editions in mature vodka markets around the world, this decision by the luxury liquor makers cements India's status as an important burgeoning vodka market. Changing things up a little with its India launch however, the company instead of collaborating with big wigs from the art industry as they normally do to design the limited edition bottle, instead gave the opportunity to various other lesser-known talents in the country in the form of a competition.

The month-long competition which began early this July was hosted in partnership with Talenthouse India and was a riot of colours! Desi artists brought their best paint brushes forward and brought to the fore an array of stunning designs that they thought most accurately captured the soul of India. While most of the themes adopted revolved around India's multiple languages, Indian festivals, peacocks etc. there was no dearth of fun and quirky illustrations too. We give you our favourite five.
5. Unique and impactful, artist Sangeeta Subramaniam aims to throw the spotlight on India's rich history and cultural heritage with her colourful illustration. Titled 'Absolut Hues of Heritage', the striking design shows a quintessential Indian man with a turban, a yellow handlebar moustache and a delightful smile. A one of its kind in so many ways, we love how the eye-catching image looks so at home on the Vodka bottle!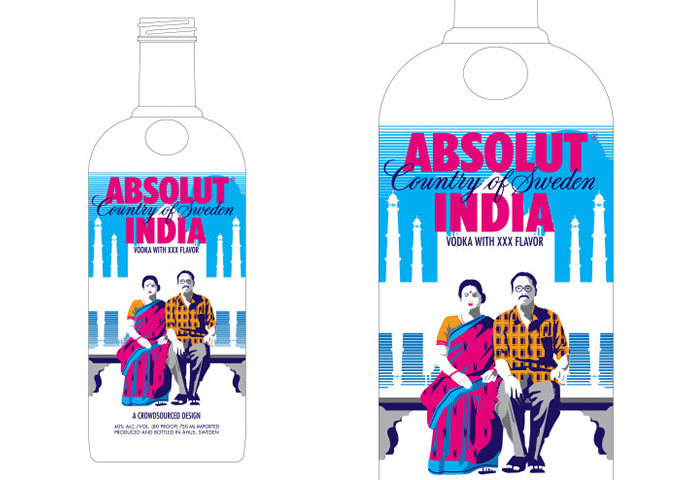 4. Rohan Joglekar's 'Midnight Regal' is absolutely mesmerizing. A monochromatic illustration of India's vast cultural heritage, the design is intricate and imaginative. We give the artist full marks for not sticking to the stereotype of India being a colourful chaotic country and love the sophistication and elegance with which he has highlighted India's creative side. Oozing understated elegance, we feel 'Midnight Regal' and Absolut have a lot in common!
3. We adore artist Karthi Keyan's eclectic bottle design showing a lime and chilli. Symbolic, superstitious and unique to India the practice of using seven chillies and one lime to ward off evil is as old as time. Besides, the two together make for a spicy accompaniment to a glass of vodka. Can you believe that the subtle illustration titled 'Brings your Good Luck' with its splashes of green and yellow make the translucent beverage look even more tempting than it already is?
2. Despite tons of fantastic bottle designs depicting the Taj Mahal, we feel Ojasvi Mohanty's version stayed with us the longest. Simple yet so charming, the image shows a middle-aged Indian couple taking the classic 'sitting in front of the Taj Mahal' photo which we are all notorious for attempting at some point in our lives. Packing in oodles of nostalgia and national pride into one design, it goes without saying that 'A Souvenir from India' easily makes its way onto our top five.
1. Aptly titled, 'The Bollywood Tadka to Absolut Vodka' artist Navin Chalke's vibrant ode to iconic Indian films and stars is masaledar to say the least. From featuring cult classics like Mother India to posters of the legendary Amitabh Bachchan, the bottle design covers it all. Besides, if there's anything we Indian's love more than our alcohol it's our films, the coming together of the two is sure to create a stir!