India Couture Week 2014 in association with the Fashion Design Council of India was every fashionista's dream. Featuring outstanding bridal couture by some of the finest couturists in the country the week long fashion extravaganza left us absolutely spell-bound. From out-of-the-box designs to opulent embroidery to stylish cuts and rich fabrics the lavish ensembles being showcased were simply sublime. Here is a list of our top five favourite designers from Couture Week and five of their most famous outfits that we fell head over heels in love with.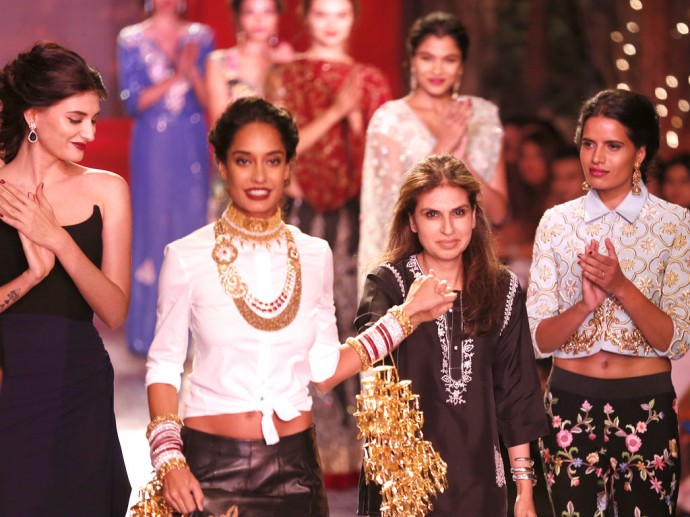 Monisha Jaising
Truly world-class in every sense Monisha Jaising's India Couture Week collection titled the 'World Bride' was exclusively catered for the global, well-traveled bride. Doing away with the opulence and grandeur that is usually synonymous with bridal couture, Jaising's showcase was all about understated glamour and soft opulence. Feminine, sophisticated and bold the collection was largely inspired by the 18th century French Rococo style and featured interesting pieces like ball gown-reminiscent skirts, floral concept saris, cigarette pants, loose crop blouses and kurtas, sultry embroidered corsets, pretty little dresses and fitted lehengas.
LL Pick: The black leather lehenga with luscious gold embroidery worn along with a white knotted top by the sizzling Lisa Haydon just took our breath away.
Anju Modi
Anju Modi's 'Manikarnika' at the India Couture Week 2014 was a glorious celebration of our Indian roots. Inspired by the carvings at Ajanta-Ellora and Khajuraho, Modi's regal chic collection struck the perfect balance of heritage and modern and included several stand out pieces with lovely intricate gold embroidery. The designer used a whole host of colours while creating her ensembles ranging from hypnotic blues to subtle whites to pretty pinks and warm maroons. For the ramp, she dressed them up with dazzling unique jewellery – long multi-strand necklaces and elaborate hair pieces in particular. The designer's three-set showcase was one of the most dramatic ones at the Couture Week.
LL Pick: The genius pairing of shiny flare pants with a fabulous bolero styled jacket simply swept us off our feet. Sigh.
Manish Malhotra
Manish Malhotra's showcase 'Portrait' at the India Couture Week 2014 was in true blue Malhotra style, quintessentially Bollywood. The lavish bridal collection which comprised of several stunning pieces – lehengas, saris, jackets, anarkalis, first started out in beautiful sombre shades of gold before moving on to rich jewel tones of ruby and green. The outfits on display were made using heavy luxe fabrics like grape vine silk and velvet and featured exclusive Malhotra trademarks like stand-out embroidery, exquisite mirror work with gota and zardozi, and intricate ivory thread-work. Opulence was but obviously, the theme of the evening.
LL Pick: The gorgeous bright red lehenga with full embroidered sleeves worn with a lovely sheer dupatta worn by Alia Bhatt totally had us swooning.
Sabyasachi
Sabyasachi's stunning 'Ferozabad' collection which flagged off the India Couture Week 2014 was a dramatic depiction of a vintage luxury train headed to Ferozabad. The showcase was everything we have come to expect from the uber talented designer – a bold and beautiful fusion of old world charm and new age art. The sombre-toned collection drenched in appliquéd zardozi was the epitome of understated glam and featured beautiful Banarasi bandhgalas, Nehru jackets, kurta-ghaghras, pretty crystal-embellished lehengas and saris made out of khadi, tulle and crepe predominantly.
LL Pick: The hand-printed trousers and floral blazers simply screamed hipster chic but the piece de resistance of his collection was a fabulous pashmina pallu which he had incorporated into a sari.
Manish Arora
One of the most critically acclaimed designers in the world, Manish Arora never ceases to amaze. His super stylish, avant-garde and lightly futuristic collection, 'Kaleidoscope' at India Couture Week 2014 was a riot of psychedelic colours, kitschy prints, mystical head gear and sleek designs. The edgy designer famous for his envelope-pushing creations stunned couture enthusiasts with his six-themed colourful extravaganza and genius use of the Japanese craft of Temari. The fabulous collection saw the use of lovely luxurious fabrics such as crepe and duchesse satin and comprised of several fun eclectic ensembles such as slit and midi skirts, quirky flowing bottoms, retro-inspired flapper dresses, and gorgeous embroidered saris.
LL Pick: It's safe to say we would literally kill for the glamour-oozing, golden embellished swimsuit from Arora's outstanding collection.