There's something about Sundays. The sheer luxury of a day-full of easy hours stretching ahead of you to do with as you please. It's that peaceful, easy feeling, percolating like French press coffee through the day, that has made the concept of relaxed Sunday brunches popular across the world. An extended breakfast that includes copious amounts of bubbly, dessert and delightful music and goes on until early evening… What more can you ask for, right? Well, we just tried out the brand new, first-ever brunch at Asilo, the open-to-the-sky rooftop destination on the 40th floor of the Palladium hotel and we assure you, this one has the right attitude, along with the brilliant altitude.



It's got the look!
If you're an Asilo regular, you'll be familiar with the space already. But, trust us, it's like a whole new world in its Sunday best. Pristine whites, Aegean aquas, dark wood floors, potted greens… The perfect foil for you to unwind and uncoil from the week's stress.
Picture yourself draped on a cream sofa in one of the designer cabanas in your rumpled kaftan dress and golden flats, a dreamy mood brought on by the live saxophone played by Ryan Kadri and drinks plied by your private butler. Or smoking a quiet Cuban in your white snug-fit shirt, pastel pants and sculpted beard in the open-air section, as you contemplate the stellar view of the open sea and the green of Mahalaxmi Race Course where your horse won the ribbon last season. Asilo meaning 'haven' in Spanish, is truly heavenly, and just right for a long and lazy Sunday. And although it's being pegged as a Monsoon Brunch in anticipation of some spectacular rainy day vistas in the coming months, it made quite a pretty picture in the dazzling sunshine when we visited too.


Rain or shine, even the most blasé global traveller is bound to be fascinated by the view. While it's nice to be a sophisticate, it's even more fun to embrace the child within and a view from the top does that to the best of us. So we pirouetted here and there, pointing out landmarks we recognised. Once we could tear ourselves away from the central Mumbai skyline, our eyes could finally focus on the monsoon menu.


A select smorgasbord
Off the buffet, we loved the breads (rolls, lavache, bread sticks, foccacia) and savoury bites (quiche, vol-aux-vents, muffins) accompanied by a vast and very colourful selection of dips – Guacamole, Beetroot Hummus, Smoked Chipotle Butter, Dill Sour Cream, Roasted Bell Pepper Coulis, Sun-dried Tomato Tapenade and Olive Tapenade. And for a fab pop of taste to pop into your mouth and make your eyes widen with delight – Orange Braised Olives and Curried Emmental Cheese!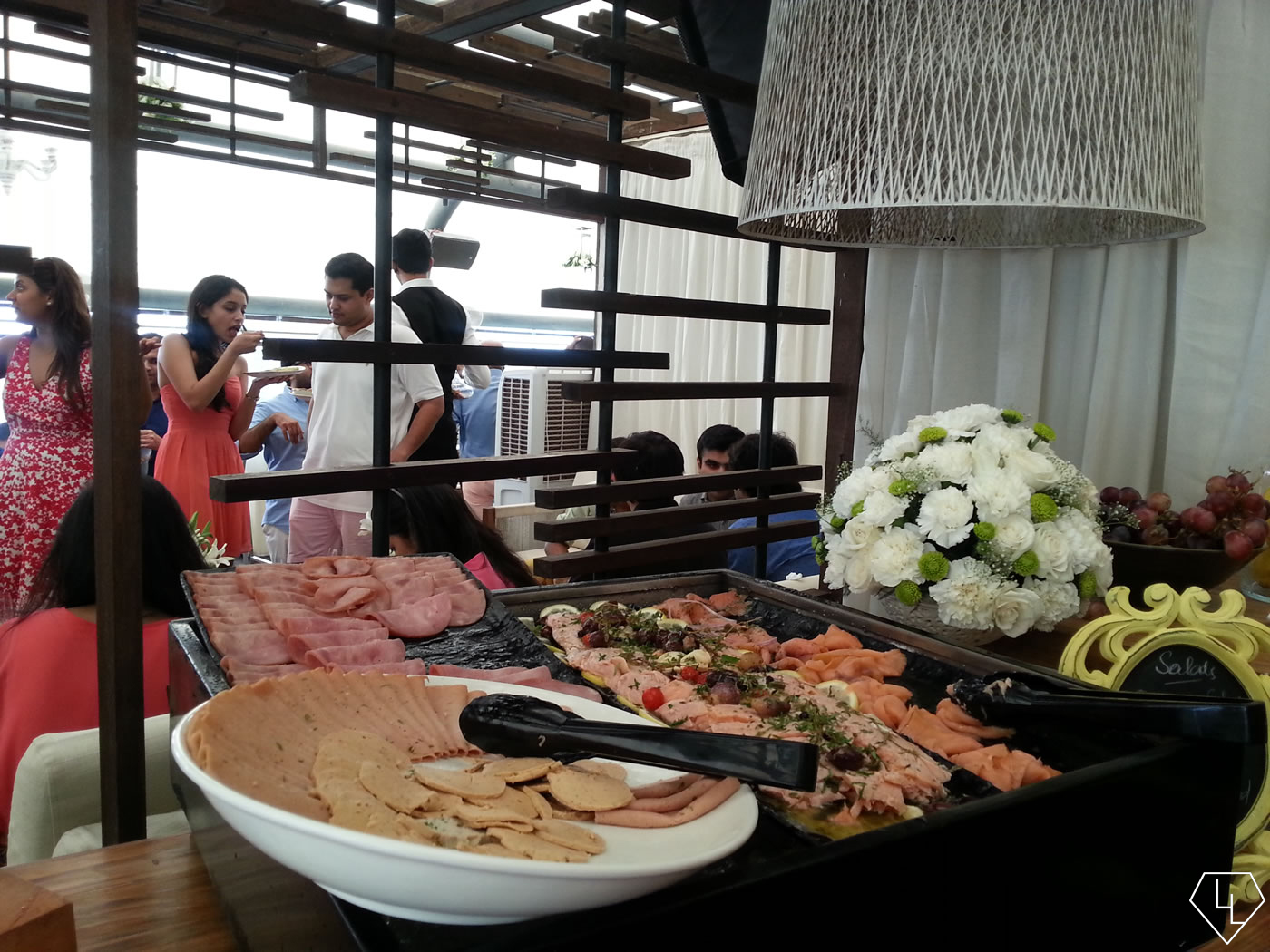 Also on the buffet were a variety of cold cuts and fresh salads to whet your appetite, along with some delicious anti-pasti, fresh cut fruit and a decent cheese platter. The dessert counter was alongside, with delish macarons and other toothsome treats tempting us to try them even before we headed to the live stations beckoning ahead.


Live in concert
There's a certain pleasure that people in the know get from having their food made just so. Those who have travelled the world, savoured unique experiences and eaten at the best tables usually know EXACTLY how they want to have their grills done or their flatbreads topped. Which is why the live stations here allow you to tinker around with your treats quite freely, even though the very capable and creative Chef Cyrus Irani and his team are so good at doing it their way.


The Josper live station does a variety of Flatbreads, including the vegetarian Mediterranean Flatbread with Smoked Vegetables & Fresh Pesto and the Bocconcini Mozzarella Flatbread with Charred Cherry Tomatoes & Fresh Basil, as well as the non-veg Smoked Chipotle Chicken Flatbread and Fiery Asian Barbeque Chicken Flatbread. You can have these customised to your personal preferences.


The Robata, meanwhile, does some really great grills, which, we imagine, will be in huge demand on a rainy day! There's a long list to choose from, each of which caters to different types of tastebuds, but here's two you can't go wrong with… Vegetarians, go for the Chilli Roasted Potato Teriyaki or the melt-in-your-mouth Skewer Barbequed Cottage Cheese. Non-vegetarians should try the perfectly done yet perfectly tender Spicy Tamarind Tiger Prawns and the Kung Pao Chicken Satay.
If you're looking for something hearty, try the French Creole rice dish with veggies or meat from the Jambalaya live station. Hot and spicy, it's truly soul-satisfying.


Cheat treats
Sunday's usually everyone's cheat day, the one where you eat what you want, as much as you want. Certainly a good day to encounter the live counters where they whip up crisp waffles and soft pancakes with a whole lot of decadent toppings (both savoury and sweet, actually).
And then there's the drinks… perhaps the best part of a brunch for many. Asilo has wisely segregated the brunch pricing by your choice of tipple. If you go for the Sparkling Brunch, you can have your pick of Jacob's Creek wines (Pinot Noir, Chardonnay, Merlot and Shiraz Cabernet), the Absolut range of Vodka, Havana Club 3 year old, Beefeater, Ballantine's Finest and Jameson. If you opt for the Champagne Brunch, you can choose from all these, plus savour some extra special sips. Like Champagne from GH Mumm's vineyard in Reims, in the Rhine valley of Northern France. Or Absolut Elyx, the handcrafted vodka with a characteristic flavour that is a result of winter wheat harvested from a heritage estate in Sweden and distilled in copper shills. And also Chivas Regal 12-year-old Scotch Whisky and The Glenlivet 12-year-old single malt to your heart's content.
We loved their innovative cocktail menu with fresh flavours that are just right for a Sunday brunch. The best of the bunch, apart from the tried and tested classics? The Absolut Weekend Warrior, which fuses Absolut Elyx or Absolut (depending on which menu you chose), with the freshness of grapefruit and lime juice, the astringent aniseed of Pernod Absinthe, with a hint of Angostura bitters and sweet grenadine syrup. And while we loved all the sparkling cocktails that used either GH Mumm's Champagne or Jacob's Creek Sparkling Wine and Absolut Elyx or Absolut, we think the Berry is the most delightful, with sweet and tart tastes of strawberry and raspberry purees and beautiful, blush pink hue. The exact shade of the spectacular sunset over the sea that you should stay back to catch, even after the brunch ends and the strains of the sax are on simmer.
The Asilo Monsoon Brunch will be on every Sunday until September, 12.30pm onwards. The Champagne Brunch is priced at Rs 4950++ per person, the Sparkling Brunch at Rs 2950++ and the Food Brunch Rs 1850++. ​​Reserve a table or cabana at Asilo, Palladium Hotel: 022-61628031 [email protected]
Address : Level 37, 462,
Senapati Bapat Marg,
Lower Parel, Mumbai,
Maharashtra 400013
Phone : 022 6162 8422