While there's a big thrust on staying safe and keeping physically healthy these days, there's a lot to be said for looking after one's mental well-being. And for many of us finding ourselves suddenly confined to our Mumbai apartments for so many months, there have been a few learning moments. Whether we found relief in making Dalgona coffee or a newfound love for baking; whether we looked inwards to get in touch with our spirituality or just soaked up whatever the OTT channels were dishing out; whether we enjoyed the cosy domesticity of spending unprecedented amounts of time with our loved ones or gnashed our teeth at the thought of not having the freedom to go out, the fact is, now that the world is opening up, a change of scene sounds appealing to everyone.
Which is why, when I was invited to experience a safe staycation at the Four Seasons Mumbai, I was absolutely up for it. The team assured me that their Lead with Care operations ensured that every touchpoint in the room was sanitised, that all the safety and hygiene precautions were up to global standards (more on this later). With all the worrisome details taken care of, I could just relax and indulge in the interesting itinerary that they had created for me.
Hitting the Suite Spot
Check-in was seamless. And contactless, as the best ones are these days! My Four Seasons Executive Suite on the 30th floor offered a breath-taking sweep of the city, with a bird's eye view of the Mahalaxmi Race Course, the beautiful bay at Haji Ali and beyond. At 947 sq ft, it's bigger than many Mumbai apartment homes! While the Four Seasons' sea-facing suites are beautiful because you can enjoy the spectacular sunset over the sea, these Executive Suites have their own charm too… the feeling of flying above all of life's problems being only one of them.
It's a welcoming space that you find yourself relaxing into. Sunlight streamed into the spacious living room delightfully, picking out the details of the couches and cushions in warm tones that would easily accommodate a group of five to six watching the large flatscreen telly opposite. As the shadows lengthened, there were expertly placed lamps that gave it the happy glow of home. My husband was especially pleased with the well kitted out coffee and tea station and premium crystal barware. The bedroom offered excellent sleep quality and a cosy, moss green armchair conveniently positioned by the window where you could daydream away looking at the green expanse of the Mahalaxmi Racecourse, read a good book or commune with your laptop.

The floor-to-ceiling windows made sure that if the curtains were open, we could enjoy the wraparound view but still have privacy being so high up in the air that even the high-flying kites were wheeling below our line of sight!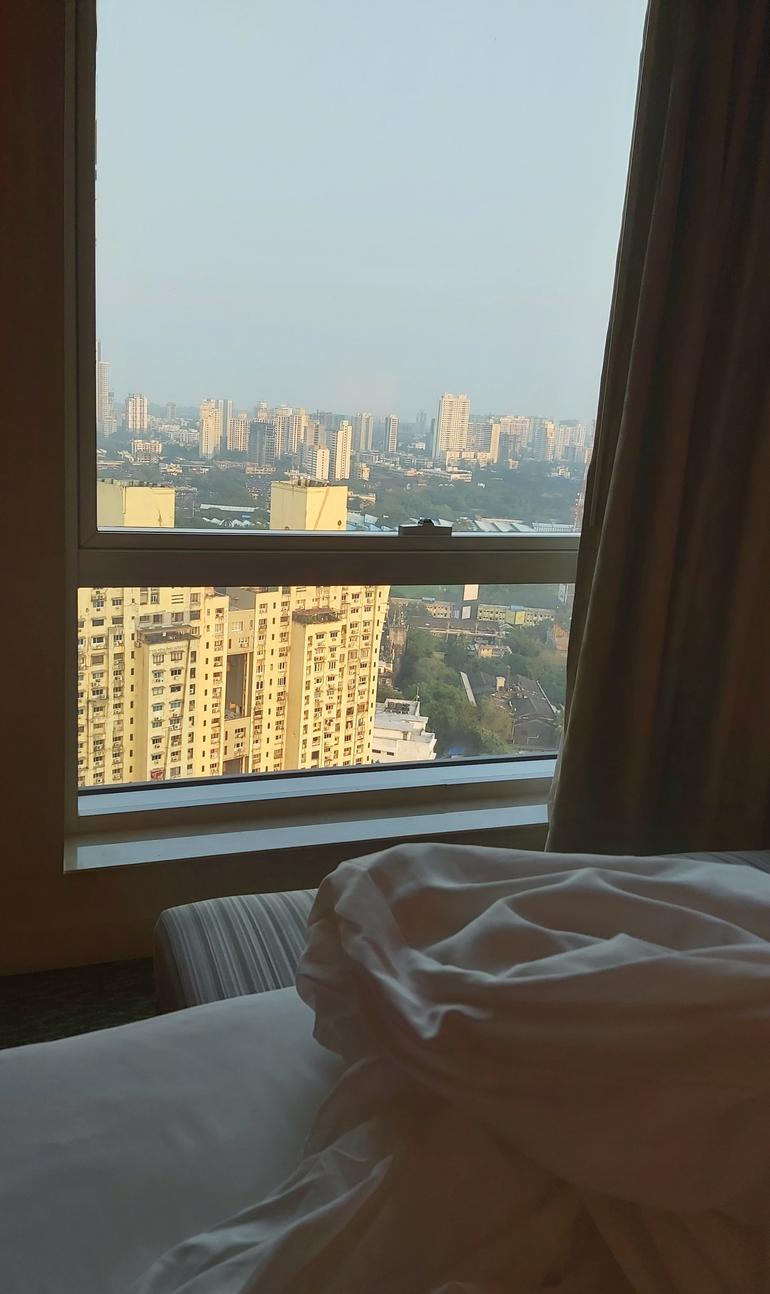 As comfy and commodious as the rest of the suite was, the all-marble bath area was the highlight for me. A vanity corner with a seat, a heavy-duty hair dryer that gave me all the comforts of home, a powerful shower and Kama Ayurveda bath products, which I adore. But the pièce de résistance was definitely the extra-wide deep-soaking bathtub with a waterfall faucet.
As a travel writer and hotel critic, I've been to a lot of top-of-the-line properties around the world but very few have had a tub that compares. My only quibble with my soak would be that they hadn't provided bubble bath. SO needed, and you can't quite call for some from housekeeping AFTER you've already filled the tub and undressed for the occasion! Also, the air-conditioning vents above the tub were closed for some reason, which made it a bit too warm for my liking. But when they're functioning, I think that the experience could be really relaxing and perhaps even romantic (as there's plenty of room for a dip à deux). Even by yourself, add tea lights or a candle, a glass of wine and soft French Jazz as I did, and you'll be adrift in sheer bliss.
Sanitised for our sanity
The Four Seasons brand has entered into a consulting agreement with the global health care and research leader Johns Hopkins Medicine International to ensure health and safety during the pandemic. While I could see many of the Lead with Care procedures for myself (the immaculate procedure at entry and the suggestions for social distancing everywhere, a little sanitisation kit thoughtfully placed in the room, all in-room phones bearing the Lead with Care hygiene band), I felt even better knowing that behind-the-scenes measures through employee training, additional food handling protocols, and enhancements to ventilation systems and other back-of-the-house operations were being used.
Each property now has a dedicated Hygiene Officer, who ensures that the rooms are disinfected daily with EPA-approved products, followed by a blacklight inspection conducted by room attendants, and that public areas are cleaned hourly, with special care given to most frequented spots such as front-desk counters and common restrooms. The fitness centre is accessible only by appointment to avoid over crowding and the equipment is sanitised after every use. They even offer to bring exercise balls, yoga mats and other gear to your room so that you can stay fit even as you social distance. They've invested in a Four Seasons App and Chat, so you can place all orders and request various services digitally.
Finely wined and dined
Thus, ordering lunch via their in-room dining menu soon after check-in was a smooth process. The QR code in their welcome letter took me to a nicely laid out digital menu. I could then dial through to in-room dining and place my order with the courteous and patient person at the other end of the line, dispelling any doubts or questions I had. To see how they fared across cuisines, I ordered a bit of each – top marks to the Pindi Chhole and the Truffle Mash – while the Nasi Goreng, prawn tempura sushi and the sweet lassi were all fine. The way they set up the table, complete with crockery, cutlery and snow-white linen, in the suite, served the meal, covered for safety and piping hot, was really impressive. Next morning's lavish breakfast spread of everything from umami upma to juicy sausages to crunchy waffles and filter coffee, similarly served to perfection, was even more satisfying!
The Four Seasons Mumbai has always been a big part of my culinary map and memories because of sensational San:Qi and the absolutely fabulous Aer Bar & Lounge. But especially now, when we consider our options so carefully before stepping out, I found myself being floored by them anew. It was lovely to dress up and casually ascend a few levels to access the freedom and fresh feel of Aer.
Open to the sky, with one of the best views of the city, it's my favourite spot for sundowners. That egg-shell bar has dished up some award-winning drinks and this evening wasn't an exception. Mixologist Renzil Barrow was doing the honours and he made us technique-forward cocktails called The Sassy Peach (a twist on a whiskey sour using lacto-fermented peach purée) and The Lucky Nut (which uses coconut fat-washed Johnnie Walker Black Label whiskey!), both of which blended perfectly with the sunset hues streaking across the sea and sky and the electric mood set by the music and lighting. As the sun went down and the city lights came on, Renzil introduced us to the very innovative and impressive Clarity – which is one part Ketel One vodka and one part of clear tomato water infused with basil – making for a drink whose flavours are so refined and pure, it almost tastes like a magic potion! He encouraged us to sip this along with a bite of ajwain leaves or more of the wow factor. It was interesting to note that their Happy Hour cocktail list incorporates other Indian ingredients such as dried fenugreek (methi) leaves and turmeric too!
We then proceeded to dinner at San:Qi (which literally translates to 'three energies') and the pick of three Asian cuisines – Indian, Chinese and Thai – as well as Japanese. The high ceiling and spacious interiors lend themselves to safe, socially distanced dining. And they also have a stunning private room for those who want an even more private experience.
Their diverse menu is sure to satisfy many palates. The smoky aroma from their gleaming imported tandoors infused our simple Punjabi paneer tikka with an extra layer of oomph. The uramaki was good and the miso soup with salmon was inspired.
As we had had a heavy lunch, we skipped past my usual order of the slow-cooked Dongpo-style Chinese pork belly and straight through to dessert. This was a gorgeous ball of fire and ice called the Mandarin Cheesecake (an outer crust of tempered chocolate encasing a delicate inner core of fluffy cheesecake), served with vanilla-orange ice-cream. It was intense on flavour and light on the palate.
Which is really how I would sum up my staycay at the Four Seasons – an expanse of experience with a depth in details that is executed seemingly effortlessly.
Where: 114, Dr E Moses Rd, Gandhi Nagar, Upper Worli, Worli, Mumbai, Maharashtra 400018
Phone: 022 2481 8000
Note: The critic was invited by the brand but all the opinions expressed herewith are her own.