Caravans are indeed a great way to enjoy the luxuries of your home on the road. They are increasingly being used today by celebrities, the corporate world, and individual travelers alike. To better cater to this demographic, designers Kathy Morrison and Darren Perry founded the Airstream luxury recreational vehicle company in 2008, offering bespoke caravans built to suit your taste. We've recently had an opportunity to look at some of these and simply put these RVs worth the praise. Airstream currently offers Luxury Airstreams, complete with designer furniture, top-of-the-line appliances, and to-die-for interiors soaked in leather or fabric. Let's look at more details and images of the Lava Lamp Airstream fitted with luxurious interiors and spacious enough to accommodate eight people and three beds.

The interior of Lava Lamp Airstream was inspired by the inside of a lava lamp.


The ceiling features colour changing twinkling starry ceiling lights and there are remote controlled coloured mood lights throughout.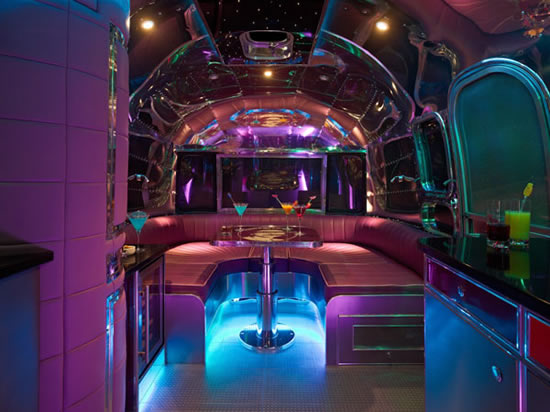 There is a surround sound stereo system fitted into the ceiling.


This Airstream features a cocktail cabinet, wine cooler and red wine storage, plus an ice
maker, slush puppy machine, popcorn machine, blender and coffee machine.


The table is on an electronic telescopic stand.
The suggested starting price for Luxury Airstream is £3,500 per linear foot ($5,481).


With multi-colored lighting that gives this Airstream a club-like look, the company also offers customized caravans for catering uses called Catering Airstreams and business use called Corporate Airstreams, each packing enough to simplify travel. And that's not all. Airstream also offers a Retro model, simplistic, highly-functional, and aesthetically pleasing for those who prefer a clutter-free minimalist living area.


Corporate & Catering Airstreams on the other hand can have variable starting prices, as per the equipment they're required to be topped with bars, sociable and luxurious seating areas, flat screen televisions and customized awnings available for these.


Update-
The Lava Lamp Airstream is priced from £150.000. Airstreams can go up to a maximum of 35ft in length. The current owners use the Airstream as a place
to entertain guests in a unique and stunning environment. It can also be used for guest accommodation and can be a maximum of 35ft in length. The interior includes – Bespoke handmade cabinetry and handmade leather upholstery, seating area, bathroom, kitchen area, surround sound audio system, underfloor heating, air conditioning, wine cooler, ice maker, fridge, and cocktail equipment bespoke handmade Cocktail bar. British craftsmen and designers complete all work, and each Airstream is unique to the client.
[Arcairstreams and Trendhunter]