De Watère joins other famed bubbly makers to create a sparkly that will surely leave its drinkers craving for more. De Watère offers a tantalizing taste for bubbly lovers, complete with a sparkling touch of diamonds and gold. A 1ct diamond encrusted in a 1oz gold coin which is embossed with the De Watère emblem, is attached to the bottom of the bottle of the new bubbly. De Watère offers two new champagnes for the connoisseurs of this sparkling drink – The Brut Blanc, a cuvée from 80% pinot noir and 20% chardonnay and The Brut Rosé, made from 100% pinot noir.



A treat for the lovers of champagne, these new champagnes promise to leave your tastebuds tantalized. The Rosé teases you with its distinct fragrance of blackberries and raspberries, while aromas of cinnamon and exotic fruit dominate the Brut Blanc. The Brut Blanc is ideal as an aperitif, but it can also be combined with a meal. The Brut Rosé, on the other hand, is just perfect for an aperitif or a very light meal. The glitter added by the diamond resting in a transparent case at the bottom of the bottle only enhances the glamour of this luxurious offering.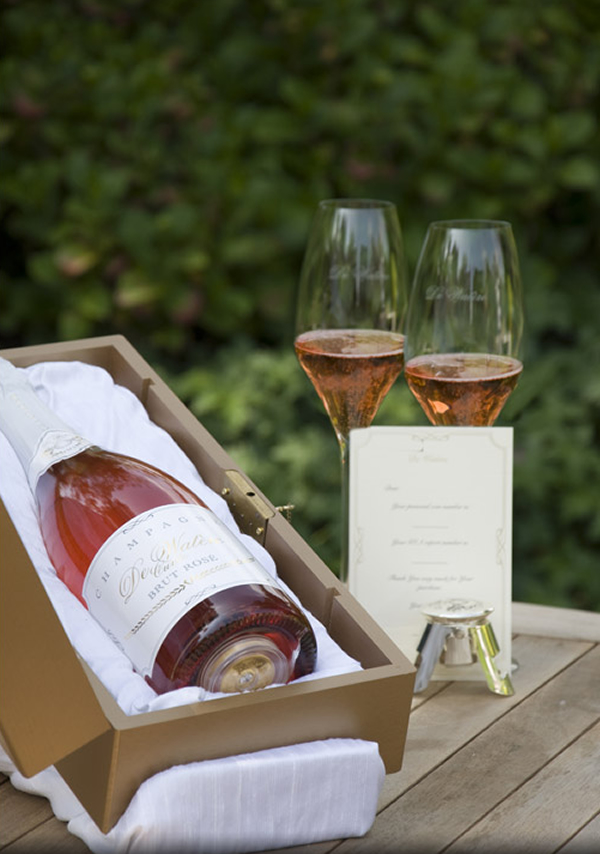 The luxurious Diamond Edition champagne is priced at a cool 28,800 GBP ($45,400). The optional Co500 Edition (limited to 2,500 Rosé and 2,500 Blanc per year) comes at 950 GBP ($1500). This special reserve is, generally, only available to those who have already purchased the Diamond Edition.