England Based designer Emilie F. Grenier's project titled Disquiet Luxurians aims to turn the very concept of Luxury on its head. Through her latest pieces she reexamines luxury as the act of creating precious items such as jewelry, rather than the jewelry itself. Grenier's collection includes a set of luxuriant mining tools created in brass including three chisels with square, hexagonal and oval cutting heads, as well as a hexagonal block used to hammer the ends of each tool. She has also created a silk chiffon boiler suit to be worn when mining. The intention was to add value to the tools and uniform so that the act of mining is "less mechanical and more unique." Alongside these items, Grenier has created a range of feldspar "gems". Though feldspar is the most common naturally occurring mineral on the earth, Grenier believes that having it cut into uncommon shapes that showcase the true fragility of the mineral and makes these gems covetable.



The final piece of the collection is a chunky ring also crafted from feldspar and displayed beneath a bell jar. The idea hearkens back to art deco jewelry which was some of the most beautiful and expensive that was available at the time, yet it was hardly ever worn, destined to remain confined to a vanity case and become an instant heirloom.

Each piece is minimal yet captivating; a nod to what Grenier calls a "Post-Luxurian experience" and contributes to her understanding of the value of the mining craft and transforms the common meanings of rarity and luxury.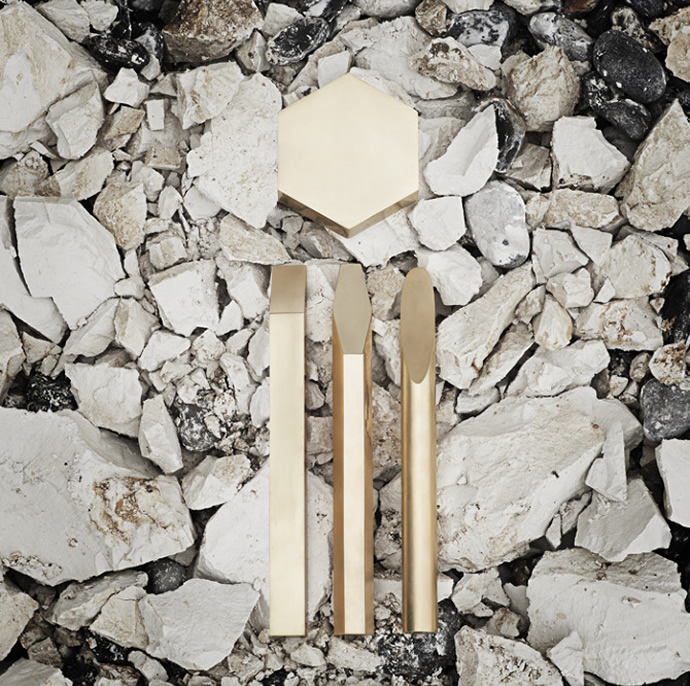 [Via – Dezeen and This-Is-Paper]