A 19 year old English designer has just given the words "hanging out" a whole new meaning with his ingenious new invention! Devon based Rufus Martin drew inspiration from the shape of an onion to create a spherical tent intended to be suspended about 3 feet off the ground using a hoist and pulley system so that campers in the tent can raise and lower themselves with no extra help!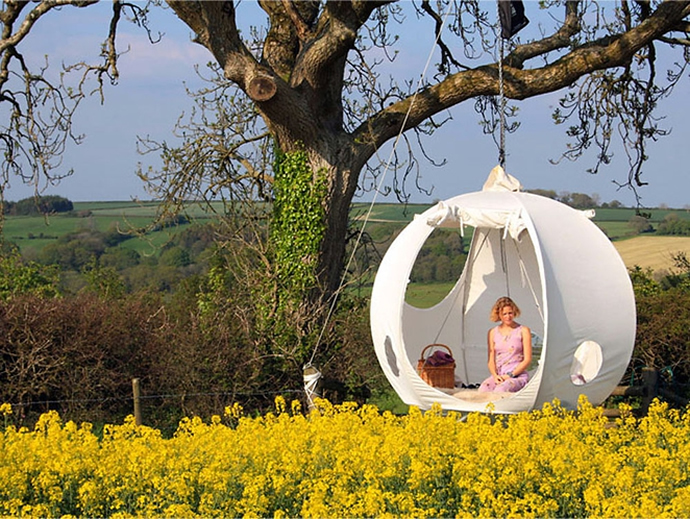 Created from sturdy marine canvas, the unique tent makes for cozy accommodation, perfect for your next camping trip. Outfitted with several openings to function as windows, the tent is a brilliant way to take in the breathtaking views that the countryside has to offer. It can house two adults and featured a pine floor that can be rolled away to reveal a useful storage space. The hoist mechanism is easy to use and the tent itself is fully customizable allowing campers to play with different mood lighting, sheepskins, etc.
Priced at £3,500 (that's a whopping $5,805!) the Roomoon may not be the cheapest camping solution on the scene but it certainly is one of the most creative tents you'll find. It can be suspended on any branch or girder that is thick and strong enough to support the weight and when lit up from the inside, it really does resemble a luminescent moon. While we prefer lounging poolside with a cocktail to "roughing it" in the great outdoors, even we can't resist the quirky charm of this unique tent!
[Via – Treehugger]