Every bottle of Jose Cuervo comes with traditions. From the birth of its family heritage in 1795, to the Battle of Puebla, volcanic eruption that enriched the soil for its agave plants, to the original Cinco de Mayo in 1862, through 13 years of American prohibition, the invention of the very first Margarita and bikini volleyball; Jose Cuervo has extensive history in production through 219 years. The brand of tequila has now rolled out a new augmented reality app called History In A Bottle allowing users to explore the Cuervo's journey.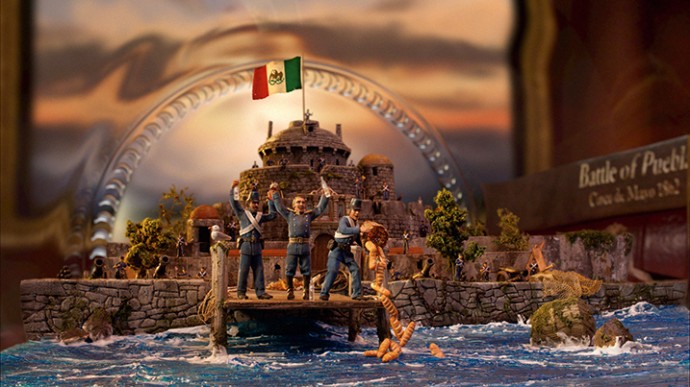 Once you have downloaded the app, hover your phone over a Cuervo Traditional bottle to reveal the brand's history in 3D. Produced by animation studio 'Laika' known for producing films like Coraline and ParaNorman, the integrated 60-second spot takes the tequila connoisseurs through Cuervo history.

About 80 crew members/artists worked through to hand-make tiny agave plants, sculpting historic figures, sewing tiny costumes, building volcanoes, painting tiny bottles, lighting practical street signs and molding/casting 4-foot Cuervo bottle replicas. The entire process to make one bottle took about four weeks. While the bottles were being made in the shop, characters fabricators and sculptors collaborated with McCANN's team to design 65 roughly 4-inch puppets.

Each character was sculpted, molded, painted and dressed in custom costumes. One of the lead characters was Margarita, who was the beautiful inspiration for her namesake cocktail.

In addition to the 65 puppets including 25 Mexican soldiers, 14 French soldiers, the fabricators created hundreds of props, including surfboards, palm trees, tequila barrels, agave plants, cannons, donkeys, guns.

Jose Cuervo's history dates back to 1758 when José Antonio Montano Cuervo bought an existing tavern and renamed it "La Taberna de Cuervo." He subsequently obtained a land grant for "Cofradia de las Animas" (abundant with agave plants) from Spain's King Carlos III and started distilling tequila before Mexico was even called Mexico. In 1795, his son, Jose María Guadalupe de Cuervo, began selling the very first Vino Mezcal de Tequila de Jose Cuervo after receiving the first official charter from the King of Spain to produce tequila commercially. Cocktails and bachelor parties have never been the same since then.

Jose Cuervo has been a family company for ten generations. The recipe and process has been passed down and upheld by a family of entrepreneurs, inventors, and risk-takers. These bottles are distilled using Spanish technique to transform Pina (fruit or the heart of the Blue Agave plant) into superior liquor, each one with its own identity and character. The Cuervo History In A Bottle App offers the people an interactive "historeality" of the Jose Cuervo brand.

Note – This article is sponsored by Jose Cuervo