Montblanc celebrates the power of imagination and the importance of transmitting ideas and values to the ones we love with their new special edition Meisterstück inspired by the beloved literary world of Antoine de Saint-Exupéry's Le Petit Prince. The first series of Meisterstück Le Petit Prince edition spotlights characters like the young prince and the fox, Montblanc has revealed that later editions will highlight other characters from Le Petit Prince and the powerful messages they carry including the aviator and the planet.

Meisterstück Le Petit Prince Special Edition
Inspired by the authors illustrations in the book, especially of the night sky, the cap and barrel of this pen are made of deep blue precious resin. The milled cap is decorated with a fox face pattern and platinum-coated fittings contrast with the deep blue of the writing instrument. The delicate character of Le Petit Prince is immortalized along with his friend the fox, engraved on the handcrafted 14K rhodium-plated nib. A sentence from the original novel has been laser engraved into the crown of the writing instrument available as a Fountain Pen, Roller Ball and Ballpoint Pen: "Créer des liens? … Tu seras pour moi unique au monde" ("To establish ties? … To me, you will be unique in all the world.")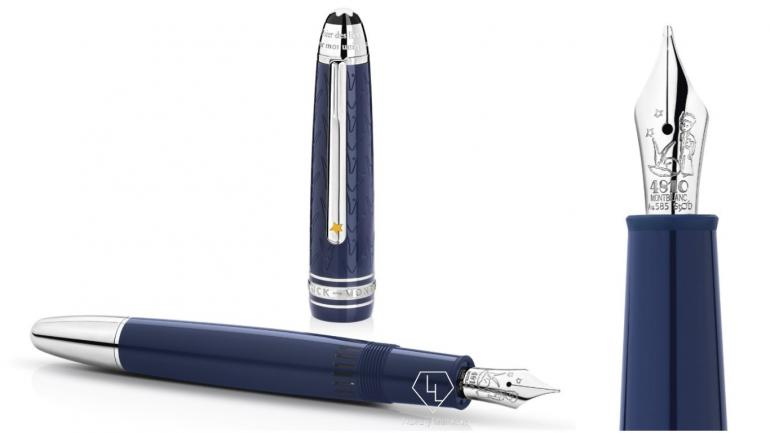 Meisterstück Le Petit Prince Doué Classique Edition
This version features a deep blue lacquer barrel and a platinum-coated cap engraved with the fox pattern. It is available as a Ballpoint Pen, a Roller Ball and a Fountain Pen with an 18K bi-colour nib embellished with the outline of the Little Prince and the fox.

Meisterstück Le Petit Prince Solitaire
The deep blue lacquered body and cap are covered with the fox pattern. Platinum finishings contrast with the blue body while at the crown, the Montblanc flower is circled by the fox's words about human bonds, taken from St Exupéry's novel.
Montblanc has chosen to continue the story with other items including refills and a notebook as well as cufflinks and a bracelet for men.