Each year for the last two and a half decades, Montblanc releases a unique limited edition writing instrument called the Patron of Art pen collection that celebrates the cultural legacy and patronage of a historical patron of the arts. This year's Patron of Art Edition pays tribute to the life and patronage of Napoléon Bonaparte (1769 –1821), Emperor of the French from 1804 to 1814. He can be credited for paying great attention to Neoclassicism, a movement in the visual arts, literature, music, theatre, and architecture, and putting art on the map. He rose to prominence owing to his arty endeavours' and became recognized as the Empire style. These four Montblanc Patron of Art Homage to Napoléon Editions wonderfully exhibit Napoléon's story from soldier to consul to becoming the French emperor: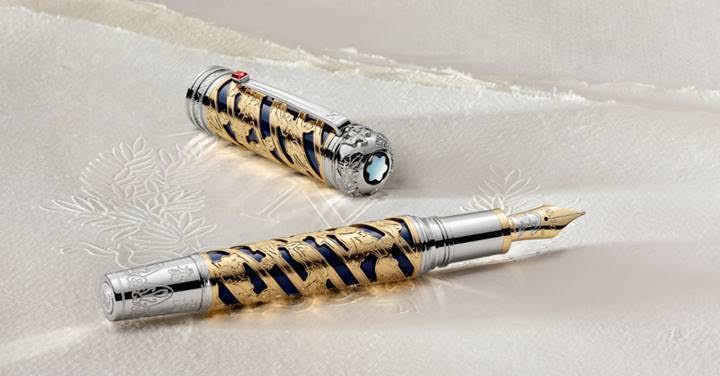 Montblanc Patron of Art Napoléon Bonaparte Limited Edition 888-
Bonaparte was commissioned a second lieutenant in La Fère artillery regimen who served in Valence and Auxonne until after the outbreak of the Revolution in 1789. This fountain with platinum-coated fittings pays tribute to Napoléon's time as a consul by using a precious blue lacquer underneath the overlay reminiscent of the blue of his first uniform as consul. The cap and barrel are covered with skeleton spiral overlay in Au 750 solid yellow gold that's inspired by a military structure, Trajan's column in Rome. Lastly, the cap is crowned by the Montblanc emblem in mother-of-pearl. The antiqued palmetto motif is engraved on the cone, which also bears an engraved portrait of the emperor.


Montblanc Patron of Art Napoléon Bonaparte Limited Edition 92-
Limited to just 92 pieces to mark the year 1992 that held a celebration of Napoléon's opulent coronation, this work of art in Au 750 solid yellow gold uses red jaspis on the barrel paired with gold in a grid Empire-style pattern. the guilloche on the Au 750 solid yellow gold cap features a hand-engraved bee girdled by stars inspired by Napoléon Bonaparte's throne in the Tuileries Palace.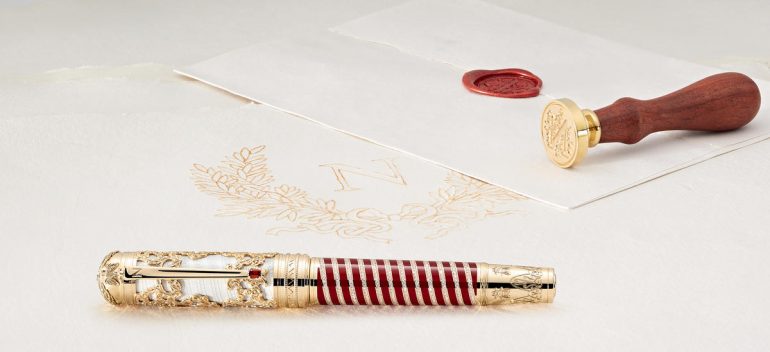 Montblanc Patron of Art Limited Edition 8-
This Au 750 solid yellow gold featuring a combination of red and white is inspired by the emperor's coronation garments. The cap looks ethereal in white translucent lacquer and captures attention with the 3D hand-engraved Acanthus leaves, inspired by Greco-Roman and Egyptian art. This rare masterpiece is limited to just 8 pieces as it glistens with a spiral made of diamonds winding around the barrel and red lacquer that reflects in-between.