In our hurry to grab the best Christmas gifts, lets not forget the decorations. Speaking of which, if you were planning to go the decadent route, VeryFirstTo has for you, the perfect festive offering, one studded with 16 rubies and 32 diamonds. "We are delighted to be able to offer the world's most expensive Christmas wreath as part of our ongoing endeavor to offer truly exceptional newly launching luxury products and experiences."



Its true! The wreath is truly exceptional, made up of the some of the most luxurious flowers and leaves in the world. And to dazzlingly top that, it carries rubies and diamonds totalling over 138 carats. Created by top Finnish floral designer and Director of Flor Unikon Flowers, Pasi Jokinen-Carter, the decorative item comes with the star of the wreath a Vivid Red 17.49 carat Ruby through to a 3.03 carat Fancy Yellow Diamond. One of the Helleborus flower heads even houses 22 loose diamonds totalling 2.64 carats.

"I am passionate about my craft and this recent invitation to create an exclusive wreath, using natural materials and diamonds, has been an exciting and exceptional project," said Jokien-Carter. The designer sourced some of the finest flower heads such as Helleborus for its elegant shape, deep blue Hedera berries with a variety of lush greenery including Laurus, Lingonberry and Blueberry stems from Flor Unikon's country house in Finland. The stones for the incredible wreath were provided by 77 Diamonds.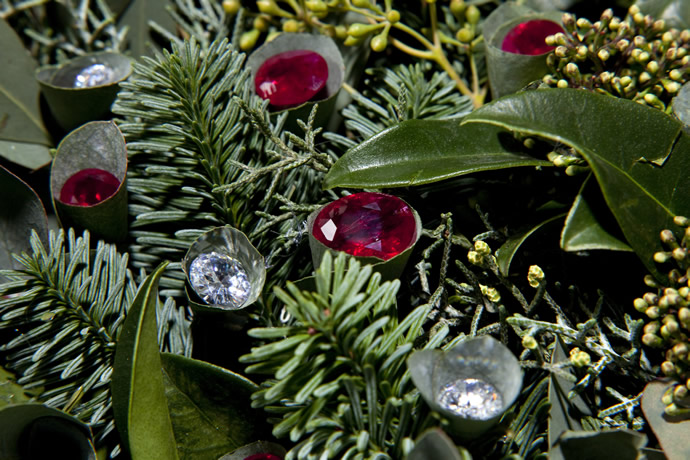 Speaking of which, Tobias Kormind, joint owner of 77 Diamonds added, "it is exhilarating to participate in curating a selection of gems that would create the most sparkling Christmas anyone could wish for; plus a very worthwhile investment for the future." All the stones in the Christmas wreath are removable and can be re attached to next year's wreath. But if next year's too far for you, 77 Diamonds is offering the complimentary service of mounting them into an outstanding, bespoke designed piece of jewelry. As for this Christmas, this wreath is the world's most expensive, costing a cool $4,645,800.