Van Gogh may not have painted the most expensive painting the in the world, but the melancholy artist and his signature style have nevertheless become an object of fascination for many, and a fixture in our collective memory. From his portraits to still lives and landscapes, the artist's colors and choice of subject have captivated us through the years.



Now the artist's great-grand nephew, Willem van Gogh is working with the Van Gogh Museum in Amsterdam to create an immersive experience that will truly draw you into the world of Van Gogh. Called "Meet Vincent van Gogh" the multi-sensory experience is not just about viewing art, but touching and smelling it too. As you look at blown up illustrations of Van Gogh paintings, you can also experience their subjects, smell the hay, lie on a bed, or even try drawing with tools that Van Gogh would have used.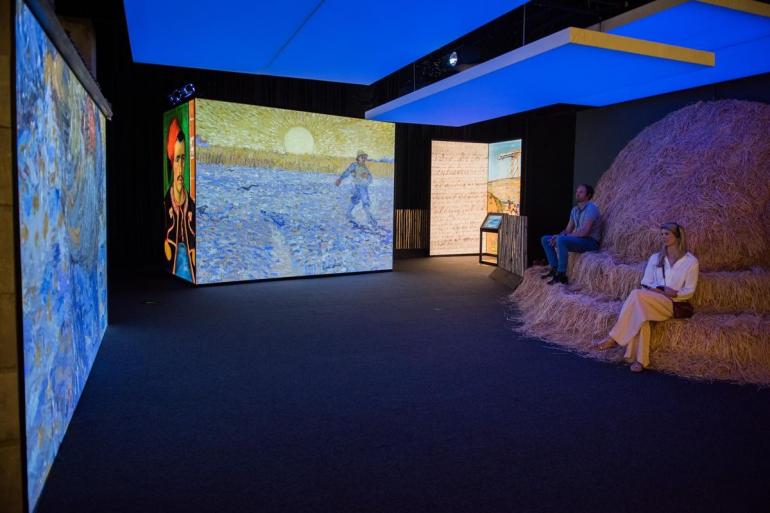 Guests are guided through the exhibit by a narrative that includes quotes from the artist and his acquaintances. The six part experience is not only about his paintings, but also delves into Gogh's working spaces, his time in the Netherlands, Antwerp and Paris, his home in the south of France, a period of illness, and the legacy he has left behind.


"This experience could only really be realized now," Axel Rüger, Director of the Van Gogh Museum told Forbes, "If you had done it ten years ago it would look very different. Technology gives you opportunities to do and make it much richer. It was our intention to make it appeal to all of the senses. We use extremely high quality blown up illustrations of some of the work taken very close to the brushstrokes. We have filmed on location the different places where van Gogh lived. We also used historic footage in it, and then we have scenarios where you are walking through his life; [for example] we created a Parisian cafe scene with 3-dimensional crops, and an impression of the hospital so you get a real physical sense of the environment."


Meet Vincent Van Gogh was launched in Beijing and Will remain there until mid-September following which it will be made available in other Mainland China cities including Shanghai and Macau for a five-year tour with Wai Chun Culture. Negotiations are in progress to bring this dramatic art experience to America and Australia.

[ Via : Forbes ]