Bombay Sapphire will be celebrating the 250th anniversary of its Bombay Sapphire gin which is made using a secret recipe. To mark the anniversary of the gin, Bombay Sapphire has roped in Webb deVlam to create a limited edition prestige presentation pack for the celebrated gin. The celebratory presentation pack features a handcrafted bottle, presentation case and a booklet describing the history of the brand and the design and development of the Limited Edition. The bottle housing the gin (which has been hand filled) is hand crafted in high quality crystal and set with crystal stones. The stopper, in the shape of a crown and hand set with a band of blue crystals was designed by Garrard under the guidance of its creative director Stephen Webster.

The unique packaging creates a 'bottle inside a bottle' effect, that has been achieved using a glassblowing technique that creates a blue inner vessel suspended inside a diamond faced, clear crystal glass decanter. It is also the first of its kind exquisite packaging to have made use of a laser etching process to create 3D images of the 10 botanicals and the Queen Victoria trademark which appear to float in the inner glass walls.
What is more, since each bottle is hand crafted, it is different from the other. Webb deVlam has created an exquisite sealing ring that accommodates the broader tolerance of the hand blown bottle neck.
The exquisite limited edition presentation pack celebrating the 250 years of the secret recipe on which the gin is based, will be restricted to only 350 exclusive bottles. The limited edition prestige pack will retail for £1250and be available for sale through luxury retail outlets in the UK, Europe, and USA before Christmas 2010 with a further limited worldwide distribution in 2011.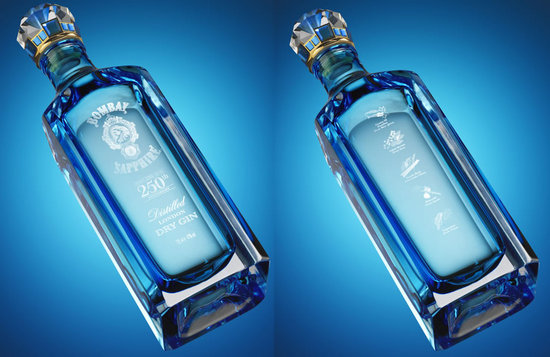 [Popsop]