The holiday season is a time for extravagance. From extravagant gifts to extravagant meals, it is a time to indulge all your senses. And for those of you wishing to indulge your taste buds with a unique feast this season of merriment, then this news is just for you. Chef Ben Spalding has a unique spread planned for this Xmas. The ingredients for this special feast include dry ice, £5,000 ($8,005) Almas caviar, a £3,500 ($5,603) whole white truffle and saffron, Wagyu beef heart, gold leaf, a £37,000 ($59,200) bottle of Champagne that pre-dates World War One, a 150-year-old balsamic vinegar; the world's most expensive melon, the Yubari King from China (£2,500 or $4000), and beans of coffee berries excreted by the Asian Palm Civet cat. Touted to be the world's most expensive Christmas dinner, this extravagant meal has a whopping asking price of £125,000 ($200,140)! A group of four people can enjoy the feast.

Launching today and available exclusively from luxury site veryfirstto.com, this meal comprising of four courses promises to make your Christmas extremely memorable. This meal's star attraction is definitely the traditional Turkey which gets a decadent makeover as the third course. Chef Spalding has used Dodine of rare breed turkey with Wagyu beef fillet and heart (£5,000 or $8,005) and wrapped it in £6,000 ($9,600) edible 50-carat gold leaf, and further sprinkled it with Akbari Pistachios (£5,000 or $8,005)!


The meal is finished with a befitting dessert that is served on a gold Ugandan vanilla plate and includes whipped Kopi Luwak (£3,000 or $4,800), and Densuke watermelon (£2,600 or $4,160), a seedless fruit grown only on the island of Hokkaido, Japan.


A meal to remember, I wonder who will pick up the check for this one.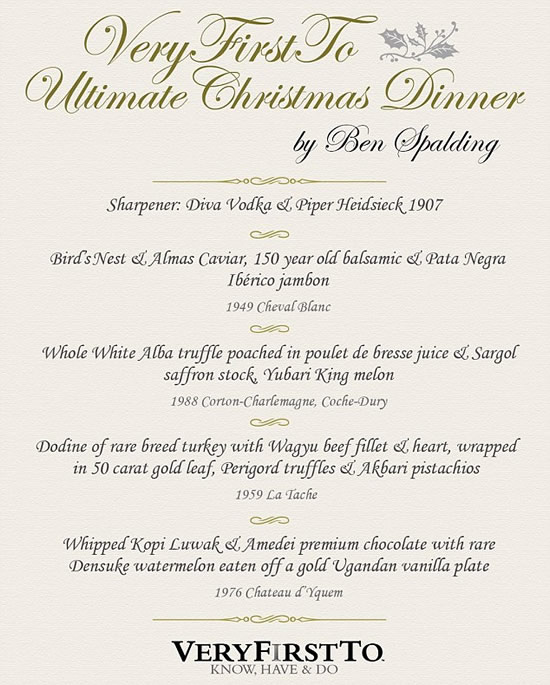 [Dailymail]