When an architect designs a crystal vase, it's not just a container to hold flowers. Combining the design architecture with Lalique's crystal craftsmanship, Zaha Hadid has created a collection to create a sensory and tactile experience through the sensual curves of the crystal vases. The collection is composed of two vases: Manifesto, with innate, fluid lines; and Visio, like a crystal tower, the vase's lines ascend upward.

The contemporary and timeless designs available as signed and numbered edition also come in black crystal, which is very complex and difficult to work with. Pushed back within its limits, the material offers up an enchanting vision in black crystal of spectacular depth. The crystal vases have satin and polished finishes that are symbolic of Lalique's craftsmanship.
Manifesto Vase


The Manifesto vase by Zaha Hadid displays innate, fluid lines that seem to have a life of their own. Superbly displayed in crystal, they are enhanced by the contrasting satin and polished finishes. The numbered edition is available either in clear crystal – a majestic sculpture of light – or in black.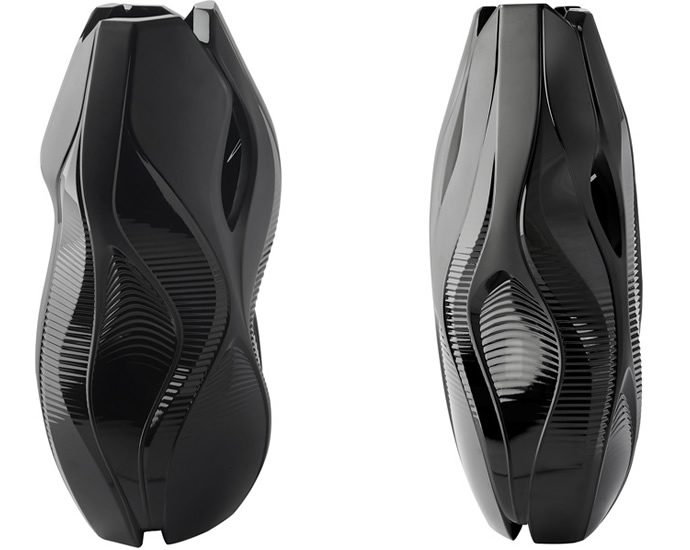 Visio Vase


Lalique is synonymous with elegant, fluid designs that are innovative and timeless. Zaha Hadid instills the complexity and beauty of running water or currents of air to devise the Visio vase for Lilique. Like a crystal tower, the vase's lines ascend Heavenward in almost infinite movement. . Illuminated by the brilliance of the clear crystal or sublimated by the deep mystery of black crystal, this vase, in a numbered edition.

The collection starts at €12,000 ($16,400) and is available in Lalique stores.
[Available at Lalique]