With more than five decades of fashion heritage stemming ever since she first stepped onto the beaches of Malibu in her black and white swimsuit, Barbie doll has served as inspiration for more than 150 fashion and design houses. This year, Zuhair Murad has dressed another Barbie, the classic blonde doll, from the American toy giant Mattel's 2014 Gold Label collection.

The Lebanese designer has re-created one of his most celebrated silhouettes exclusively for Barbie doll. The fashion doll wears an exquisite design as worn by the American actress Blake Lively. The 'Gossip Girl' star wore a similar dress to the worldwide premiere of her 2013 film "Savages." The nude silk and tulle gown with black beading is from Zuhair Murad's Spring 2012 Couture collection. Her strapless, nude-hued gown features dramatic, striped geometric design. A beautiful blonde updo and drop earrings complete the red carpet-ready look.

Zahir Murad designs bespoke creations worn by starlets and socialites like Jennifer Lopez, Taylor Swift, Eva Longoria, Kristen Stewart, Catherine Zeta Jones among others. His creations, in sensational colors and extraordinary fabrics are reminiscent of Egyptian princesses, Grecian goddesses and pure, glorious splendor complete with an edgy twist that modernizes his collections.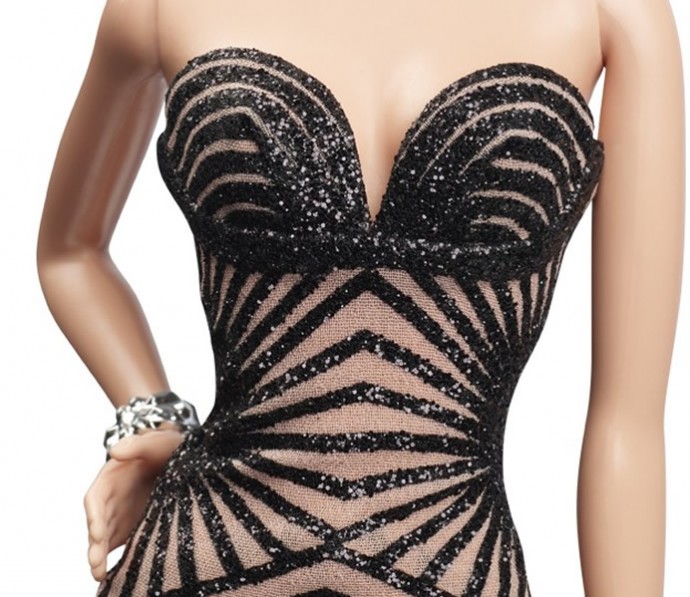 Last year Zuhair Murad designed red carpet couture for Barbie's homage to Jennifer Lopez that featured two-miniature Barbie doll versions of the American singer. Iconic in her beauty and timeless in her style, Barbie has paid homage to celebrities like Marilyn Monroe, Janet Jackson, Audrey Hepburn, Farrah Fawcett, Elizabeth Taylor and Karl Lagerfeld in the past.

The limited collector's edition Barbie costs $75 and is available on www.barbiecollector.com. Only 6400 units will be produced worldwide.
[Available at Barbie-Collector]