With the holiday season drawing closer, you must be on your toes trying to find the best gifts for those near and dear to you. If a pooch is included in those near and dear to you, a gift must definitely be on the cards for your darling dog this Christmas. And if it's become a tradition of sorts to gift your dog something luxurious during this season, then why should you break that trend this season? Especially with the unveiling of this ultra-luxe dog cushion by Swiss manufacturer Chien Luxe. Handmade, these exquisite fluffy pillows are made of very exclusive yet hard-wearing materials. Developed specifically keeping in mind the dogs' comfort, each pillow is made using two fabrics; the top is made of exclusive durable fabric and features a zipper making it, easy to clean. On the other hand, the bottom is made of high-quality synthetic leather in classic modern dark brown or golden exclusive crocodile or ostrich leather.

As for the print, the autumn/winter collection designs will surely not disappoint. You can choose from various designs, including the Cozy Tiger, a magical design of ocelot-optics, Urban Safari in beige and dark brown leopard-print, or go all out for the exclusive Royal Baroque, which is limited to only 100 pieces worldwide. A beauty, the Royal Baroque pillow features Venetian Baroque style velvet brocade made of high-quality silk and cotton interwoven with gold Lurex threads. A Mottenfrass is also woven. Completing the luxe appeal is the turquoise velvety suede with beautiful gold ornaments and trimmed with tasteful cords and tassels.
The pillows are available in two sizes, medium (65 x 65 cm) or super-size (100 x 100 cm) with prices ranging from €1,950 ($2,700) to €5,000 ($6,900). You can purchase them here. The manufacturer will also make smaller sized pillows for small dogs as per request.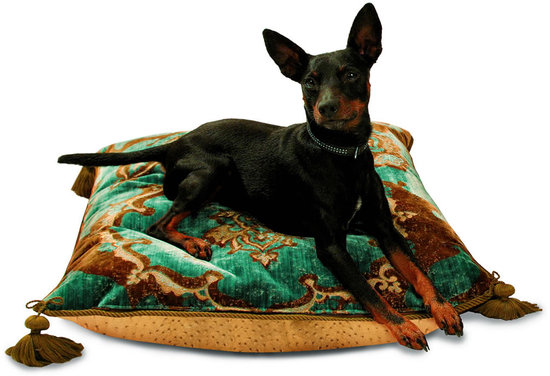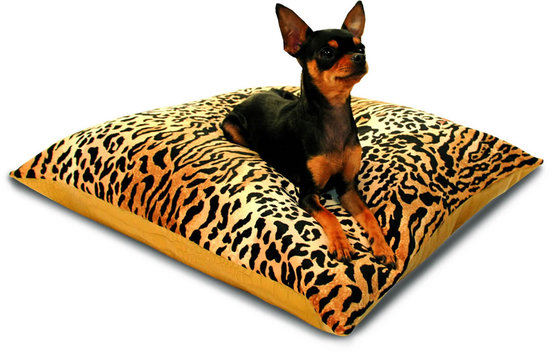 [RichtigTeuer]